Love With Food Deluxe Box Review December 2016
Love With Food is a snack subscription box. Every month you'll receive 8+ unique gourmet food samples shipped to your door. You'll also have members-only access to purchase the full-size version of featured products at a special discount. Lucky you! You'll will also earn points for each box you receive. Use your points to redeem for full-size products and get them at deep-discounts or for FREE! They kindly sent me this box for review.
You all know how much I adore this subscription box. It keeps my snack bin full, and my purse stocked for those "hangry" moments. I truly look forward to receiving this box every month. Not all of the snacks are vegan friendly, but I like to have "regular" snacks in the pantry for the BF and guests. My nieces snoop in the snack bin when they come over to visit.
December Details
This December box was curated by Tiffani Thiessen and is titled "Holiday With Tiffani". I'm assuming we will find some of her favourite snacks in this month's box, and I'm sure there's going to be a bit of a holiday theme as well.
Baron's Premium Dark Chocolate Peppermint Bark
Milk chocolate, white chocolate and peppermint. This is my weakness. I am in no way, shape or form, supposed to eat this, but I'm probably going to eat it anyways. Or at least try it. I keep bars like this in the freezer and break off a square when I'm having one of "those" days. Add a glass of wine and your day can go from crappy to amazing in 3 seconds.
Nib Mor Daily Dose of Dark with Cacao Nibs
This little square is the prefect size for my crappy day indulgences. And, cacao nibs are a personal favourite.
Luna Dark Chocolate Hazelnut Bar
I have always loved Luna Bars. They have the best flavours. And I love that these ones only have 3 grams of sugar. And I'm actually really loving the snack size. Sometimes a whole bar is too much; half a bar is just right.
Sanissimo Salmas Oven Baked Corn Crackers
These are kind of interesting. I've never heard of these before. Each pack has 3 pieces. They will be perfect for my salt cravings. Sometimes the only thing I want to eat is chips. These will be a nice alternative.
Off the Cob Chips in Sweet Corn with Sea Salt
So weird! I totally thought this was popcorn at first, but it's not, they are chips. Chips are always a good idea, but then again, so is popcorn. I would have been happy with either.
Lucy's Ginger Snaps
These have no milk, no eggs, and no gluten!! Woo hoo for me!! I like to have snacks like this in the afternoon with my tea. Or in the morning with my coffee if I'm feeling like a rule breaker.
Veggie Pasta Chips in Spinach, Broccoli, and Kale
How fun are these!! I love any sort of veggie chip or cracker. Really I do! They are exceptionally great with hummus. These ones in particular only have 120 calories per bag. Sign me up!
Horizon Organic Cheddar Cheesy Deluxe Macaroni & Cheddar Cheese
Mac & cheese is one of the things I miss the most now that I am vegan. They have some pretty good vegan options for us, but they just are the same. The BF will love this. I will make it for dinner one night when I'm too lazy to cook.
GoGo Squeeze Banana Yogurtz
I will never, ever, ever get use to these things. They freak me out! I keep them in the fridge for my nieces. They seem to love them.
Horizon's Organic Fruit Snacks in Bunch o' Berries
Normally I'm not a fan of fruit snacks but I've actually had a bit of a craving for them the last few days. I have no clue where it came from, but looking at these right now is really making me want to eat them.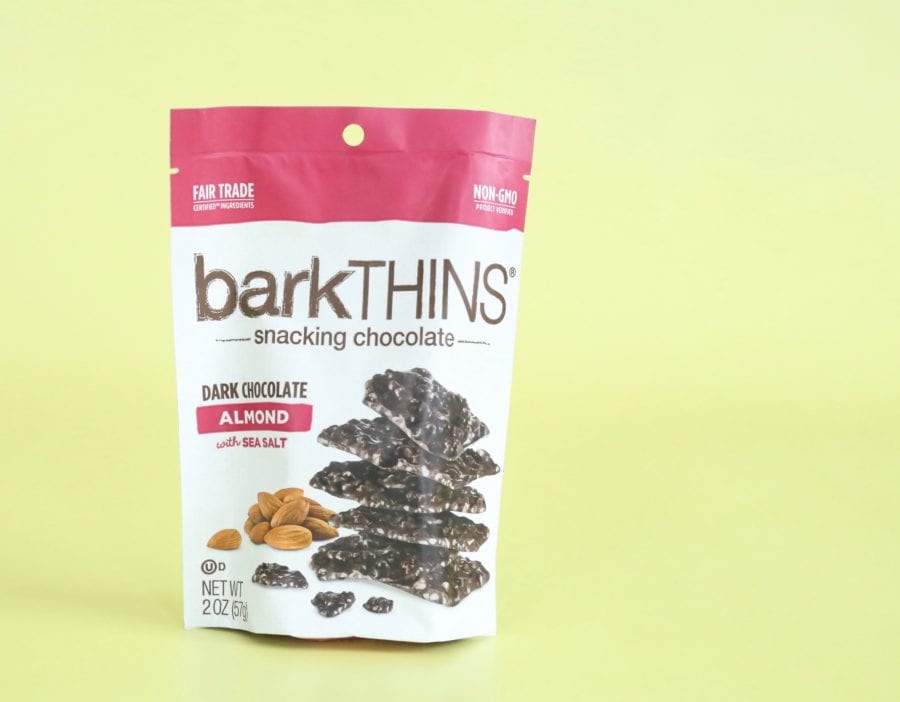 barkTHINS Snacking Chocolate in Dark Chocolate Almond with Sea Salt
I saved the best for last. barkTHNIS are my FAVORITE!! I was so excited to see a bag of these in the box. I want them to start including these more often. Another snack that goes well with red wine…….just sayin'
Love With Food Deluxe Box Review December 2016 – Final Thoughts
Love With Food is amazing. I just get so darn excited about this box. But then again, I am slightly obsessed with snacks. If you aren't a snack lover you might not be as excited about this box as I clearly am. And I am kind of liking the fact they we received a box of macaroni this month. I would love to see more items like this in future boxes. And…..the chocolate……what about the chocolate…..I love all the chocolate. Peppermint Bark and BarkThins. How can you not be excited about those two items. Every month I review the Deluxe Box, but you have a couple other options to choose from. There's the Gluten-Free Box and the Tasting Box. The Deluxe Box works out to $19.95 per month, and personally I think that is very reasonable. Excuse me while I go restock my snack bin……is it sad that I get excited about things like that??
XOXO