Love With Food Deluxe Box Review September 2016
Love With Food Deluxe Box Review September 2016
Love With Food is my FAVOURITE! Have I told you how excited I am now that they are shipping to Canada? I think I mention it in every review, but it needs to be talked about. Snack boxes are the best, and I have been waiting for this one to start shipping here. This will be my fourth review and I have loved every box so far.
Love With Food Details
If you aren't familiar with Love With Food it is a snack subscription box. Every month you'll receive 8+ unique gourmet food samples shipped to your door. You'll also have members-only access to purchase the full-size version of featured products at a special discount. Lucky you! You'll will also earn points for each box you receive. Use your points to redeem for full-size products and get them at deep-discounts or for FREE!
The Box: Love With Food
Cost:
Tasting Box – $9.99 per month
Deluxe Box – $19.95 per month
Gluten-Free Box – $24.99 per month
What You Get:
Tasting Box – 

8+

 new & surprise snacks each month, Snacks are either organic or all-natural, GMO-free, gluten-free or free of artificial junk.
Deluxe Box – 

16-20

 new & surprise snacks each month. Snacks are either organic or all-natural, GMO-free, gluten-free or free of artificial junk.
Gluten-Free Box – 

10-12

 surprise celiac-safe & mostly dairy-free snacks each month. Snacks will be totally gluten-free and also organic or all-natural, with no artificial junk.
Ships to: Worldwide
Shipping Cost: $3.99 per month for first 5,000 customers
Coupon Code: Get 40% off your first Deluxe Box with code "AYOBDLX40" or get 50% off your first gluten-free box with code "AYOBGF50" – CLICK HERE
September Love With Food Theme
This month's Love With Food Theme is "Love is Learning". The product card says "We never stop learning, no matter how old we are, whether its learning a new language, learning more about another culture, or just learning a new skill. But let's face it, learning can be hungry business. This month's box is packed full of snacks that are perfect for enjoying while broadening all your horizons."
Original Cheese Straws
Cheesy, crumbly, and just a touch of spice. Don't bother trying to find the perfect thing to pair these with – they're good with anything.
I have received these before and I am SO intrigued by them. If it wasn't for the darn Vegan diet I would be eating these right now.
Black Forest Gummy Cherries
Black Forest Organic Gummy Cherries feature an undeniably delicious cherry flavor and ingredients like lemon juice, organic cane sugar, potato starch, carrot and beet juice. USDA Certified Organic. Gluten Free.
These are the best for road trips, and to have on hand for sweet cravings. I like that they included two bags. One for me and one for the BF.
GoOrganic Organic Hard Candy
Hillside Sweets, a line of sugar-based hard candy, and GoOrganic an organic candy line USDA and NonGMO certified. Hillside Candy is a pioneer in the sugar free confection market.
Peanut Butter Honey Spread
The classic peanut taste you love with a little something extra sweet – and minus any chemicals or artificial stuff.
I get very excited anytime I receive packets of nut butter. They are perfect for on-the-go snacks. I usually cut up apples for road trips, or long days of running errands, and peanut butter goes PERFECTLY with apple slices.
Snakeroots – Vanilla & Chocolate
Still on the search for the perfect afternoon treat with that calming cup of tea? Not anymore.
Give me ALL the coconut. I can live on the stuff, and pretty much do. I will definitely enjoy these with my afternoon tea.
Key Lime Cookies
Sweet, citrus-y and decadent, you're going to have to keep from devouring the whole bag in one sitting.
I don't know if I have ever had lime cookies before but they definitely sound good. And if I am going to have cookies in the house I like for them to be snack size like this, rather than a whole bag.
Dark Chocolate Nutrition Bars
No more feeling guilty about splurging on chocolate. This bar is 100% GMO-free and energy packed!
Granola bars are always a good idea. We usually receive at least one in every box, and that's partly why I love this subscription so much.
Lance Gluten Free Cheddar Cheese Sandwich Crackers
If you made a sandwich out of two crispy crunchy asteroids and a cheese-filled submarine, it'd probably be gluten free. So when we made our Gluten Free Cheddar Cheese Sandwich Crackers out of two awesome crackers and incredible cheddar cheese, we made sure they were gluten free, too.
Oh my goodness, these remind me of elementary school. I use to live on cheese sandwich crackers.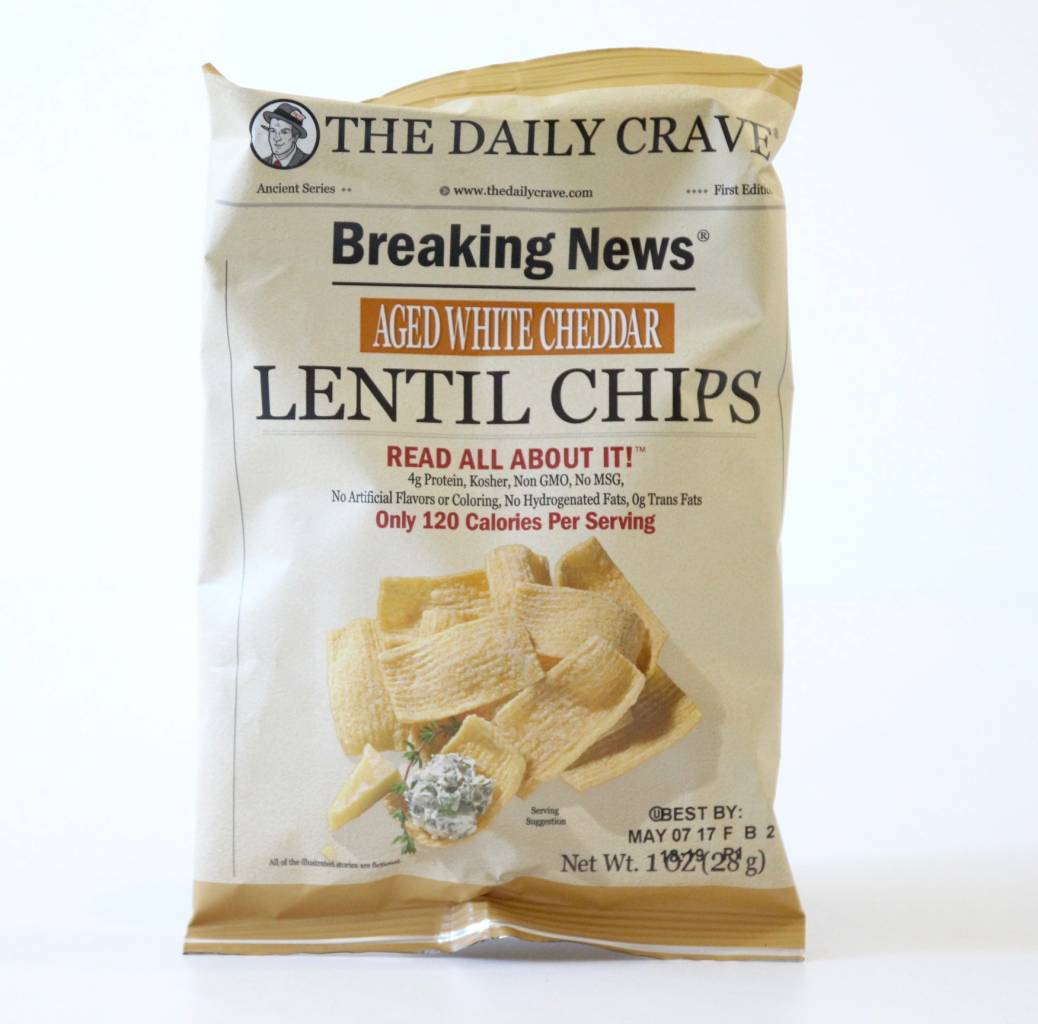 Aged White Cheddar Lentil Chips
Move over, potatoes. Lentil chips are the next big thing. Don't believe it? Just try one.
This is another item I like to see in all my snack boxes. Keep'em coming….
Oregon Chai Tea Latte
We took where it all started, and made it more convenient. Instant, just-add-water chai with the unique benefit of all-natural ingredients. Take it and make it anywhere.
This is a well-known chai tea brand and I've heard that it is really good. These little drink packets round out the box nicely.
Cosmos Coconut Crunch & Caramel Apple Crisp
What begins with our simple caramel recipe turns into something extraordinary by adding just the right amount of coconut oil and a generous sprinkle of pure coconut shred. Two flavors that blend seamlessly together to send your senses on a sweet escape. Pure, natural* ingredients in a snack that's deliciously addictive.
This is what I was looking forward to the most. I saw these wonderful little corn snacks in the spoilers and was so excited about them. I haven't tried them yet, I kind of want to save them.
Love With Food Deluxe Box Review September 2016 – Final Thoughts
Chips, crackers, cookies, gummies, and tea lattes……what more do you need? I love this box, it's definitely my favourite snack box. The mixture of snacks this month is perfect. My snack bin in the pantry is going to look pretty darn amazing. But, I'm thinking I might need to split it up into a couple different bins – sweet, salty, drinks……the possibilities are endless. Being vegan, I can't eat some of the snacks we receive our Love With Food Boxes, but I am totally ok with that. I just give those ones to the BF. He's 6'7 and eats A LOT, so I need to keep the snack filled at ALL times. Seriously love this subscription!
XOXO