Love With Food Review December 2018
Love With Food is the easiest way to Snack Smart and Do Good. They help you discover new organic, all-natural or gluten-free snacks delivered to your door monthly. Receive a box of mystery better-for-you snacks and go on a fun foodie adventure with them every month. Their membership starts as low as $7.99/month. They kindly sent us this box for review.
Love With Food is easily one of my favorite snack boxes to receive. It's the perfect way to keep my snack bin stocked and I love all the single serving sized snacks we receive. They are perfect for my purse and road trips. I also keep some in the car…..for those snacking emergencies.
Good to Know: They donate a portion of the proceeds to help fight childhood hunger in the US and around the world. They donate to organizations like Feeding America and The Global Food Banking Network.
Subscription Details
When you sign up for a Love With Food subscription you have three options to choose from:
Tasting Box – starting at $7.99 receive 7+ surprise snacks each month.
Deluxe Box – starting at $16.50 receive 15+ surprise snacks each month.
Gluten-Free Box – starting at $24.99 receive 10+ gluten-free snacks each month.
Here's a closer look at the snacks we received in the December Deluxe Love With Food Box…
Chocolate Chip Waffle by Sunnystreet
The SUNNYSTREET team has been busy in the kitchen baking up nutritious, plant protein packed waffles made with non GMO ingredients just for you.
Sriracha Seaweed Snack by Ocean's Halo
A trifecta of deliciousness: spicy sriracha peppers, savory garlic and a touch of tangy sweet.
Sea Salt Caramel Popcorn by Funky Chunky
The salty-sweet popcorn treat you'll crave. We start with delicious caramel popcorn made with real butter and brown sugar. It's covered in gooey caramel, the perfect amount of sea salt, a sprinkling of roasted cashews and a final drizzle of milk and dark chocolatey goodness.
Organic Gummy Cubs by The Organic Candy Factory
These gummies are totally Cubilicious! A mix of Boysenberry, Blackberry & Raspberry Gummy Cubs. The first organic kosher gummy bear in the world! 100% Vitamin C per serving!
Mini Pretzels by Benzel's Pretzels
Our pretzels are prepared from an old world recipe using the finest ingredients available and gently baked to perfection. One taste and you will know why Pennysticks bakers and Pennysticks pretzels are simply the best.
Hickory Smoked Almonds by Madi K's
Madi K's family grown Premium Select Almonds are brought to you from tree to mouth. Our Hickory Smoked is Madi K's best-tasting recipe. The almonds are uniquely roasted with just the right amount of salt and seasonings. All Madi K's products are Kosher Certified.
Chocolate Almond Brownie Protein Bar by Garden of Life
When exercising hard or taking part in your favorite sport, a protein bar is a great way to provide your body with clean fuel and amino acids to help refuel and repair your muscles. Made from organic peas grown in the U.S., along with protein crisps and brown rice protein, Organic Plant-Based Bars will help to keep your hunger satisfied and support healthy blood sugar levels during exercise.
Mixed Berry Granola Bar by MadeGood
Tart cranberries and raspberries, sweet blueberries and toasted gluten free oats. This granola minis taste like a luscious berry crumble on a warm summer night.
Vitamin D3 Chocolate Supplement by Good Day Chocolates
In need of some sunshine? With 1,000 IUs per piece, this chocolate supplement could boost your Vitamin D3 levels and your mood!
Organic Figs by Sunny Fruit
The Sunny fruit difference begins at the source- Izmir, Turkey. Here this perfect marriage of fertile soils and unique climate creates the most perfect organic Smyrna figs on earth. After the harvest, we meticulously sun-dry them for ideal sweetness. The perfect fig for every gourmet kitchen.
Organic Molten Chocolate Chip Minute Mug Cake Mix by Foodstirs
Have a chocolate cake itch but only have a minute to spare? We got you covered! Decadent, gooey and the perfect treat for you and the kids. Yummy, fast and organic is literally a cake walk!
Edamame & Goji Berry Fusion Trail Mix by On the Go
Roasted & salted edamame bean trail mix infused with goji berries and cranberries. NON GMO, Gluten Free, Preservative free, Low in sodium, Source of protein.
Skinny Chocolate Peanut Butter Bar by JimmyBar!
Is Chocolate Peanut Butter your fire? Your one desire? You're not alone–it's our best selling bar for good reason! Then you want your JiMMY! to taste this way while getting 18g of protein and only 6g of sugar! Two fan-favorite flavors whirled together to provide you your fill of chocolate and peanut buttery goodness to give you 18g of protein and only 6g of sugar!
Cranberry Almond Chocolate Treat by Joyfuls
Inspired by a confection originating from Europe, Joyfuls are rich, dark chocolates made with 60% cacao and topped with dried fruit, roasted nuts or seeds with a sprinkling of pink Himalayan salt. The perfect balance of sweet and salty. Individually wrapped to enjoy anytime, anywhere. A sweet treat created for you or to share with a friend.
Blueberry Just Fruit Bar by ZEGO
This delicious bar blends ripe blueberries with pears to give a delightfully tart and sweet flavor. The pears make the bars more firm compared to our apple based bars, and the texture you will recognize as a uniquely pear in nature. Think of our Just Fruit bars as thick fruit rollups with dramatically better taste, texture. nutrition and fiber.
Garlic Ghee by 4th & Heart
All natural, pure garlic from Northern California makes the great taste of Fourth & Heart ghee even better. Our ghee is made with milk from grass-fed, pasture-raised New Zealand cows, which gives it a smooth texture and great taste that pair perfectly with almost any meal.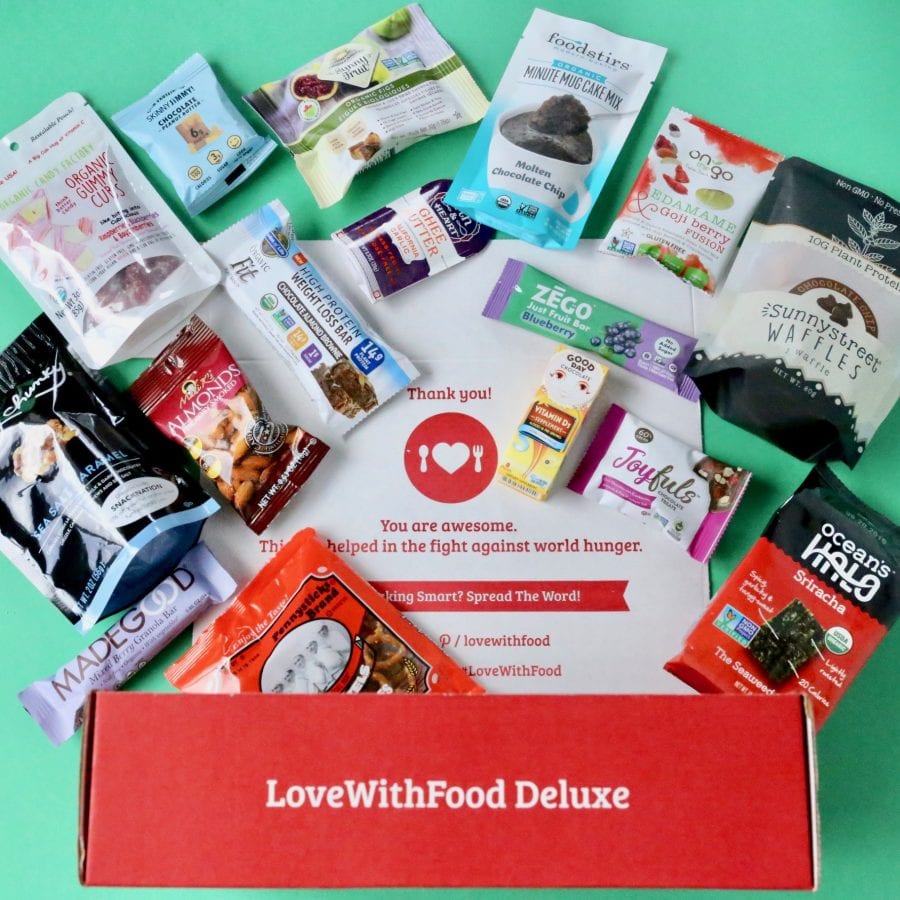 Love With Food Review December 2018 – Final Thoughts
The December Love With Food is full of yummy treats and snacks, as per usual. I'm particularly interested in the plant protein waffles, how good do those sound!? The sea salt caramel popcorn also sounds really good, as well as the cranberry almond treat and the JimmyBar. I was kind of hoping to see some festive goodies in the December box and maybe a few more salty snacks like chips or crackers. It's an amazing box and it is packed full of snacks, but it's not my favorite Love With Food box. Overall, I still love this subscription and always will. As I mentioned above, it's definitely one of my favorite snack boxes and I always look forward to receiving it.
XOXO
Explore.
Save.
Enjoy!
Sign up for a free account on A Year of Boxes to receive exclusive offers, be added to our monthly mailing list, and much more! We are always adding features to improve the experience for our users, from their valuable feedback!
Join Today!