Love With Food Review January 2019
Love With Food is the easiest way to Snack Smart and Do Good. They help you discover new organic, all-natural or gluten-free snacks delivered to your door monthly. Receive a box of mystery better-for-you snacks and go on a fun foodie adventure with them every month. Their membership starts as low as $7.99/month. They kindly sent us this box for review.
Good to Know: They donate a portion of the proceeds to help fight childhood hunger in the US and around the world. They donate to organizations like Feeding America and The Global Food Banking Network.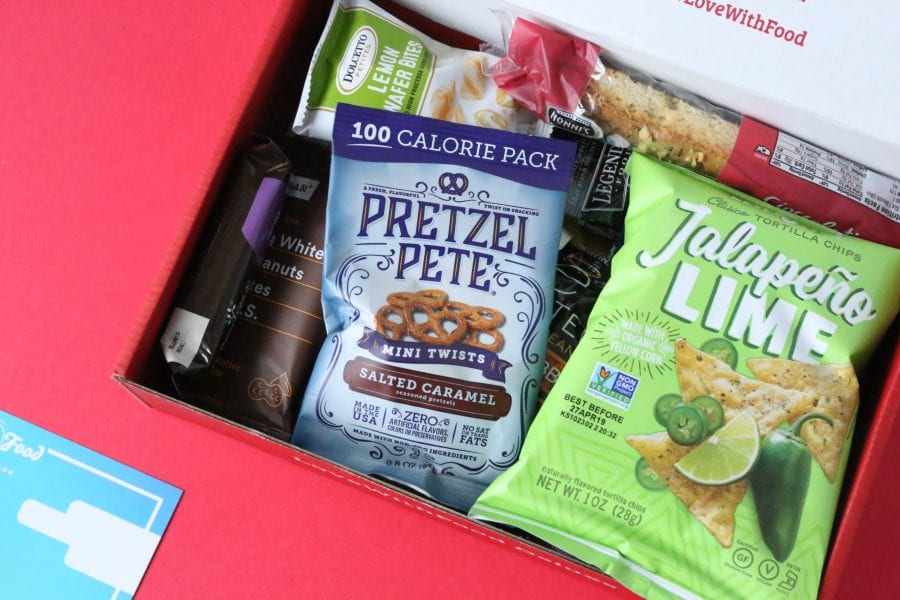 A box that gives back will always win over a box that doesn't. But that's just my personal preference. I really admire the fact that Love With Food donates a portion of proceeds to help fight childhood hunger. I'm already a huge fan of this box, especially the last little while, and the fact that they support such an amazing cause makes me love it that much more.
Subscription Details
When you sign up for a Love With Food subscription you have three options to choose from:
Tasting Box – starting at $7.99 receive 7+ surprise snacks each month.
Deluxe Box – starting at $16.50 receive 15+ surprise snacks each month.
Gluten-Free Box – starting at $24.99 receive 10+ gluten-free snacks each month.
Here's a closer look at the snacks we received in the January Deluxe Love With Food Box…
Jalapeno Lime Clasico Tortilla Chips by Late July Snacks
Our Jalapeño Lime chips are made with whole ground yellow corn and seasoned with a bold kick of jalapeño pepper and the freshness of real lime.
Coffee Ginger Chews by Prince of Peace
New Prince of Peace Ginger Chews with Coffee! Packed with the same balance of sweet and spicy with the bold flavor of coffee.
White Bean Nacho Cheese Chips by Beanitos
These Chips have all the flavor of your favorite nacho cheese! Did you know Beans are a superfood? They are a nutritional powerhouse that are an excellent source of fiber, protein and carbohydrates. They are also rich in antioxidants, vitamins and minerals. Get more from your snacks than just great flavour with Beanitos!
Roasted Broad Bean Crisps by Enlightened
Enjoyed around the world for their delicious flavor and satisfying crunch broad beans are a nutrition powerhouse packed with protein and fiber. ENLIGHTENED CRISPS are lightly roasted in sunflower oil sprinkled with sea salt and seasoned to perfection.
Apple Fruit Leather by Stretch Island
All Aboard. Explorers!
We live in a world where stretching your imagination always ends in adventure. The lively waters around Stretch Island™ are filled with fun fruit characters that help us make our tasty fruit snacks. Each strip has a ¼ cup of real organic fruit and all of the sugar comes naturally from fruit.
Cranberry Health Mix by Nature's Garden
A classic mix of dried cranberries, nuts, and seeds. Great on the trail, on some yogurt, or in your oatmeal!
Bbar Brownie Bar by Nutritional Choices
No need to feel guilty about this brownie. Our best-selling Bbar Brownies delight folks of all ages with their decadent, fudge-y taste and surprise everyone with their better-for-you nutrition label.
These treats are more than 51% whole grain, made with natural ingredients and free of weird preservatives or trans fats.
Caramel Nut Blast Protein Bar by Balance Bar
Balance Nutrition Bars are an indulgent treat with the right balance of nutrition you need without all the guilt or compromising flavor. Enrich your body with a good-for-you boost from the 40-30-30 nutrition principle that provides the optimal ratio of carbohydrates, protein and dietary fat; plus essential vitamins and minerals. Our Caramel Nut Blast bar is a combination of peanuts and caramel to satisfy any craving.
Chocolate Peanut Butter Protein Bar by RXBAR
This one is so good. Peanut Butter Chocolate mixes the irresistibly creamy taste of peanut butter with the decadent taste of 100% chocolate. Two great flavors come together to make something even better.
Lemon Wafer Bites by Dolcetto
Bite-sized wafer shells that are filled with zesty lemon.
Salted Caramel Mini Twists Pretzels by Pretzel Pete
Indulge in the sweet, satisfying crunch of our Salted Caramel Mini Twists.
Buffalo Blue Wing Seasoned Almonds by Legendary Foods
America's favorite weekend snack food is now offered in a mouth watering almond nut mix. Carefully blended with just the right amount of herbs and spices, our Buffalo Blue Wing Seasoned Almonds have the flavor of a traditional hot wing without the traditional weight gain. Not only do our buffalo wing seasoned almonds replace junk food, but they're made with ingredients only found in nature that are proven to be nutritious.
Vanilla Quinoa Crispies by Beech-Nut
The clean, light flavors of vanilla balance the soft-baked crunch of our Stage 4 Vanilla Beech-Nut Quinoa Crispies™ bars are like a new take on an old favorite.
Vanilla warms up this ancient grain in a semi-sweet, totally satisfying snack your tot will naturally love.
Sweet and Salty Peanut Bar by Oskri
Perfect blend of flavors on sweetness balanced with a salty peanut which deliver an addicting taste.
Lemon Snakaroons by Laughing Giraffe Organics
Our nutrient rich and power packed Snakaroons will satisfy your sweet cravings without sacrificing your wellness. These tasty treats are organic, gluten-free, non-GMO and Kosher. They are plant based and dehydrated at low temperatures to insure that the enzymes are preserved. As a word play on macaroons, Snakaroons can be enjoyed as a wholesome organic snack, a tea or coffee complement, or dessert cookie.
Cioccolati Biscotti by Nonni's Biscotti
The classic original biscotti dipped in gourmet bittersweet chocolate. This biscotti is a modern tradition uniting the delicate flavors of biscotti with the rich taste of the finest chocolate available.
Love With Food Review January 2019 – Final Thoughts
I am absolutely, 100%, in love with this month's Love With Food box. I wasn't really feeling last month's box as it was lacking in the salty snack department. But this month……this month they made up for last month by packing the box full of salty and sweet snacks. I'm blown away by the number of treats we received and I LOVE that they included a few of my faves – Beanitos, Late July, Ginger Chews, Bean Crisps, Almonds and Pretzels…..just to name a few. We also received a really amazing assortment of bars, all of which I am super excited to try. It was extremely hard for me to get through the review and take all the photos without eating all the snacks. True story. I want every Love With Food box to be just like this one.
XOXO
Explore.
Save.
Enjoy!
Sign up for a free account on A Year of Boxes to receive exclusive offers, be added to our monthly mailing list, and much more! We are always adding features to improve the experience for our users, from their valuable feedback!
Join Today!