Love With Food Review July 2019
Love With Food doesn't just provide you with products to snack smart, it also allows you to do good!
The Love With Food subscription box by SnackNation has three different options and each includes meals donated to those in need.
Subscription Options
Tasting Box – starting at $7.99 receive 7+ surprise snacks each month and 1 meal donated to those in need
Deluxe Box – starting at $16.50 receive 15+ surprise snacks each month and 2 meals donated to those in need
Gluten-Free Box – starting at $19.99 receive 10+ gluten-free snacks each month and 2 meals donated to those in need
This is our second Love With Food box and it came at the perfect time. The day after it arrived we headed on a 6 hour road-trip, the snacks in the box were the perfect road-trip fuel! We received the deluxe box again this month and it was packed with delicious, real ingredient, no chemicals added snacks! We loved the new addition of the divider in the box as we felt it made the box appear more organized and allowed for us to view the snacks we received more easily!
Here's a closer look at the snacks we received this month:
CLIF MOJO Salted Caramel Flow Salty Sweet Bar
CLIF MOJO Salted Caramel Flow Salty Sweet Bar is like an 808 on your taste buds. With a salted caramel-flavoured backing track and steady beats of nuts and chocolate chunks, this bar turns snack time all the way up.
Beanitos Nacho Nation White Bean Chips
Beanitos chips, white bean nacho cheese are a snack you can feel great about eating. Crafted of whole navy beans, pure sunflower oil, long grain rice, sea salt, delicious spices and seasonings, these yummy chips contain 5 g. Of complete protein per serving along with fiber and antioxidants. Beanitos turned one of the world's favourite superfoods into a piquant finger food with infinite snacking possibilities.
Bioactive Multi by HealthyCell
Bioactive Multi provides you with a broad spectrum of essential vitamins and minerals, plus phytonutrients and botanical antioxidants from premium ingredient sources in highly bioavailable forms. Delivered through a prebiotic Bioactive Gel™ for maximum absorption, it ensures a daily nutrient foundation for optimal health.
Dolcetto Lemon Wafer Bites
Bite-sized, delicate wafer cookies filled with zesty lemon cream. The perfect lunchbox item amazing with ice cream and yogurt or try putting them in the freezer for a frozen treat.
Almond Rice Pops – Blueberry
Treat your taste buds to this all natural snack packed with wholesome popped rice, crunchy baked almonds and sweet dried blueberries. Satisfying bite-sized clusters bursting with flavour.
The Good Bean Crunchy Chickpeas – Sea Salt
Sea Salt is where it all started for us at The Good Bean. The concept for The Good Bean was inspired by street vendors in Indian cities, who roast chickpeas in salt (yes, really), making those hard little beans nutty, crispy, buttery morsels of deliciousness. Fast forward to today. We don't roast our chickpeas in salt, but we sure do love how the hint of sea salt brings out the natural deliciousness of the chickpea itself. The Good Bean Sea Salt flavor is all about the bean, just the bean and nothing but the bean… except it's a little bit better.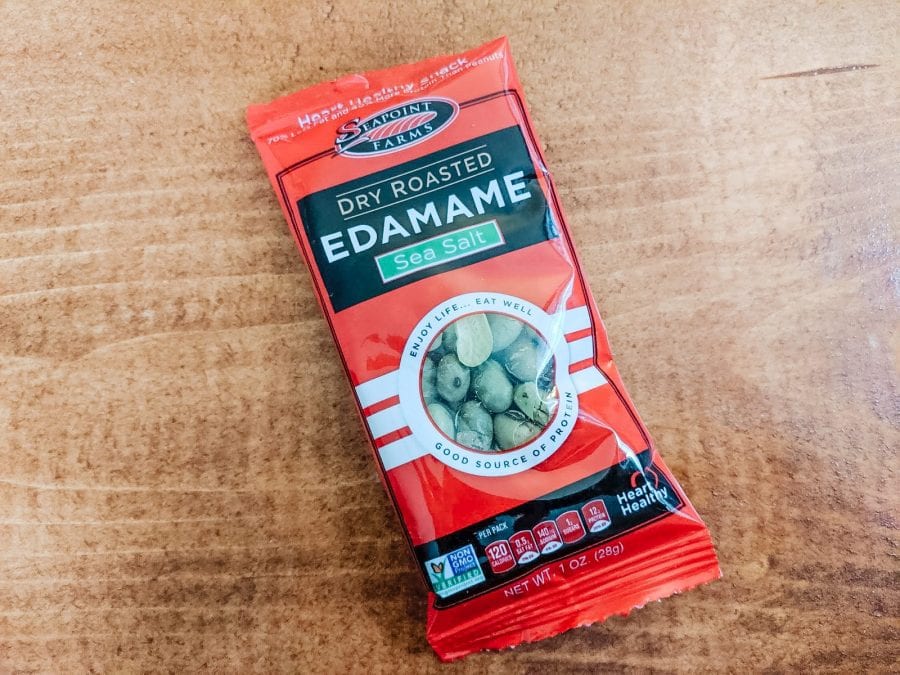 Seapoint Farms Dry Roasted Edamame – Sea Salt
Seapoint farms sea salt dry roasted edamame offers a crunchy, nutrient-packed snack option, whether you eat them alone or add them to other dishes. A versatile nutty flavor highlights this plant-based source of protein and fiber, and sea salt is the only seasoning used to keep this snack simple. Edamame supplies your body with essential amino acids without any cholesterol or trans fat to make it healthy.
You Love Fruit Simply Mango Fruit Leather
You love fruit mango handmade fruit leather can help you incorporate more fruits into your child's diet for optimal nutrition. Made from premium organic ingredients, our mango fruit leather contains 4 g. Of fiber and 45 calories per serving.
Nairn's Original Oat Grahams – Gluten Free
Nairn's original Oat Grahams are a perfect, nostalgic pairing. And knowing that they contain no artificial colours or flavours, are full of the goodness of whole grain oats and contain just 47 calories per biscuit means they're a perfect treat to have with a cuppa. Or drop a handy pouch pack in your bag and take it with you when you're out and about.
Popchips Potato – Barbeque
Popchips barbeque potato chips are perfectly flavored chips that taste as good as fried–and popchips are never fried, always real. This 5 oz. Bag comes with five servings, which is 40% more crunchin' for the munchin' compared to our 3.5 oz bag, and these are the sauciest chips around. Who needs backyard smoke and sizzle to enjoy lip-smacking barbecue? With our barbeque chips, you'll taste tangy sauce and a hint of smoke in every chip, without the grease. Contents are guaranteed fresh and flavorful through the "Best before" date, and are also kosher, gluten free and non-gmo.
Balance Caramel Nut Blast
Creamy, crunchy and packed with a blast of energy and nutrition that can help you outlast the day. Delicious, not too sweet and nutritionally sound—now that's what we call balance.
Chum Fruit Bites – Apple & Peach
At CHUM we are 100% wild, and 100% natural. We don't use fake stuff. If it's good for wild animals, it's good for us. We take real fruits as nature intended, and carefully turn them into our delicious bites. No artificial ingredients and no added sugars or colours.
Pear's Gourmet Red Chile Queso Flavoured Peanuts
Influenced by Hispanic culture, devoured by all, these cheesy, spicy peanuts are uniquely delicioso. A clean label, better for you snack experience. No artificial preservatives, flavours or colours. Kosher. Keto friendly food.
Olyra Hazelnut Carob Breakfast Biscuits
Inspired by the ancient Greeks, we have a creative and holistic approach to the food we eat and make. Olyra Breakfast Biscuits are made with all natural ingredients that sustain your energy and make the perfect start to your day.
Zee Zees Strawberry Crisp Soft Baked Bars
Three worlds have never collided so deliciously. Here you've got sweet strawberry, a soft bed of oats and a yummy frosting zigzag to top things off (literally). Peel one back when you're looking for a wholesome fill-up with that fresh-outta-of-the-oven mmmm.
Love With Food – July 2019 Review Final Thoughts
Again this month Love With Food did not disappoint. They consistently send a perfect blend of sweet, salty, chewy and crunchy treats to try! We continue to love their mission to help others through donation of meals from each box purchased and my husband and I get so excited to see what snacks we received each month.
-Amber