Love With Food Review November 2017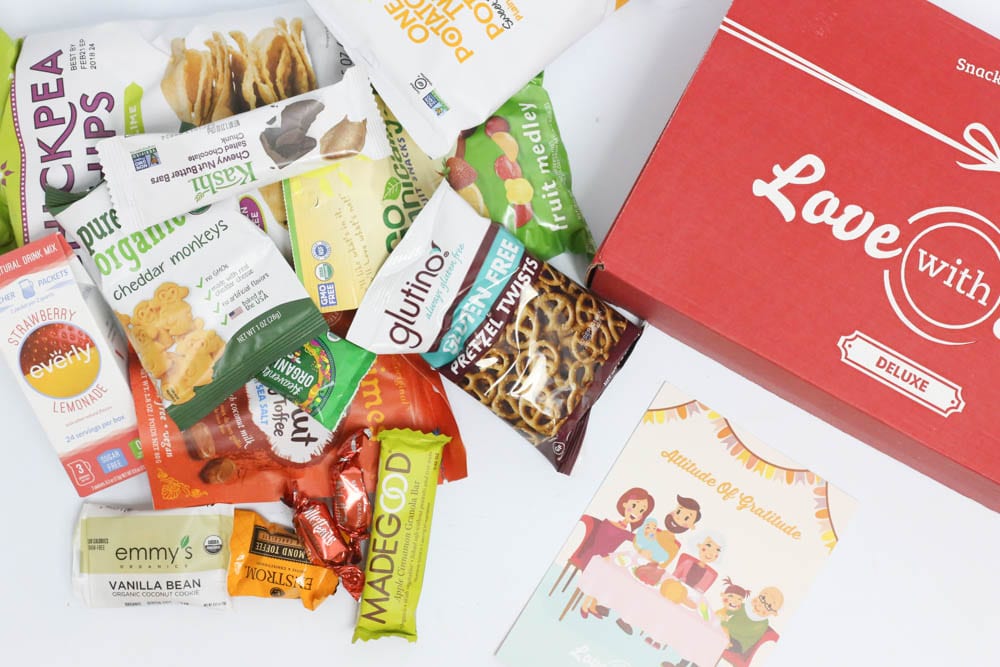 Love With Food is the easiest way to discover what's tasty and junk-free delivered to your door! For only $10/month, members will receive a curated box of unique, hard-to-find tasty foods which varies based on seasonal themes. Say goodbye to boring grocery selections and HELLO to a monthly tasty surprise! They kindly sent us this box for review.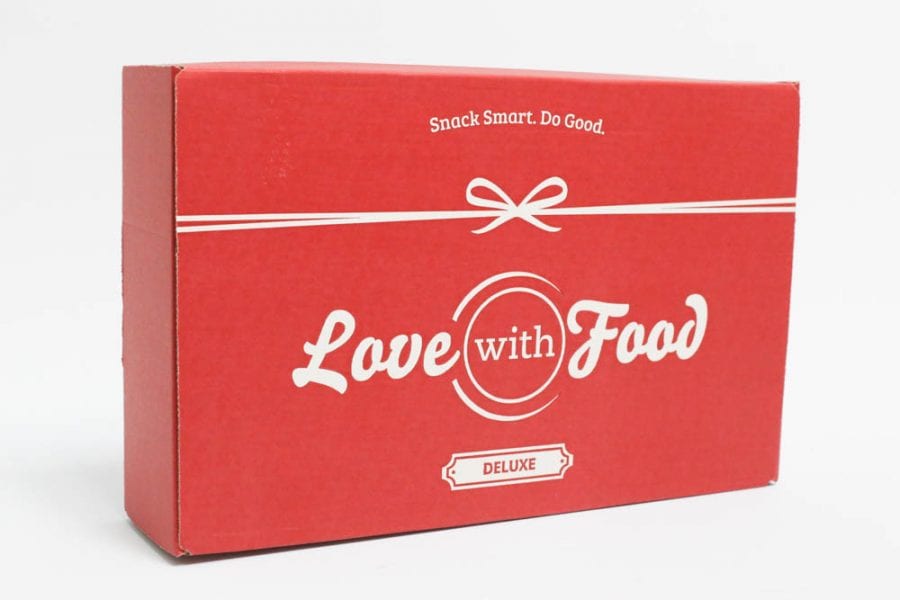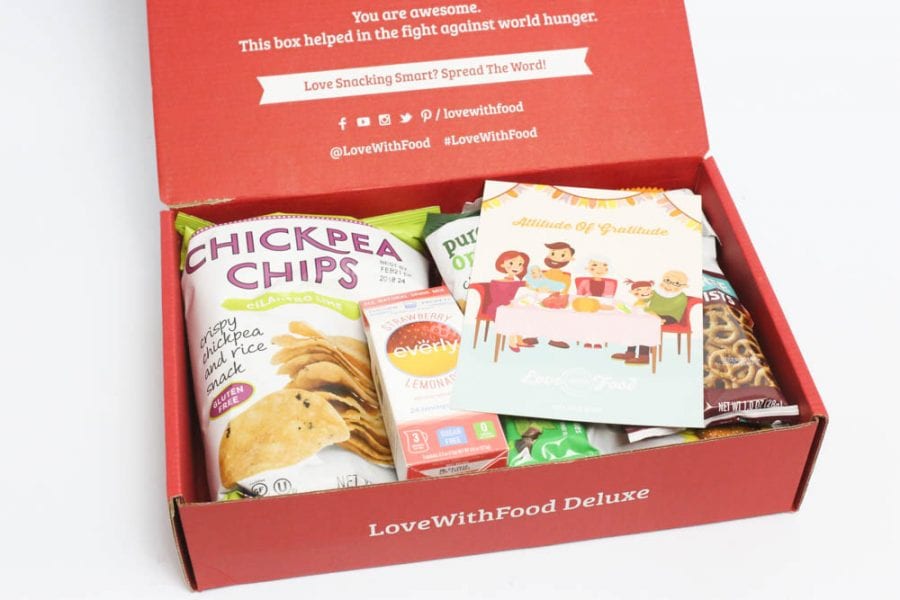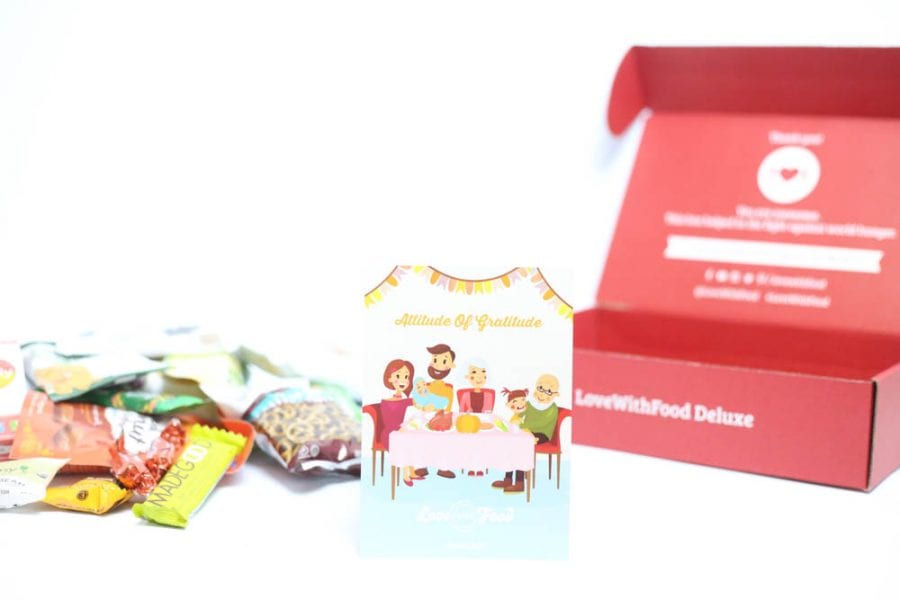 Love With Food November 2017
This November, we are giving thanks for all of you!  Thank you for your encouragement, support and patience during this snacking journey.  Thank you for engaging with us and our partner brands, and for constantly providing great feedback.  Thank you for putting the "Love" in Love With Food!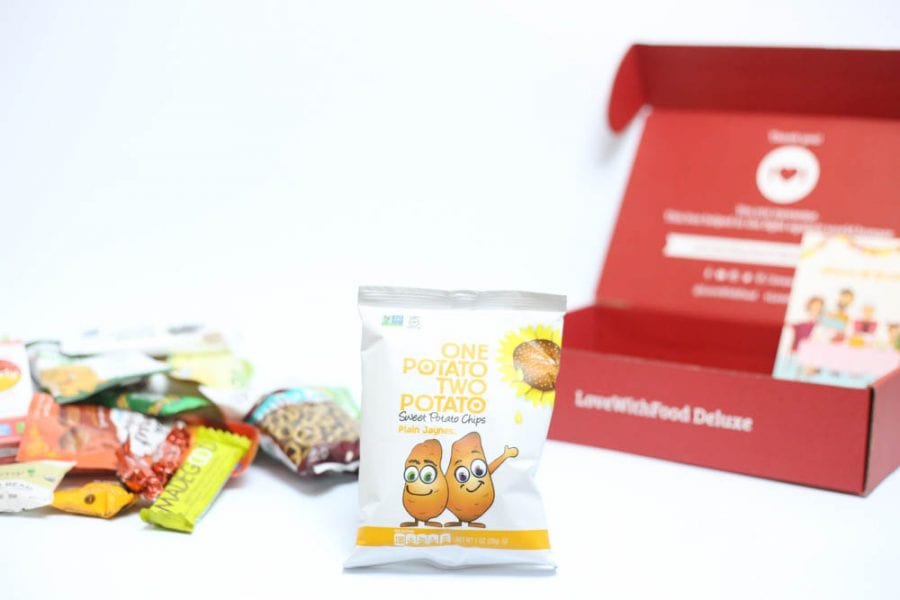 Plain Jaynes Sweet Potato Chips One Potato Two Potato
Sometimes it's the simple things in life that are the most delicious. These crunchy, salty-sweet snacks are proof.
Oh man, the snacks in this box are right up my alley!  I feel like they took a peek in my cupboards before stocking it.  I just love sweet potatoes!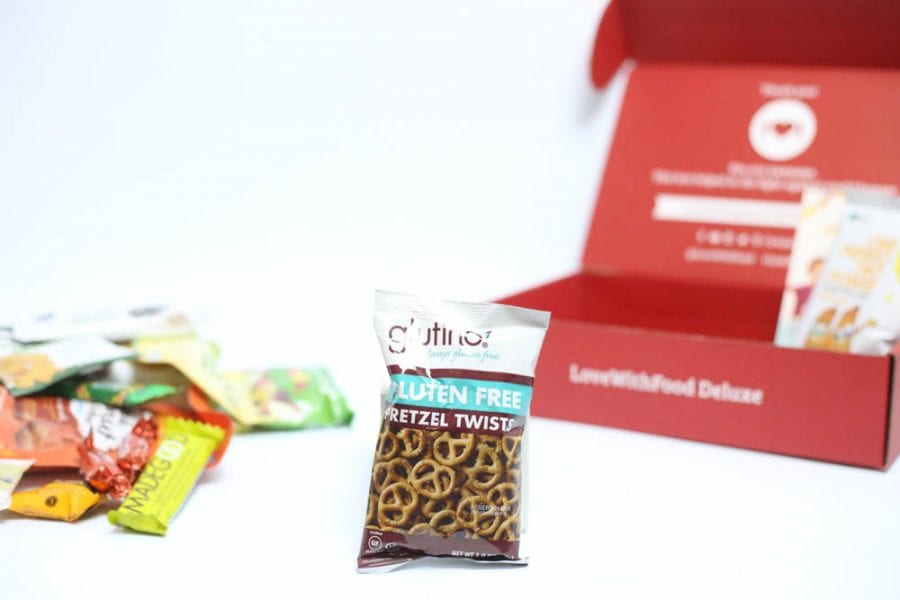 Pretzel Twists by Glutino
A classic savory snack with a gluten-free twist! These pretzels are the perfect quick treat just be careful because they are hard to put down.
Yum!!  These are actually one of my all time favourite snacks!  Though I do prefer the chocolate covered pretzels.  I have to be careful when I purchase them, because I will actually eat the whole bag in 20 minutes.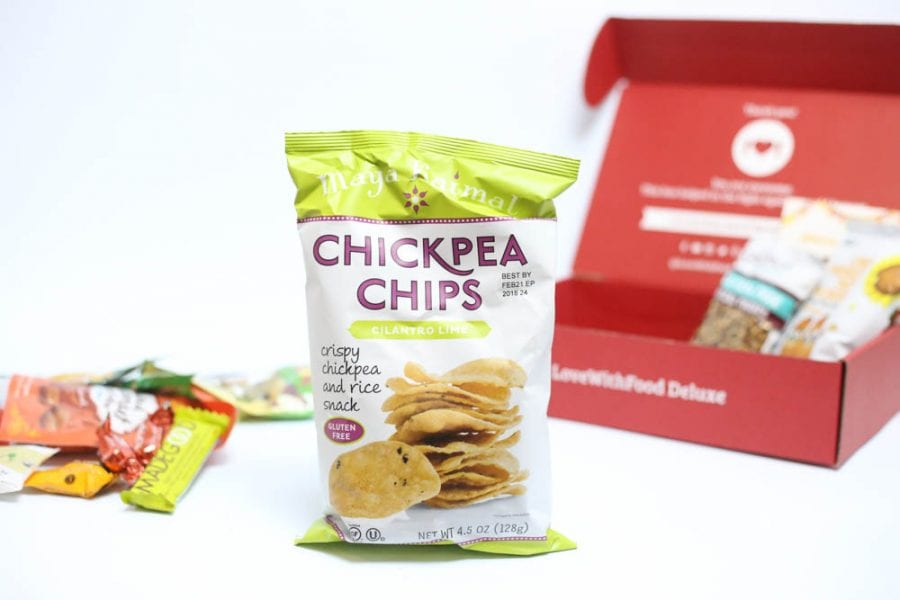 Chickpea

Chips by M

aya Kaimal

These Cilantro Lime Chickpea chips start with delectably crispy chickpeas and rice chips and are finished with a blend of seasoning that combines the bright flavor of lime, and a touch of cilantro. These chips will take your taste buds on a tangy adventure!

Delicious!  Chickpeas are one of my favourite snacks!  I like to roast them in the oven, but those don't have the satisfying crunch of a chip!  Can't wait to try these.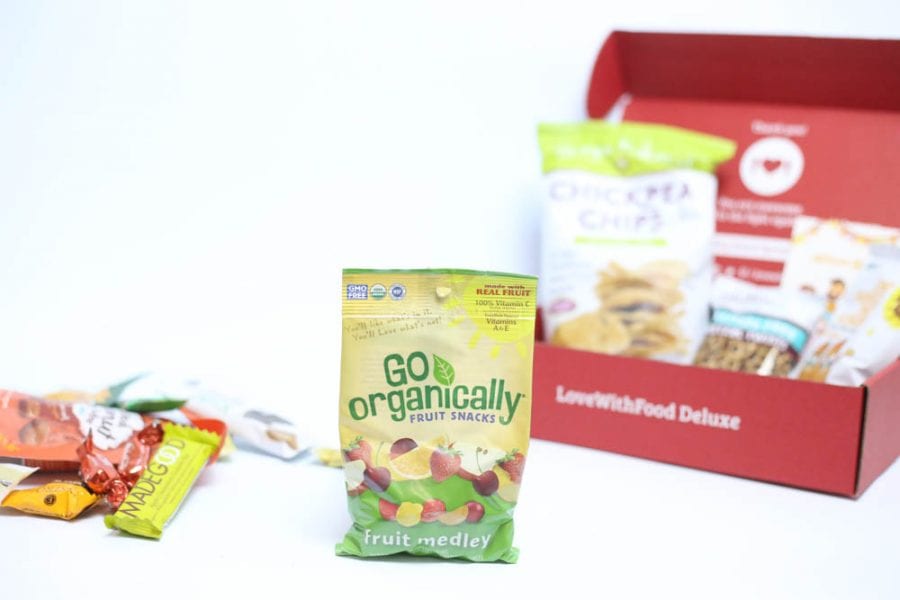 Fruit Snacks by Go Organically
Organic. Authentic. Delicious. We believe Fruit Snacks should be made with real fruit. You'll like what's in it. You'll love what's not.™
One thing I miss about going natural or organic is the sugary treats on the side.  So thankful for companies like this who manage to fill the gap and still provide a half decent snack!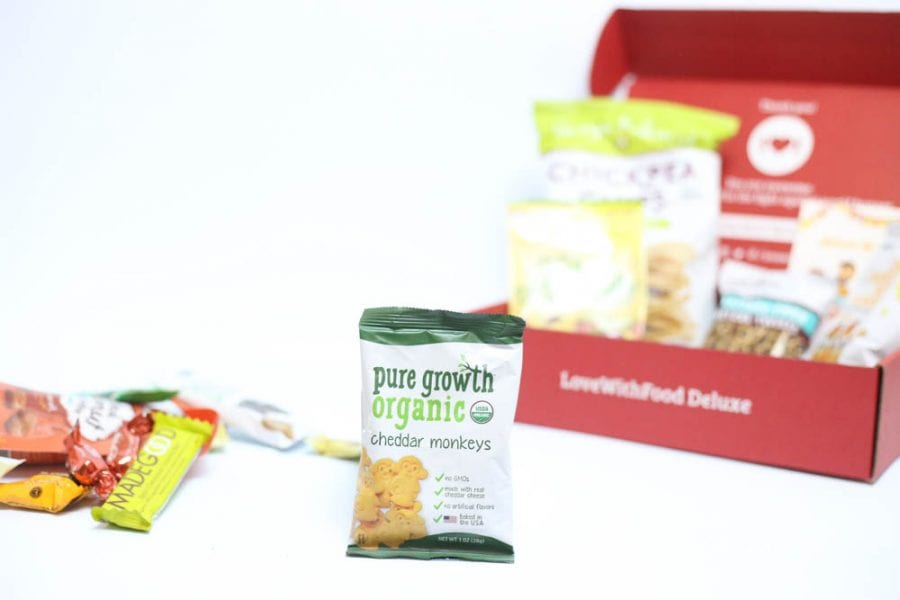 Cheddar Monkeys by Pure Growth Organic
Sweet Crispy Rice Squares or Savory Cheddar Monkey's you can never go wrong with a treat from Pure Growth Organic!
Cheddar snacks aren't my go-to, but because these are organic I would be willing to give them a try.  These would more be what I'd stash away for when the niece and nephew come over.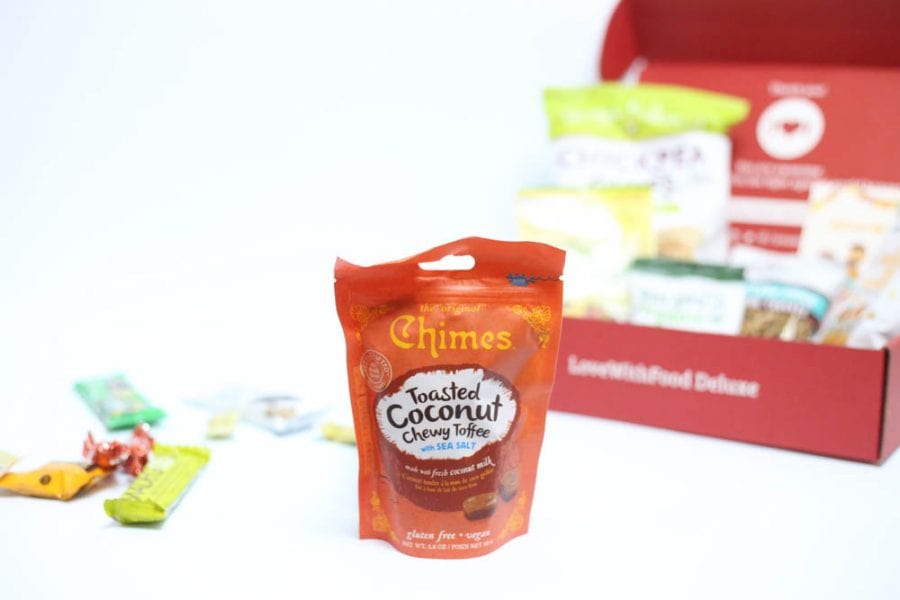 Toasted Coconut Chewy Toffee by Chimes
Step into the tropics with Chimes Toasted Coconut Toffees! They take real coconut milk and cook it with caramelized cane sugar to create a toasty toffee that will tango on your tongue!
This looks like it's arrived just in time for Christmas!  What a great stocking stuffer this will make.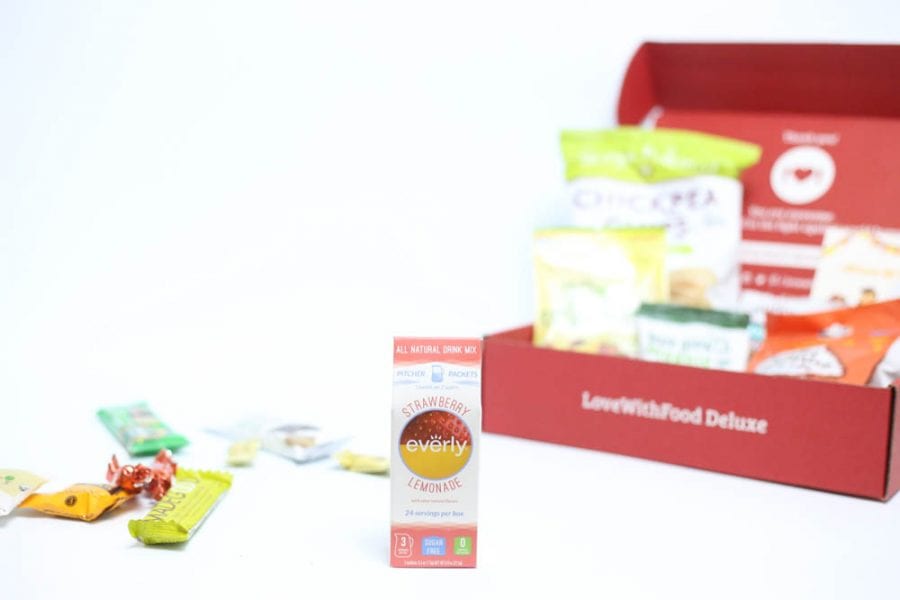 I don't have any product information on this guy, but this is a product I've received before and they are so tasty!  Mixed with a bit of club soda and lime… oh man… so tasty!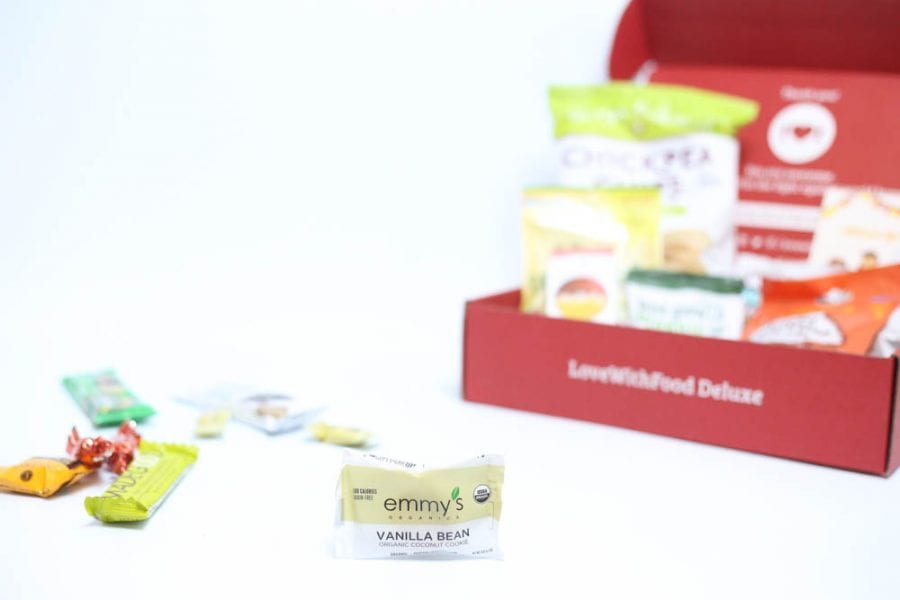 Emmy's Organics Vanilla Bean
Organic coconut, organic agave syrup, organic almond flour, organic coconut oil, organic vanilla extract (water, alcohol [35%], organic vanilla bean extractives), organic vanilla bean powder, Himalayan salt.
I'm such a sucker for cookies!  I'm glad only a small sampling was provided, as I can really get carried away when it comes to cookies!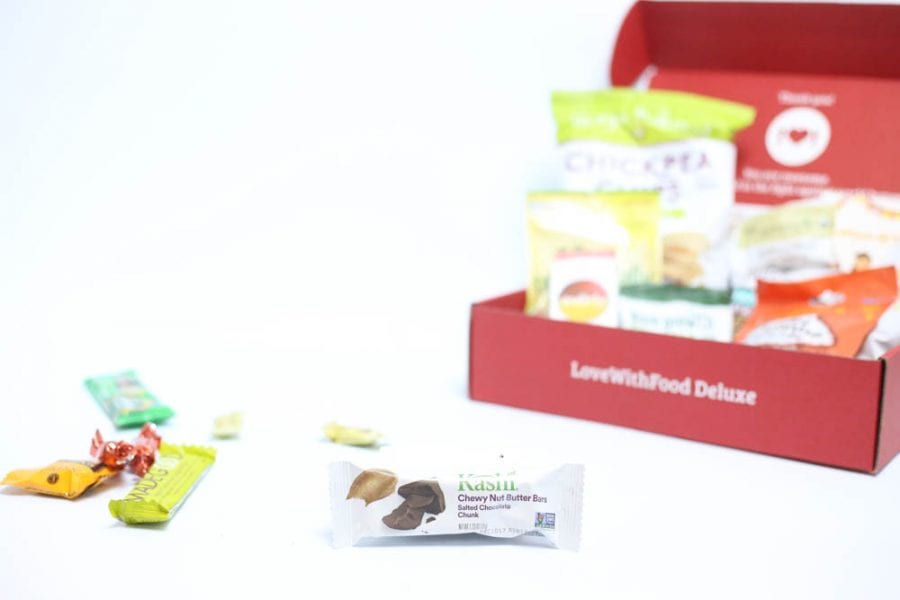 This Kashi bar didn't make the product card either, but again, I can vouche for it and I'm super happy to see some bars provided in this month's box!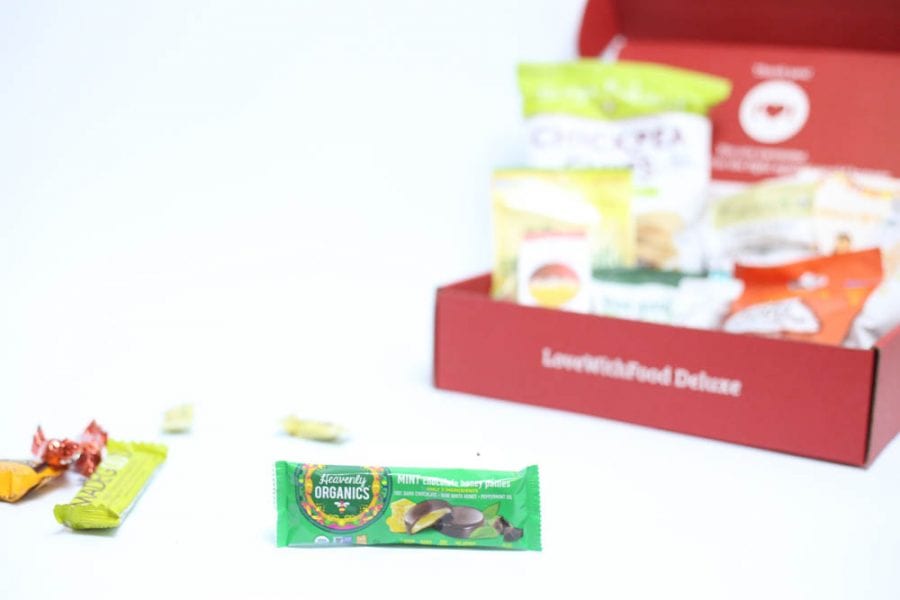 Another item I have seen in previous Love with Food boxes!  I ate them up so fast last time!  Just like a peppermint patty these guys are perfect for Christmas and stockings!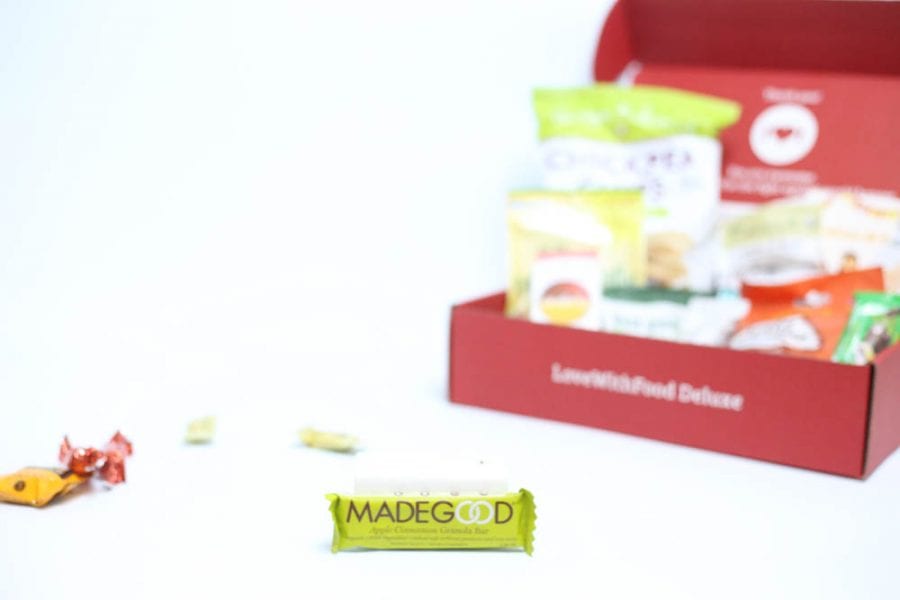 Apple Cinnamon Granola Bar by MadeGood®
This apple and cinnamon bar may sound and taste like a dessert, but it also contains the nutrients in one full serving of vegetables! Who said dessert couldn't be healthy!
So good!  Love apple cinnamon and having a granola bar in my purse is such a life saver some times!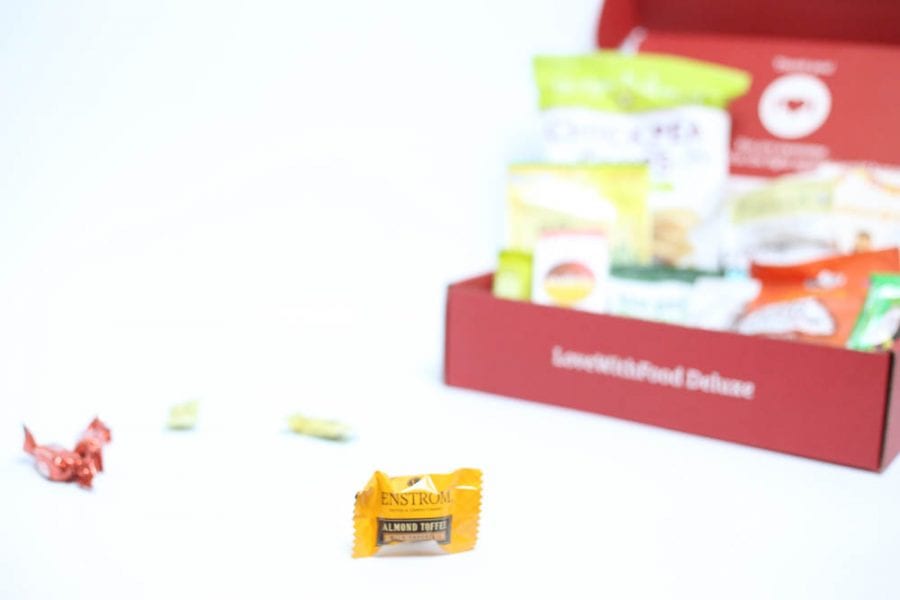 Milk Chocolate Almond Toffee by Enstrom
One-inch squares of sweet butter, pure cane sugar and almonds, enrobed in chocolate and sprinkled with crushed almonds. No wonder they're world famous!
Yes! Another return for Love with Food!  Loved these last time I received them.  I would order a whole box….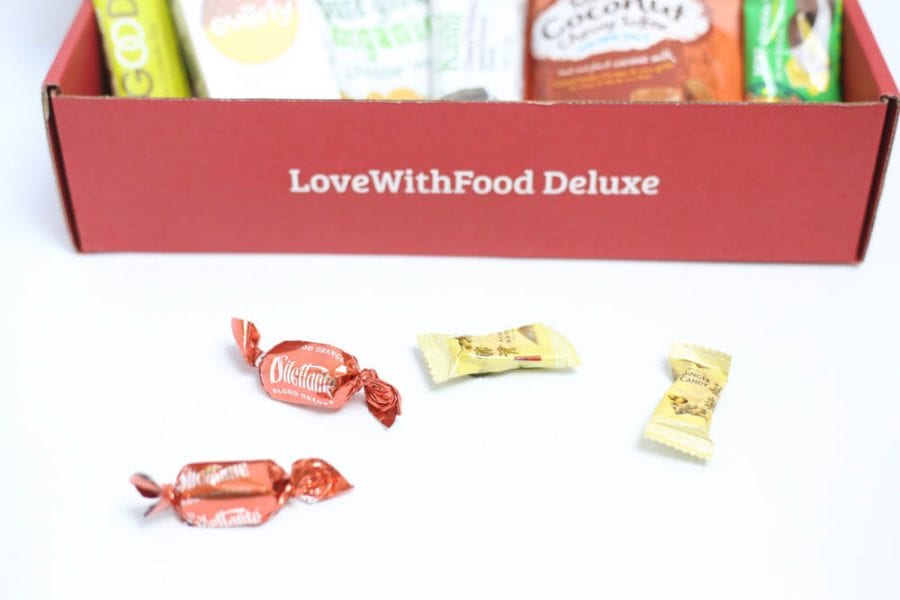 Blood Orange Truffle Cremes by Dilettante Chocolates
Take your tastebuds on a delicious ride with the bright citrus flavor of blood orange combined with the intensity of deep, dark chocolate.
More great stocking stuffers!  The ginger chews are not mentioned on the product card, but I love all things ginger!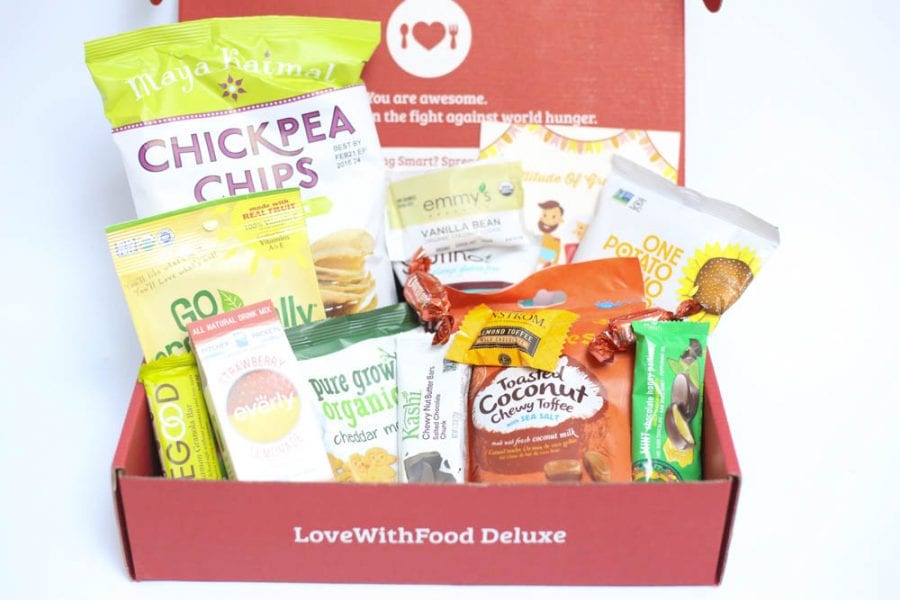 Love With Food November 2017 – Final Thoughts
So impressed with this month's box, but really, what box have we not been impressed with.  I just love snacking… who doesn't.  I really like to keep the cupboards stocked in the colder months too, as who wants to venture out in the cold when all you want to do is crash and cuddle on the couch?  So many of these gems will be saved for stocking stuffers!  I honestly can't say anything negative about Love with Food!  You can tell they have a great community of people working for them who really care about putting out an excellent product!  All the care and detail shows on the website, down through the product card, curation of the box and products selected!  Standing O!
-Shonah
Explore.
Save.
Enjoy!
Sign up for a free account on A Year of Boxes to receive exclusive offers, be added to our monthly mailing list, and much more! We are always adding features to improve the experience for our users, from their valuable feedback!
Join Today!