Love With Food Review November 2018
Love With Food is the easiest way to Snack Smart and Do Good. They help you discover new organic, all-natural or gluten-free snacks delivered to your door monthly. Receive a box of mystery better-for-you snacks and go on a fun foodie adventure with them every month. Their membership starts as low as $7.99/month. They kindly sent us this box for review.
Good to Know: They donate a portion of the proceeds to help fight childhood hunger in the US and around the world. They donate to organizations like Feeding America and The Global Food Banking Network.
There are quite a few snack subscription boxes on the market, but if I am being totally honest, Love With Food is my favorite. I'm a snacker, I always have been and always will be. I would take snacks over an actual meal any day. And…..Love With Food knows their snacks. We receive a ton of them, which makes me very happy, and we also receive the perfect mixture of healthy snack versus treats. We get salty, crunchy, sweet, chocolatey, etc…..
Subscription Details
When you sign up for a Love With Food subscription you have three options to choose from:
Tasting Box – starting at $7.99 receive 7+ surprise snacks each month.
Deluxe Box – starting at $16.50 receive 15+ surprise snacks each month.
Gluten-Free Box – starting at $24.99 receive 10+ gluten-free snacks each month.
Here's a closer look at the snacks we received in the November Deluxe Love With Food Box….
Gourmet Popcorn by Oogie's Snacks
Perfect for school lunches, office break rooms, long flights, camping trips, days at the beach, backyard bbqs, birthday parties, after yoga snack… you get the picture.
Wasabi Ranch Snapea Crisps by Harvest Snaps
All the goodness of Ranch flavor, plus a little kick of Wasabi. A winning combo made better by great ingredients!
S'mores Crunchy Drizzle Bites by Drizzilicious
One taste of our mini Drizzled rice Bites and you'll be astonished at how we're able to squeeze so much flavor and natural goodness into a little tiny snack. Drizzilicious crunchy bites are reinvented mini rice crisps drizzled with indulgent deliciousness.
Maple BBQ Pork Stick by Field Trip
People definitely struggle deciding which side of me they like better. Some love me because I'm sweet, some love me because I'm tangy. Sounds crazy I know, but It's just how I was raised. My ol' man was a Southern pig rancher who married a Canadian maple farmer, so it makes sense that I'd turn out to be a perfect blend of the two. But no matter how you like it, one bite and I bet we're going to be best friends. Get Out There. Be Contradictory.
Banana Bar with Coconut by JanaBanana
An exotic combination of Sun Ripened bananas and all natural Coconut flakes with no sugar added. JanaBanana Bars are 100% natural, have an amazingly fresh taste and provide real energy, that's why kids and adults love them. Our Banana bars are made from the Nanica banana, which is the sweetest of the seven types of bananas grown in Brazil. Nanica bananas have the most potassium of any bananas. Our bars are 100% natural, made with pure banana, no additional sugar, no artificial flavors, colors or preservatives.
Cocoa Nibs Tahini Bar by Absolutely Gluten Free
Are you fluent in Tahini? If the only tahini you know is the one you use as a dip for pita or as a key ingredient in hummus, prepare yourself for a tasty new treat. Our Tahini Bar borrows from the tradition of ancient halva-makers who first recognized tahini's potential as a dessert. Oh, and did we mention its gluten free? So up your tahini game- or should we say, raise the bar?
Dark Chocolate Sea Salt Caramels by Marich Chocolates
The soft, buttery goodness of our handcrafted sea salt caramels wrapped in rich dark chocolate. Creamy meets dreamy.
Apple Raspberry Fruit to Go Strip by SunRype
Enjoy the radical raspberry taste no matter where you are. It's fun on the go.
Pumpkin Spice Protein Bar by RXBAR
Smooth pumpkin, blended together with warming hints of cinnamon and cloves will remind you of your favorite pumpkin pie. You'll want to stock up on this flavor before it disappears until next fall.
Original Recipe Ghee On The Go by 4th & Heart
Fourth & Heart ghee is made from the milk of grass-fed, pasture raised New Zealand cows. Why did we have to go so far from home? We find the best quality to be in the place where the greenest grass grows and that's in New Zealand.
Honey Mustard & Onion Pretzel Nuggets by Pretzel Pete
Pretzel Pete Honey Mustard All Natural Sourdough Nuggets are generously dusted with lip-smacking honey mustard seasoning.
Sea Salt Quinoa Chip by Simply 7 Snacks
All of our Quinoa Chip flavors are designed to deliver all the flavor and nutrients of the ancient super grain quinoa. Sea Salt is our "original" flavor and truly brings out the slightly nutty flavor of quinoa.You might expect Sea Salt to be similar to the flavors of other basic salted snacks but it is so much more. The unique flavor of quinoa and the light dusting of sea salt makes for a snacking experience that will keep you reaching for more.
Strawberry Grahamz by Zee Zees
Want something bite-sized and perfectly portioned, to scoop up some applesauce or yogurt? Something sweet and crispy? How about something strawberry flavored? No need to wish on a star — it's here and it's Zee Zees Strawberry Grahamz!
Apple Simply Wholesome Soft Oatmeal Bars by Appleways
Our soft oatmeal apple bar is moist and packed with sweet apple and a warming cinnamon essence. They are a healthy alternative to conventional snacks, because they are packed with whole grains, all-natural flavors, 0g of trans fat, and no preservatives. These wholesome soft baked bars are individually wrapped for freshness with a 180-day shelf life in dry storage. They meet or exceed the USDA nutritional requirements for a one (1) ounce grain equivalent.
Maple Blueberry Bar by Verb Energy Co.
Each Verb Bar has just 90 Calories and a shot of espresso worth of caffeine (65mg). The caffeine comes from organic green tea so you get long-lasting energy without the jitters. It's the perfect way to start your day, stay focused through the afternoon slump, or knock out a challenging workout.
Edamame and Berry Fusion Trail Mix by On the Go
Introducing our brand new protein-packed range of Edamame mixes! Unique edamame beans blend together with traditional nuts and dried fruit flavors for a crunchy and portable snack. Step up your snacking with powerful plant protein and give our new one-of-a-kind flavor blends a try.
Dark Chocolate & Sea Salt Gourmet Pumpkin Seeds by SuperSeedz
We like to call these "Intervention" because you're gonna need one to stop eating them. They're so good and guilt free. Each seed serves up an unpredictable fusion of luscious dark chocolate, vanilla and subtle salty flavor bursts that will leave you beggin' for more. Enjoy responsibly!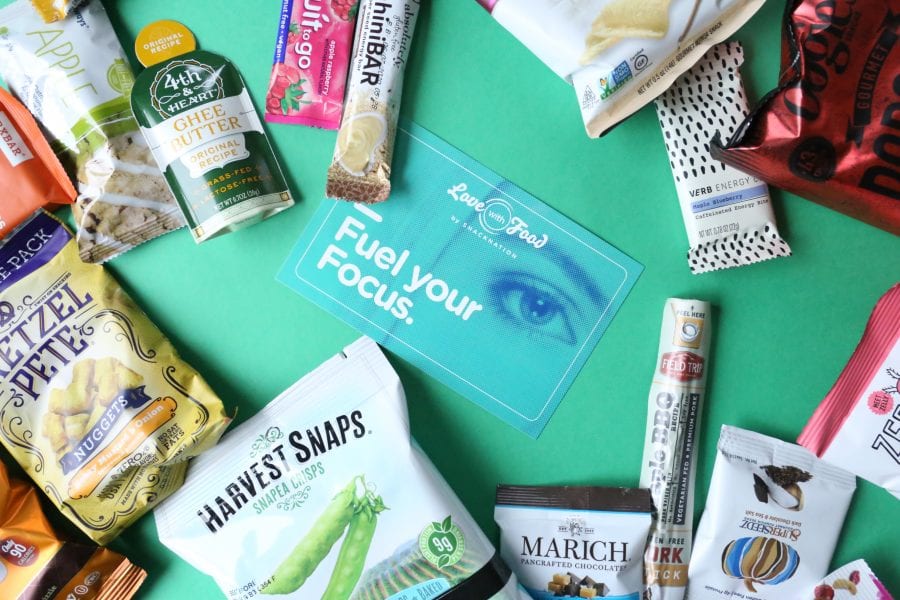 Love With Food Review November 2018 – Final Thoughts
Every month I am amazed by the number of snacks Love With Food manages to pack into this fun red box. Every month when I open it up, I am greeted by an overwhelming (in a good way) number of healthy snacks and fun treats. I have been so unbelievably impressed with the last few boxes that Love With Food has become one of the subscriptions I look forward to the most. This month I am appreciating the fact that they have sent us the perfect mixture of healthy snacks and yummy treats. Yes……I will always prefer healthy snacks, but a girl needs some chocolate and sugar in her life every now and then. Love With Food provides me with both and I love them for it.
XOXO