Lovespoon Candles Review February 2019
Lovespoon Candles offers high end luxury scented soy candles for the sophisticated and stylish in mind. In this monthly subscription, receive three premium candles for $39.95 plus a $6.00 shipping fee in the USA. They also offer 50% off your first box order.
Lovespoon Candles are made from 100% American grown soybeans and the wicks are made of cotton, making for the perfect combination in a burning alternative.
Within each box is a hard carved wooden lovespoon, a Welsh tradition that dates back to the 17th Century, thought to bring love and good fortune. Lovespoon Candles continues with the good fortune by donating to Feeding Children Everywhere. For the Candle Club subscribers, $1 each month allows for 10 meals to be allocated to feeding Starving Children in America.
Here's a closer look at the candles I received this month……
Love Spell
Love Spell, the Cornerstone Collection, is a mix of citrus, cherry blossom, hydrangea, apple and peach; with a hint of blondewood. This candle was the strongest fragance of the three, it would make a lovely bridal shower or wedding gift. With the approximate burn time of 50 hours that is sure to cast the spell of true love.
Sun Shower
Sun Shower, the Monogram Series, reminds me of Spring with its sweet scents of floral and citrus. You can almost feel the sun and fresh Spring air. This would make a perfect birthday gift for a dear friend, the brightly colored glass container is very beautiful and makes for a great keepsake.
Lemon Verbena
Lemon Verbena, was my absolute favorite, it almost reminded me of lemon meringue pie! The scents of lime, grapefruit & lemon that combines with lavender, geranium, rose & lemongrass is the perfect addition to your home fragrance. Such a fresh scent, for use in the kitchen or bathroom. In this convenient travel size, it is perfect for on the go to always make you feel at home.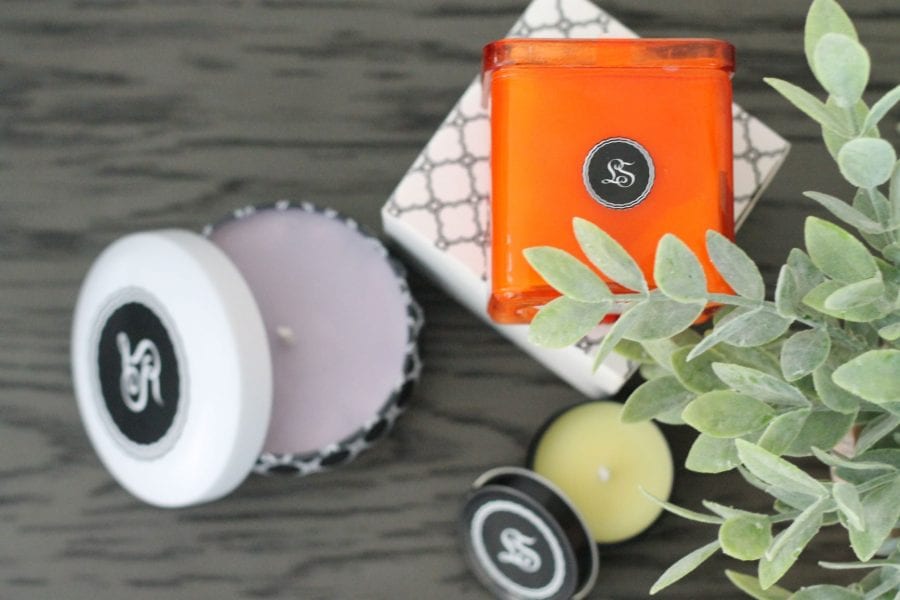 Lovespoon Candles Review February 2019 – Final Thoughts
I appreciate the story behind Lovespoon Candles and the heritage they share. The sweet extra touches really set them apart from other candle companies and membership boxes. The packaging, and quality of the product are exceptional. Whether you are treating yourself or getting a gift for someone, you can't go wrong, the Lovespoon Candle box is perfection!
Toni – http://www.akpartystudio.com