Luxe Box Review Fall 2016
Luxe Box Review Fall 2016
To be totally honest, I was really looking forward to my Fall Luxe Box. I've had mixed feelings in the past, but things are starting to look up for this Canadian Beauty Subscription. It's one of the original beauty boxes in Canada and it has huge potential. Let's hope that they are back on track and headed for great things.
Luxe Box Details
If you aren't familiar with Luxe Box it is a quarterly beauty subscription box where members receive a seasonal Luxe Box with 7 to 8 trial-sized beauty and lifestyle items. Products are specifically selected by their Beauty Editors. Members also enjoy complimentary shipping to their preferred address.
The Box: Luxe Box
Cost: $26 per quarter ($24 on an annual subscription)
What You Get: By joining the Luxe Box community, you will be treated to a variety of beauty specials, exclusive product launches, and a customized Luxe Box every season. Boxes are filled with 7-8 trial-sized beauty and lifestyle products to help you stay on trend for the upcoming season!
Ships to: US & Canada
Shipping Cost: FREE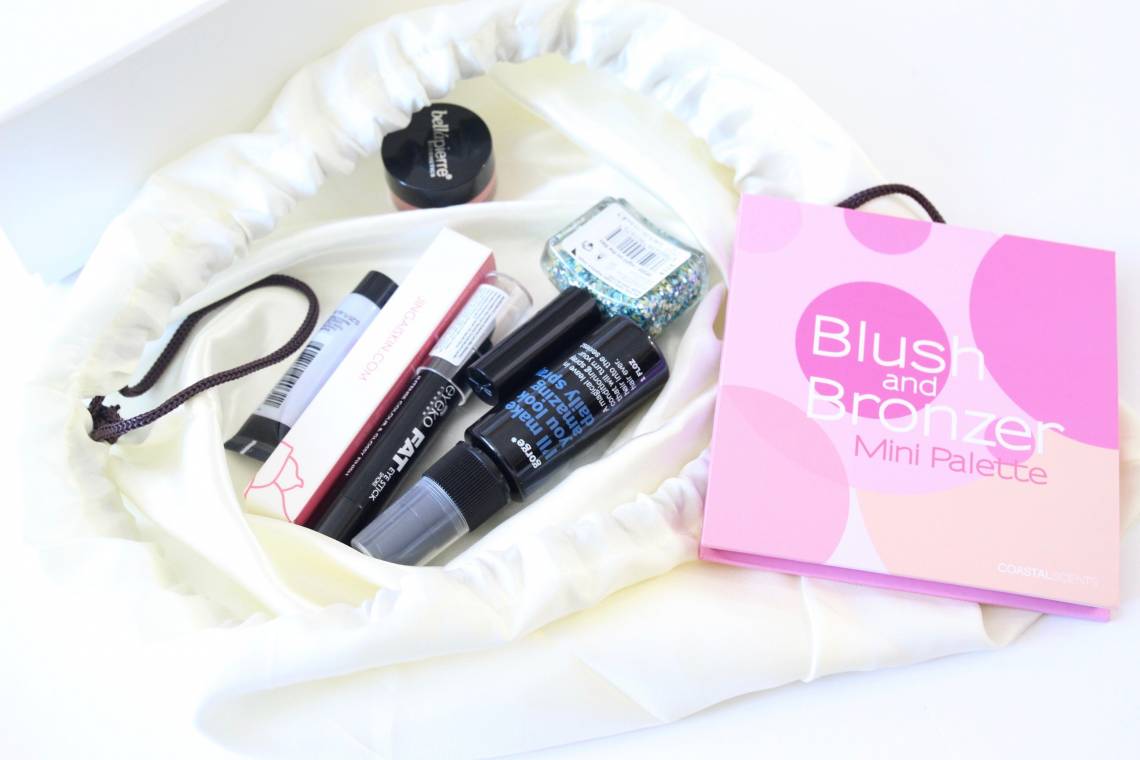 Luxe Box Update
I figured I needed to take some time to talk about Luxe Box and the changes they have made over the last year. I've been a little confused with the subscription since they joined up with TopBox and feel like I am just starting to figure it out…..kind of. Here's what I know:
TopBox and Luxe Box merged over a year ago
They still offer separate subscriptions but some subscribers feel like they receive the same items in both boxes
TopBox is monthly and Luxe Box is quarterly
Both subscriptions release limited edition boxes every so often
There's also TopBox Collective but the site is a little confusing, I was able to find a few limited edition boxes here, one of which I will be reviewing shortly
Let's have a look at my Fall Luxe Box:
Coastal Scents Blush & Bronzer Mini Palette
Everything for a beautiful face… all in one place! Bronzers for amazing overall skin tone, contouring tones for well-defined cheekbones, and blushes for just the right finishing touch. Mix and match combinations… blend colors together! It's all about your creativity. It's all about your look.
This was a nice little surprise. I definitely wasn't expecting a makeup palette. I might not use bronzer but I still appreciate receiving such a fun product. I will definitely get use out of the blush, I love my blush!
Ciate Paint Pot – Night On The Tiles
A nail polish and top coat now reformulated for improved wear, shine, with gel-wear finish—in an array of shades, textures, treatment essentials, and 3D effects. 
I don't really like to wear sparkly polish, I definitely prefer a matte finish. I would have loved to see a Fall color, but some subscribers will certainly appreciate this one.
Gorge I'll Make You Look Amazing Daily Spray
Forget everything you've tried before, I'll make you look amazing will smooth your hair, eliminate frizz, restore incredible shine and enhance your natural body. It is the best nourishing treatment you can find and will leave your hair soft and bouncy, ready to be styled any way you want. It works with all hair types to bring out it's natural luster and makes hair more manageable, stronger and healthier with every use. It's a no fuss instant restoration and conditioning treatment that delivers amazing results.
I am SUPER excited to see this item in the box. I have received this before, a couple of times, and absolutely love it. My hair is really long and can sometimes be a bit of a pain to comb through after I wash it. I like to have a couple little bottles of leave-in spray on hand for that reason.
Bellapierre Coral Cheek & Lip Stain
Unlike traditional stains that are hard to apply, this oil-free Cheek and Lip Stain will finish off any look with great ease and is super blend-able. Available in Pink or Coral.
I love a multitasking makeup product! I have received this before and actually quite like it. I definitely would have preferred the Pink to the Coral, but that's a minor detail. This is perfect for your purse, it cuts down on the number of items you need to bring with you.
Jing Ai Velvet Lip Jewel
Our new Velvet Shine Lip Jewel gives your lips a powerful dose of highly pigmented long lasting color. The formula is infused with 100% natural macadamia seed oil, shea butter and jojoba seed oil. This paraben free formula keeps your lips looking glamorous throughout the day with beautiful hydration and a sexy pout that you will love. No sharpening ever needed just twist the lip crayon to advance the tip.
Yay! I am so excited about this one. Mostly because it is made with macadamia seed oil, shea butter and jojoba. It's not really my preferred shade, but it will be nice as an everyday lip color.
Eyes London Fat Eye Stick
Highly pigmented, Fat Eye Stick Smoke can be used to line, shade and define the eyes and has a retractable formula for effortless application and precision. The smoky charcoal shade will add a touch of glamour to your eye makeup and is the ideal colour for the iconic smoky eye.
I love the idea of an eye stick, but sadly I'm not talented enough to wear colors like this. Regardless, it's a great addition to the box!
Smashbox Photo Finish Foundation Primer
A perfecting primer that instantly blurs imperfections and reduces the appearance of pores for up to eight hours. 
It's so great to see such a quality brand in the box. Smashbox items always receive great reviews. This is one of their more popular products.
Luxe Box Review Fall 2016 – Final Thoughts
I have to say it, I really liked this season's box. I wasn't too sure about Luxe Box, but the last few boxes have restored my faith. We received 7 items this season, with 5 of them being full-size. The value is definitely there, as is the quality. I'm still a little confused when it comes to the whole TopBox/Luxe Box merger thing, but not as confused as I was before. I would have liked to see a different polish color, something more appropriate for Fall, but other than that I really can't complain.
What do you think of the Fall Luxe Box? Are you a subscriber?
XOXO
Explore.
Save.
Enjoy!
Sign up for a free account on A Year of Boxes to receive exclusive offers, be added to our monthly mailing list, and much more! We are always adding features to improve the experience for our users, from their valuable feedback!
Join Today!