Luxily Boutique Box Review April 2016
Luxily Boutique Box is a lifestyle subscription box that I recently discovered. I didn't know much about this box, but after spending some time on their website, I knew it was going to be a good one. You all know I'm a snob when it comes to first impressions, and this box definitely pasts the test. In addition to subscription boxes they also sell gift boxes, and if the items in the subscription box are anything like the items in their gift boxes, then this is definitely going to be a new favourite.
If you aren't familiar with Luxily Boutique Box it is a bi-monthly box of full-sized surprises with the best in fashion, beauty, home! This box was provided complimentary for review.
The Box: Luxily Boutique Box
Cost: $49.95 every 2 months
What You Get: A selection of the best products in fashion, home décor, stationary, and much more. There are three different subscription payment options that auto-renew at the beginning of each month. With all three options, you will receive a box every two months.
Ships to: WORLDWIDE
Shipping Cost: FREE to US & $20 International
I don't think this month's box has a theme, but I know that the June box does – Pineapple Delight. You all know how I feel about themes, so obviously I am EXTREMELY excited about the June box. Can I also just say how much I love the packaging, and the product card! I love that the card is placed on the inside of the lid so it is the first thing you see when you open the box – #greatidea.
Lulu & Max Apricot Marmalade Tea ($16) – First up we have some loose leaf tea, that sounds amazing. Apricot tea is the perfect flavour for this time of year. I love getting tea in my subscription boxes, and as much as I want to keep this one for myself, I might have to gift it to my Stepmom, she likes her tea even more than I do.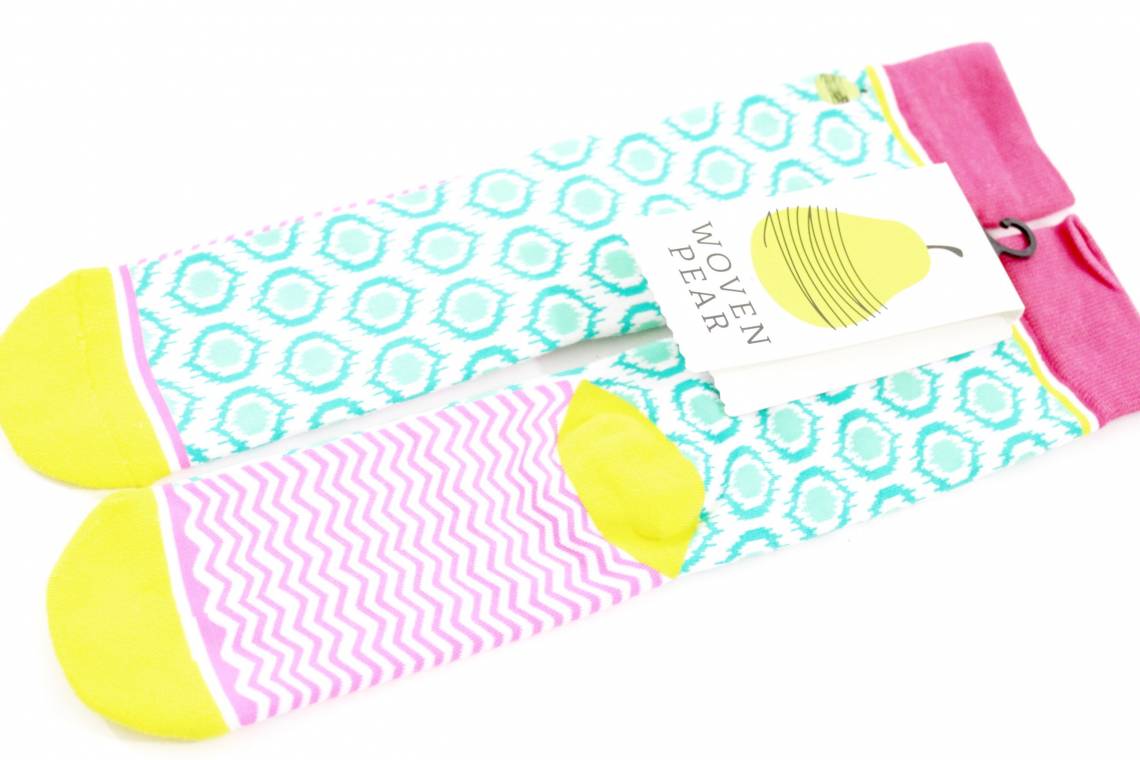 Woven Pear Socks ($15) – These are by far the best socks I have ever received in a subscription box. They kind of feel like they are padded, and the tiny little embroidered pear in the corner is the cutest. And…..I found out that they have their own subscription box where you can get 3 pairs of socks for $24.99 per month – #amazingness
BetsyWhite Stationery Mug ($13) – I absolutely ADORE this mug. The saying "More Doing, Less Doubting" is definitely a new favourite. It's inspired by the quote "doubt kills more dreams than failure" and I love it!! I also love the gold/white combo, and the script. I MUST check out her store. And have I mentioned that I think every subscription box should contain a coffee mug??
BetsyWhite Stationery White Flora Pencils ($8) – And the cuteness continues. I don't use pencils too often, but I like to keep them in my blog office as decoration, and these will fit in perfectly.
LAFCO Chamomile Lavender ($12) – I think some subscribers received apricot soap, but I'm happy with the lavender. I've never tried this soap before but I've heard good things about it. It's made with olive oil, almond oil, and rice protein blend.
Emily Ley To-Do Notepad ($10) – I love notepads, and I love to-do lists, and I love this brand! Emily Ley has a pretty amazing day planner that I've had my eye on for a awhile. I follow her on Instagram, and love all of her products.
Thoughts: This month's box has a value of $75, and I absolutely LOVE every single item we received. The good value is just a bonus, because the items could have had a lower value and I still would have been happy. Come on, we received a coffee mug, that alone makes the box worth it for me. I had a good feeling about this new subscription box and I was right! It's amazing! We only have one little tiny problem……they ship every 2 months and I really wish they shipped every month……#bloggerproblems.
XOXO