Luxor Box December Special Edition Box Review 2016
Luxor Box is an exclusive one-of-a-kind luxury lifestyle subscription box with limited memberships. Discover full-size luxurious spa products, home products and unique treasures from around the world. Delivered 6 times per year, every-other-month. They kindly sent me this box for review.
In addition to their regular subscription box, Luxor box also releases Special Edition boxes from time to time. The last one I reviewed was the Summer Special Edition Box and it was AMAZING! Check it out HERE.
The Special Edition December Box is already sold out, but here are the details:
The Box: Luxor Limited Edition December Box
The Cost: $230 to the US, $260 to Canada
The Products: A luxurious gifts box including over $500 worth of items.
They said that their 2015 December "luxurious Gifts" Special Edition Box was a customer favorite so we decided to bring the same theme back this year with ALL NEW products for 2016! The December 2016 Special Edition Box features many unique products with "luxurious gifting" in mind!
Let's have a look:
1951 Maison Francaise ROND bag in Blanc Craquelé – Value $155
This was the spoiler item for the Special Edition box. Customers got to choose one of four colors. There was a white, black, gold and rouge. I don't have any maroon coloured bags in my collection so I went with this one. I love the style, I don't have anything like it. And I have become a fan of Maison Francaise.
Orrefors Snowflake Ornament
 – Value $30
Decorate your tree with this elegant crystal Snowflake ornament from Orrefors. Comes on a red ribbon in a beautiful gift box. Ideal for the holiday season as a gift or as an addition to the Orrefors collection!
We also received an ornament in the November box, but I definitely prefer this one. It is perfect. It can be added to any color scheme. It is classy and festive at the same time. So pretty.
Kashmir Petite Dishes Set
 (set of 2) – Value $36
The Petite Dish set is designed for starters. The Kashmir gold pattern is evocative of the intricate hand-embroidered fabrics of South Asia. Great for finger foods and dips, enjoy these dishes' timeless beauty while preparing for the main meal.
These dishes are absolutely gorgeous!! I had a quick look at their website and I want the entire set. They have mugs, glasses, bigger dishes that match the smaller ones, salt & pepper shakers, etc. These ones in particular will be great for small snacks.
Kashmir Appetizer Plate Set 
(set of 4) – Value $60
Inspired by the gorgeous, hand-embroidered fabrics of India, a set of four porcelain appetizer plates is accented in golden geometric patterns.
So excited to have plates to match the Petite Dishes. I can't get over how pretty these are. I almost don't want to use them. They will have to be saved for small gatherings, but I am super excited to put them to use.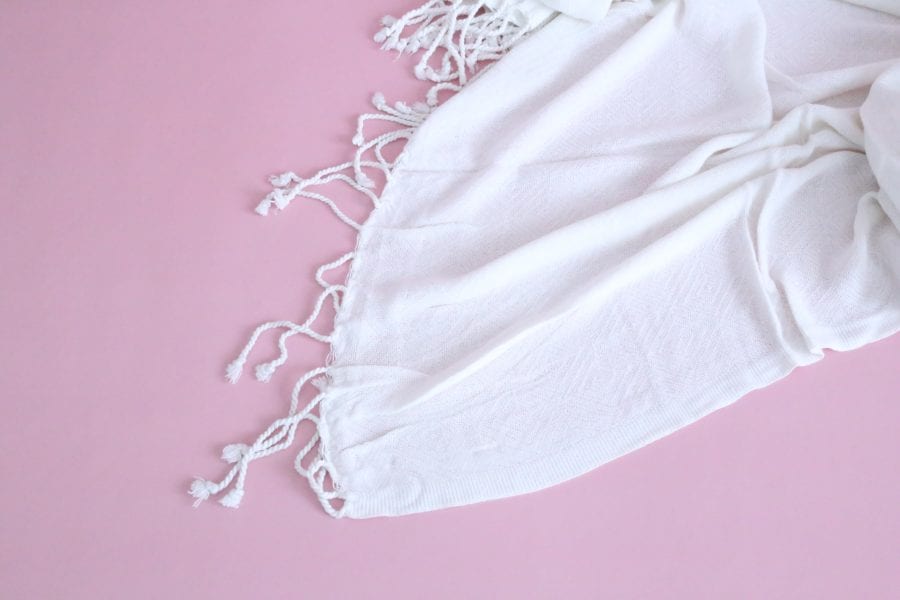 Briers Home Furnishings Diamond Weave Bamboo Throw
 – Value $72.99
So soft and luxurious, these lightweight throws also look great draped on a chair or sofa.
This is absolutely perfect!! I have wall ladders on either side of my TV that I use for storing blankets and pillows. This one will fit in perfectly, and I was contemplating getting another cream blanket. It is lightweight and soft. Subscribers received white or blue, and I am SO glad I received white. I absolutely LOVE receiving items like this in my luxury subscription boxes.
Cire-cell Vitamin C Ampoules
 – Retail Value $160
A breakthrough blend of antioxidants and biopeptides that reduces the appearance of fine lines and wrinkles and protects skin from the visible effects of sun and environmental damage.
I've always been intrigued by this capsule thing when it comes to skincare products. I did a little research and found out that the single-use capsules eliminate oxygen exposure and ensure fresh, maximum potency Vitamin C with each application. This is exciting. I use Vitamin C serum on a daily basis because my skin responds so well to it. I think this is probably the most exciting skincare item I have ever received in a subscription box.
Luxor Box December Special Edition Box Review 2016 – Final Thoughts
Wow, very impressed with this box! Some of you felt like the November box was a little blah, but this one is anything but. I feel like they redeemed themselves, ten times over. The value is approx. $514 and that is pretty darn amazing considering the cost was $230 US & $260 Canada. Luxor Box certainly does an amazing job with their Special Edition boxes. Out of all the Luxor Boxes I have reviewed, the Special Edition boxes have been my favourite. The throw and the Vitamin C capsules (oh and the purse) are what I am most excited about. But then again, I am also excited about the serving dishes and the cute little tree ornament. I guess you could say I love the entire box. This would have made the best gift. And I would love to say that I am going to share some of these items with my friends, but sadly I'm not. I'm keeping them all for myself. Merry Christmas to me!!
XOXO
Explore.
Save.
Enjoy!
Sign up for a free account on A Year of Boxes to receive exclusive offers, be added to our monthly mailing list, and much more! We are always adding features to improve the experience for our users, from their valuable feedback!
Join Today!