Luxor Box Review & GIVEAWAY March 2016
I'm always excited to review Luxor Box, it's one of the best lifestyle subscription boxes on the market, but I'm even more excited about today's review because one of my wonderful readers has the chance to win their own Luxor Box…..or three. I've teamed up with LB to give one of you a 6-month subscription (equal to 3 months on their bi-monthly plan), 2 gorgeous 1951 Maison Francaise Clutches, and a bonus mystery pack, with a total value of $800 – ENTER HERE!
If you aren't familiar with Luxor Box it is described as "Luxurious Discoveries". Every-other-month they curate a selection of 6-9 full-size, hand-picked, products with a value of $275+ per delivery. They like to feature unique and up-and-coming brands. Their surprise selections will range from high-end spa products, top-shelf beauty products, jewelry, apparel, home accessories and unique treasures from around the world. This box was provided complimentary for review.
The Box: Luxor Box
Cost: $129/delivery in US; $159/delivery in Canada
What You Get: 6-9 full size luxurious products per delivery with a $250+ value, shipped every 2 months, products will include luxurious spa products, top-shelf beauty products and unique treasures from around the world.
Ships to: US & Canada
Shipping Cost: included in cost
Giveaway: Enter to win 6-Month Subscription to Luxor Box (3 boxes on their bi-monthly plan), two beautiful 1951 Maison Francaise Clutches, and a bonus mystery pack – total value of $800+ –  ENTER HERE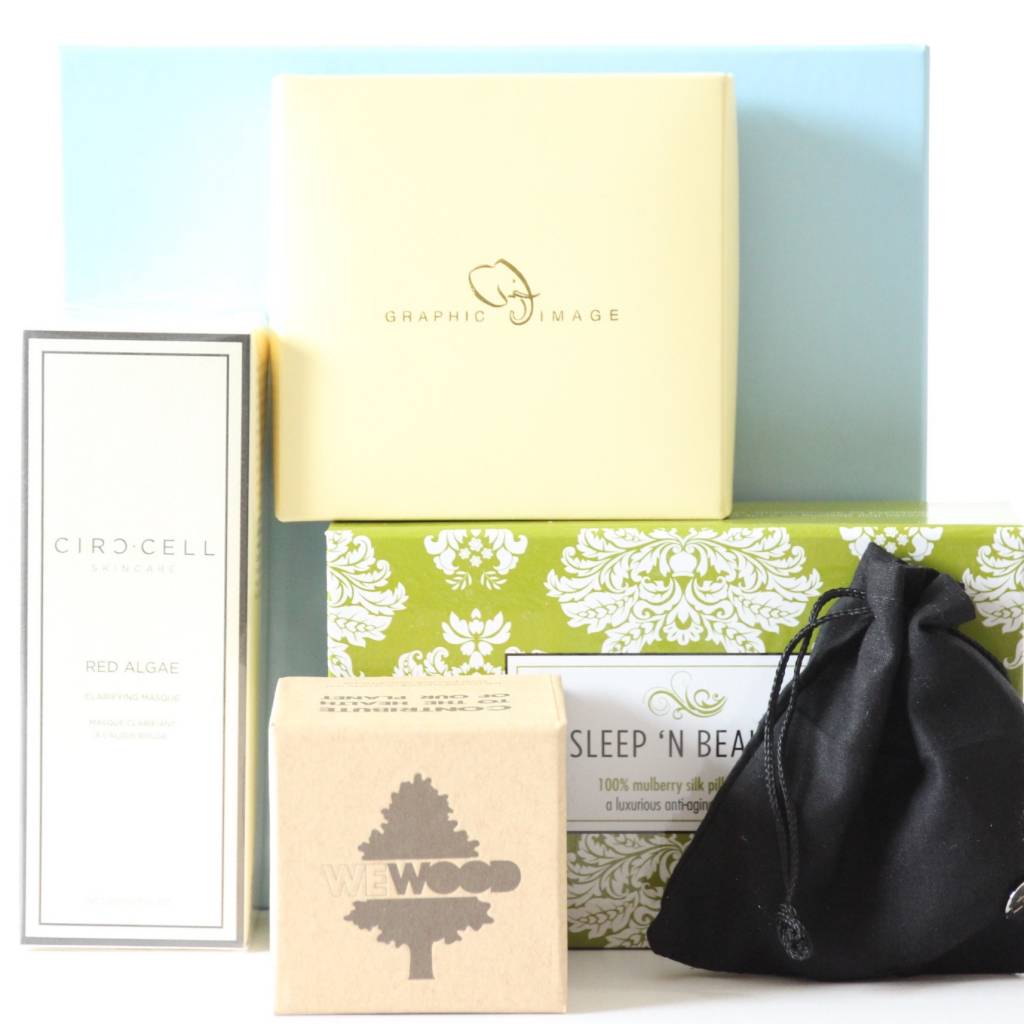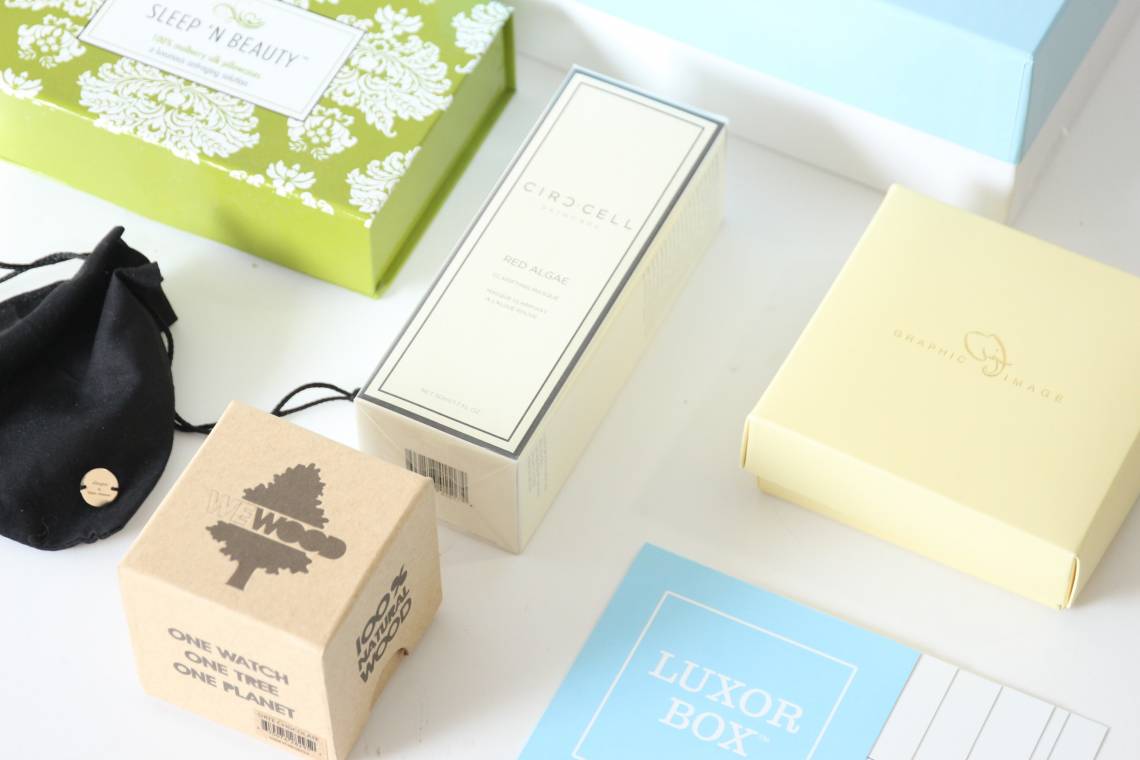 One thing's for sure, Luxor Box always has AMAZING value. It's pretty much guaranteed that the box will be filled with gorgeous products from noteworthy brands. I never worry about this box, I always know I am going to love it, no questions asked.
Circ-Cell Red Algea Clarifying Masque ($70) – My skin acts up every year around this time. It's craving sunlight and is dried out from the Winter weather. I was happy to see this item in the box, even though skincare products scare me, because it contains some of my favourite natural ingredients – grape seed, lavender, and grapefruit oil. My skin needs this right now.
WeWood Date Watch ($125) – How gorgeous is this! I have been looking at watches similar to this and am so happy to be able to add one to my collection. It is super light-weight, and free from toxic ingredients. I will definitely be styling this little gem on my Instagram page….stay tuned.
Sleep 'N Beauty Silk Pillowcase ($74.99) – Are you kidding me! What an amazing idea for a lifestyle box, why has nobody done this yet? I always knew silk pillowcases were better than cotton, but I didn't know why. The product card says that silk absorbs less moisture from your skin and hair than other materials. This way your skin will retain more moisture, leaving it soft and reducing wrinkle lines…..sign me up!!! I am pumped!
Graphic Image Coasters with "Cheers" Tin Box ($38) – So…..I'm in the process of creating a box of decor items for my new house. I've had plans to move out of my townhouse for quite some time and it's definitely going to happen this year. I am keeping all my pretty little house ware items safe until then, this is partly why I LOVE receiving them in my subscription boxes so much. These coasters will be perfect for my bar cart.
Deepa Gurnani Nova Bracelet ($45) – What a pretty little bracelet. Gunmetal is a jewelry color I am currently lacking in my collection. I have a gorgeous watch, but until now, nothing to stack with it. This is going to match it perfectly. It's made in India, and the details are gorgeous.
Value: $352.99
Thoughts: This box just blows me away. The value is unreal! You only see value like this in a handful of subscription boxes, so it's definitely something to take note of. The products this month are gorgeous, every single one of them. I still can't get over the silk pillowcase, I'm so happy to have one finally…..the only problem is I'm going to want to get another one. I was also really happy to see the wood watch, as this is a new trend and it shows me they pay attention to what's going on in the fashion world.
Sooooooo…..I highly recommend checking this box out…..obviously. And I also recommend entering the amazing giveaway Luxor Box is kindly letting me host…..it's valued at more than $800……you need to enter now – CLICK HERE
XOXO
Explore.
Save.
Enjoy!
Sign up for a free account on A Year of Boxes to receive exclusive offers, be added to our monthly mailing list, and much more! We are always adding features to improve the experience for our users, from their valuable feedback!
Join Today!