Luxor Box Review January 2017
Luxor Box is described as "Luxurious Discoveries". Every-other-month they curate a selection of 5-9 full-size, hand-picked, products with a value of $275+ per delivery. They like to feature unique and up-and-coming brands. Their surprise selections will range from high-end spa products, top-shelf beauty products, jewelry, apparel, home accessories and unique treasures from around the world. They kindly sent me this box for review. 
Luxor Box is more expensive than most subscription boxes, but the value is also more than triple what you would see in a typical subscription, so in this case you get what you pay for. I personally love this subscription. But I tend to lean towards luxury subscriptions. I see subscription boxes as a way to treat yourself, so why not go for luxury. Go big or go home…….right?
Luxor Box doesn't do themes, and sometimes I kind of wish they would. I think it would be fun to see a theme every so often. But then again, they tend to do themes with their limited edition boxes, so maybe that's why they don't do them with their regular boxes. Regardless, I love this box, just thought I would point that out.
Here's a look at the items we received this month: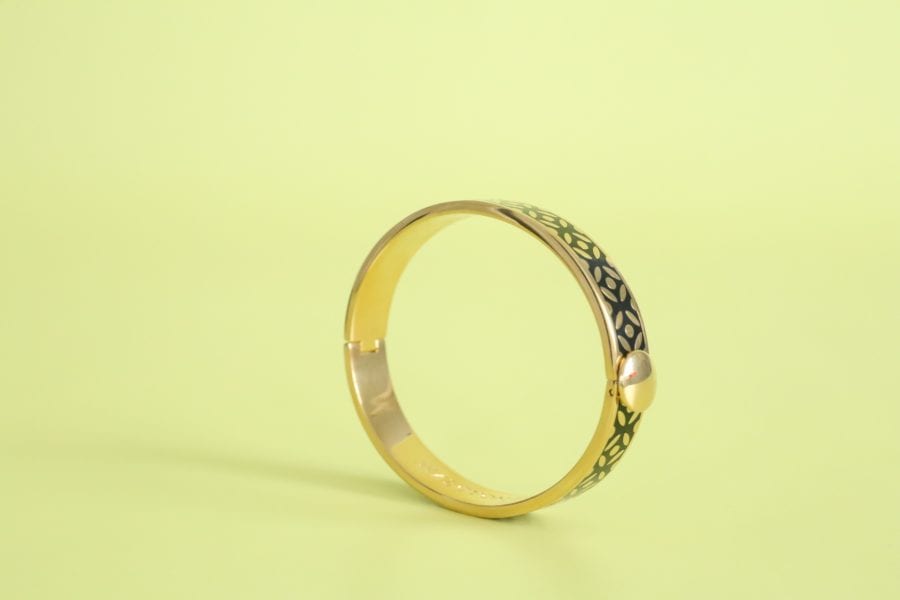 Halcyon Days Rose + Gold Bangles ($195.00)
Featuring an abstract rose pattern set against a coloured enamel base, this bangle is as unique as it is eye catching . The pattern and mount have been set in 18ct gold, giving it a glossy and striking finish.
Halcyon Days has definitely become a Luxor Box staple. We have received jewelry from this brand a few times now. I love the brand, and I love the value. The pieces are always gorgeous, as is the one we received this month. I would maybe like to see them switch it up in future boxes. Or let subscribers know if this is a brand they can expect to see on a regular basis.
With that being said, I should also let you know that this is probably one of my favourite pieces from Halcyon Days. I fell in love with the bangle as soon as I took it out of the box.
Chando Youth Floral Intimacy Diffuser – Blue ($69.00)
Capturing the daintiness of a butterfly, ethereally attracted to the freshness from the scent. A highly polished porcelain with sandblasted grooves, varnished with modest exquisiteness.
This is pretty and dainty and just what I needed. It might not fit my style perfectly but I just broke my oil diffuser and desperately needed a new one. This one can be used in your car or home. I am going to sit in beside my desk. You simply add a few drops of your favourite oil (or the one it comes with) and let it do its thing.
The North Detail Hand Towel Set ($14.00 each)
Perfect for teacher gift, hostess gift, holiday stocking stuffer, decorating your home, to hang in your kitchen on the stove or ink, to hang in the bathroom as a hand towel, or wrap a wine bottle in and give as a gift.
I can always use pretty hand towels. They are nice to have on hand when guests come over. If you are entertaining you are bound to have at least a couple of hand towels lying around the kitchen while you cook, and clean. I would much rather have these lying around than my everyday towels.
 Friendship Glass (Hearts) by Ulrica Hydman-Vallien ($20.00 each)
Lovely beer glasses with unique patterns from Ulrica Hydman Vallien.
I definitely wasn't expecting to see these in the box. Part of me loves them and part of me is confused. They are unlike any item I have ever received in my Luxor Boxes. I probably wouldn't have picked these out on my own, but they will be a cute little addition to my home bar. They will also be fun to use for Valentine's Day.
Orrefors City Ice Cubs, Set of Four ($30.00)
Keep your cocktails perfectly chilled without diluting the mix. Simply freeze this ice cube set before happy hour and drop in your drink—a classed up way to serve on the rocks.
These go with the glasses and the hand towels, but again I am kind of confused. This is another item unlike anything Luxor Box has included in the past. They almost give the box a bit of a masculine feel. Or is it just me?
Luxor Box Review January 2017 – Final Thoughts
Part of me loves the January Luxor Box and part of me thinks it's just a tad bit random. I was kind of surprised when I opened the box. The items inside are quite different from the items they usually include. The glasses, hand towels, and ice cubes give it a completely different feel than most of their boxes. But maybe that is what they were going for. I'm all for mixing it up. No one wants to see the same items box after box. But with that being said, I definitely prefer the boxes that have included bath & body products, fashion accessories and fitness accessories. The March Box and Special Edition Summer Box come to mind. Overall this was a good box, and the value is there as always, it's just different.
XOXO
Explore.
Save.
Enjoy!
Sign up for a free account on A Year of Boxes to receive exclusive offers, be added to our monthly mailing list, and much more! We are always adding features to improve the experience for our users, from their valuable feedback!
Join Today!