Maeven Intro Box Review September 2018
Maeven is a luxury subscription box designed for today's trendy and sophisticated bride. Each monthly subscription arrives beautifully packaged in their signature white box and the value of every box far exceeds the subscription cost. They kindly sent us this box for review.
Maeven is a brand new subscription box for brides and this will be our very first review.
For their first month, all brides receive this exclusive Intro Box with everything they need to kick off the planning process. Each subsequent month offers a new curated collection of amazing full-size gifts and ideas.
In addition to that our box included a FREE bonus Maeven three-chain gold necklace, which is part of an intro offer available to new subscribers right now.
Subscription Details
Introducing Maeven, a luxury bridal subscription box designed for today's trendy and sophisticated bride. Each month brides receive stunning gifts and inspiration to help throughout the planning process, always updated to stay in season and on trend.
Subscribe: Choose a subscription length and each month you will receive a bridal subscription box containing the newest and trendiest bridal products.
Curate: Each box contains a box full of must-have items for your wedding day and planning process. Each bride receives our Maeven Intro Box for their first month.
Receive: Once a month your box is delivered to your door to further increase the excitement to your big day. Happy planning!
Here's a closer look at the Intro Box….
Keepsake Box
Your Maeven box comes beautifully packaged in our ribbon-tied keepsake box. This box is perfect for so many uses, including beautifully storing your wedding keepsakes! Share with us on social media all of the creative ways you reuse your Maeven Box!
First up we have this gorgeous box. It was packaged nicely inside a brown mailing box so as not to damage it. I love that it can be used to store your wedding keepsakes, planning essentials, etc.
Wedding Planner
Our custom Maeven Wedding Planner will have you organized in no time. With month-to-month checklists, budget tracker and wedding planning worksheets, you can keep track of every last detail. It also includes full weekly and monthly calendars to conveniently plan out everyday life details as well!
This is the perfect item for a bride box. Planning a wedding can be extremely stressful, and a lot of work, so it's a really good idea to use a planner in order to keep yourself organized.
Champagne Flutes
First things first, pop open a bottle of your favorite bubbly and raise a toast with your beloved to kick off a fantastic wedding planning process. These stemless champagne flutes are a beautiful accompaniment for wedding brainstorming and planning sessions.
Love, love, love these champagne flutes. Not only can you use them to kick off the planning process but you could also use them the day of the wedding or for anniversaries.
Cake Topper
This Mr. & Mrs. Cake topper is one of the hottest wedding trends on Etsy. Perfect for weddings, as well as engagement parties, bridal showers and other exciting events. Get creative and show us your photos!
I love wood detail, and I love this cake topper. Use it the day of your wedding and then store it in your keepsake box along with all your other wedding day mementos.
Wedding Day Cards
Use these wedding day cards to exchange love letters with your beloved on the morning of the wedding. They are a great way to ensure a quiet moment during the flurry of the day to connect and focus on what the day is all about. Photographers love to capture the emotional moment while you read your partner's words and they make lovely keepsakes.
This is such a cute idea. It's a great way to share a quiet moment the day of and it's another item that can be stored in your keepsake box and re-read on each anniversary.
Rose-Quartz Necklace
This Rose Quartz Necklace will be a flawless accessory for your wedding-related events, as well as everyday wear! It pairs great with white, which we are sure you will be wearing a lot of during the next few months!
Oh my goodness! This necklace is absolutely gorgeous!! I love that they included a jewelry item for you to wear to all your wedding-related events. It's a nice little touch.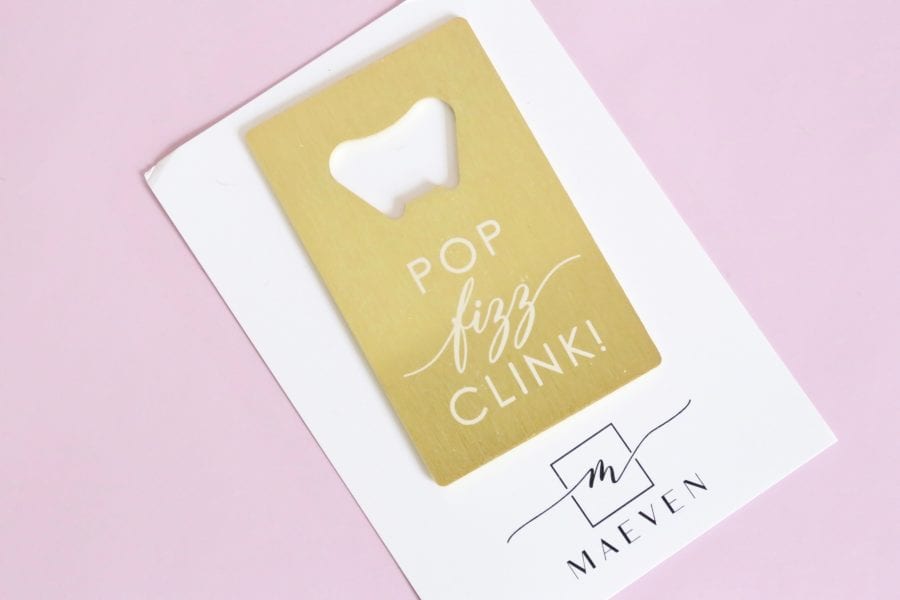 Bottle Opener
With so much to celebrate, this Pop Fizz Clink! Bottle Opener can be stashed in your wallet, purse or on your keychain so that you always have one on hand! Fantastic for bachelorette parties as well!
Oh my goodness…..I feel like this box just keeps getting better and better. My fiance and I are going to spend a relaxing morning together the day of our wedding, complete with champagne and orange juice, so this bottle opener paired with the champagne flutes really are the perfect items to have received in this box.
Rose Bath Salts
Draw a nice bath and soak away the wedding stress with these rose bath salts. Featuring a luxurious mix of Himalayan pink salt and organic rose petals, this relaxing soak will leave your skin refreshed and hydrated.
I also plan on having a relaxing bath the morning of our wedding, I am going to take my sweet time, lounge in the bath, maybe drink some coffee and Baileys and of course use these lovely bath salts.
Bonus Item
All customers that purchase a three or six month subscription will receive a bonus gift of our Maeven three-chain gold necklace. The bonus gift will ship with your first box.
Maeven Intro Box Review September 2018 – Final Thoughts
Wow, wow, wow. I am so unbelievably impressed with my Intro Box from Maeven. They have every detail covered and have provided me with an amazing box full of wedding essentials. I have receive a couple of bride boxes in the past and this one tops them all. It's gorgeous from beginning to end, just like a bride box should be. I am 100% in love with every single item we receive and can see my self using all of them. My Maeven Intro Box just made me that much more excited for my wedding. I honestly can't wait to see what next month's box includes. This is the box EVERY bride needs in her life!
XOXO