Maeven Review April 2021
Maeven is a luxury subscription box designed for today's trendy and sophisticated bride. Each monthly subscription arrives beautifully packaged in their signature white box and the value of every box far exceeds the subscription cost.
**They kindly sent us this Maeven Box for review**
FYI – For their first month, all brides-to-be receive the Intro Box with everything they need to kick off the planning process. Each subsequent month offers a new curated collection of amazing full-size gifts and ideas.
The Maeven boxes I have reviewed so far were incredible, filled with high-quality, unique wedding-themed items. I am so excited to dig into this box!
Subscription Details
"Introducing Maeven, a luxury bridal subscription box designed for today's trendy and sophisticated bride. Each month brides receive stunning gifts and inspiration to help throughout the planning process, always updated to stay in season and on-trend."
Subscribe: Choose a subscription length and each month you will receive a bridal subscription box containing the newest and trendiest bridal products.
Curate: Each box contains a box full of must-have items for your wedding day and planning process. Each bride receives our Maeven Intro Box for their first month.
Receive: Once a month your box is delivered to your door to further increase the excitement of your big day. Happy planning!
Here's a closer look at this month's Maeven box…
EXPERT ADVICE
Each box contains a pamphlet with expert advice. This month's pamphlet featured expert advice from Maeven regarding helpful technology: essential websites and apps to help manage details for the big day!
PRODUCT CARD
The product card reads:
"This month's Maeven Box has all the clothing and accessories you need to keep you celebrating in style and is packed with bridal essentials to get you excited for your wedding day!"
Let's take a look inside:
WHITE KEEPSAKE MAEVEN BOX
"Your Maeven box comes beautifully packaged in our white keepsake box. This box is perfect for so many uses, including beautifully storing your wedding keepsakes!"
All Maeven boxes whether subscription or gift boxes, come packaged in one of these gorgeous keepsake boxes. This box is high-quality and has a magnetic closure. It came packaged carefully inside a brown mailing box to prevent damage. Inside I unpacked this stunning white box with rose gold embossed writing. I love that it is so versatile and can be used to store many items including wedding keepsakes, important documents, planning essentials, etc.
WIFEY BASEBALL CAP
"Put a lid on it, you're officially wifed up! Wear it proud with this stylish hat."
This hat is super cute, fits perfectly and arrived just in time for the sunshiney weather!
"LET THE ADVENTURE BEGIN" TOTE BAG
"The perfect bag for an exciting new chapter and new beginnings. Bring it on your honeymoon or even to the grocery store! It's versatile enough for any occasion."
I have a secret obsession with canvas tote bags. This tote is adorable and I love the gold message and writing. I also appreciate the bonus hair tie!
GIFTS & CARDS ACRYLIC SIGN AND STAND
"Let your guests know where to drop the goods with this versatile wedding sign, designed to fit seamlessly within any theme or color palette. Pair it with a guestbook, or place it against a floral backdrop to set the scene for the day or night. Your guests will walk into your wedding hands-free and ready to applaud the newlyweds."
This sign is simple, classy and will be the perfect yet subtle addition to your gift table.
"BRIDE" EYE MASK
"Get your bridal beauty sleep with this sleek eye mask. For additional benefits, toss the included gel pack into your fridge and then slide into the mask to alleviate tired or puffy eyes to look and feel rested!"
I love how silky this sleek eye mask is! Perfect to encourage beauty rest and relieve those tension headaches from all of your stress.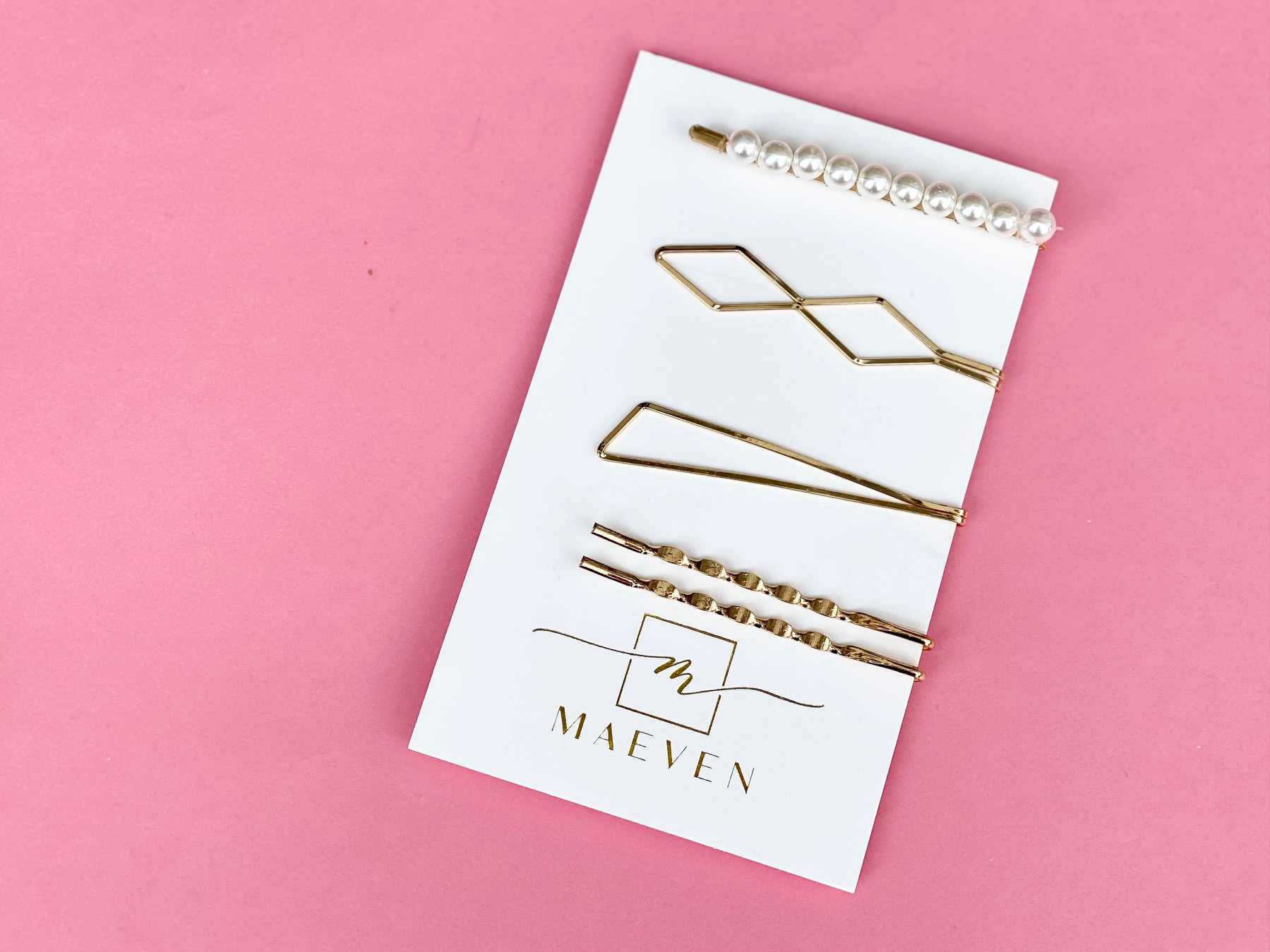 BRIDAL HAIR CLIPS SET
"Add a feminine touch to your tresses with these delicate barrettes."
These delicate barrettes will be the perfect addition to any bridal hairdo. I have also been wearing them in my hair casually and have received many compliments.
ZOYA NAIL POLISH
"Let's see the ring!" Always be prepared with the perfect shade of nail polish on hand. It's free. of the 10 harsh ingredients found in most nail polishes, so you can worry about more important things (like what shoes you're going to wear on your big day)!"
I am here for this shade of polish! A nice neutral that will suit any skin tone and wedding-themed occasion.
Maeven Review April 2021 – Final Thoughts
Maeven has done it again. How do they manage to put together such an amazing box month after month? Maeven really is one of the best bridal subscription boxes on the market. I love all of this month's items, but especially love the tote bag and Wifey hat. Check out this wonderful bridal subscription for yourself, or the bride in your life!
Hayley Savanna – https://www.instagram.com/hayleysavanna/