Maeven Review December 2018: Bridal Subscription Box
Maeven is a luxury subscription box designed for today's trendy and sophisticated bride. Each monthly subscription arrives beautifully packaged in their signature white box and the value of every box far exceeds the subscription cost. They kindly sent us this box for review.
Maeven is a new subscription box for brides and this will be our third review. So far we have reviewed the Intro Box, the November Box and today we are having a look at the December Box. Every box we have received has been amazing. I am so impressed with the quality and curation, not to mention the price point. Maeven is a gorgeous subscription from beginning to end and would make an amazing gift for any bride to be.
FYI – For their first month, all brides receive the Intro Box with everything they need to kick off the planning process. Each subsequent month offers a new curated collection of amazing full-size gifts and ideas.
Subscription Details
Introducing Maeven, a luxury bridal subscription box designed for today's trendy and sophisticated bride. Each month brides receive stunning gifts and inspiration to help throughout the planning process, always updated to stay in season and on trend.
Subscribe: Choose a subscription length and each month you will receive a bridal subscription box containing the newest and trendiest bridal products.
Curate: Each box contains a box full of must-have items for your wedding day and planning process. Each bride receives our Maeven Intro Box for their first month.
Receive: Once a month your box is delivered to your door to further increase the excitement to your big day. Happy planning!
Here's a closer look at the December Maeven box…….
Mrs. T-Shirt
Sorry she's taken! This cute T-Shirt is the best way to ring in your recent nuptials, and it's the perfect addition to your honeymoon bag. Put the t-shirt on and your feet up, you've officially made it through wedding planning. (Your new hubby will love it almost as much as you do!)
Yes!!! Love, love, love this tee! Every bride needs a Mrs t-shirt and this one is super cute. It's simple, classy and fun all at the same time. I also really love the color of the text. It's a gorgeous mauve/pink color that Maeven uses often when it comes to fashion items and accessories.
Wood Chair Signs
Let your seats stand out from the rest of the room during the wedding (or any other pre-wedding event) with these beautiful wooden chair signs. Hang them on the backs of your chairs with the hemp string we've included (or use your own ribbon if you're going for a different look), and check one darling photo off your list.
How fun are these!! They are perfect for decorating your chairs on the big day or for photo ops. I love wooden decor and would definitely use something like this to decorate, not only the wedding venue, but any pre-wedding event as well. And……they match the adorable cake topper we received in the Intro box.
Flashmasque Hydrate Sheet Mask
Has planning gotten the best of you? Get ready to glow. From celebrations to appointments with your vendors, these 5 minute face masks will have your skin looking refreshed and dewy no matter the occasion.
I love that Maeven includes skincare items in the box each month. In the intro box we received bath salts, in the November box we received a blending sponge and a sponge holder, and this month we received a hydrating sheet mask which will come in handy after a long day of vendor meetings. The perfect way to pamper tired skin.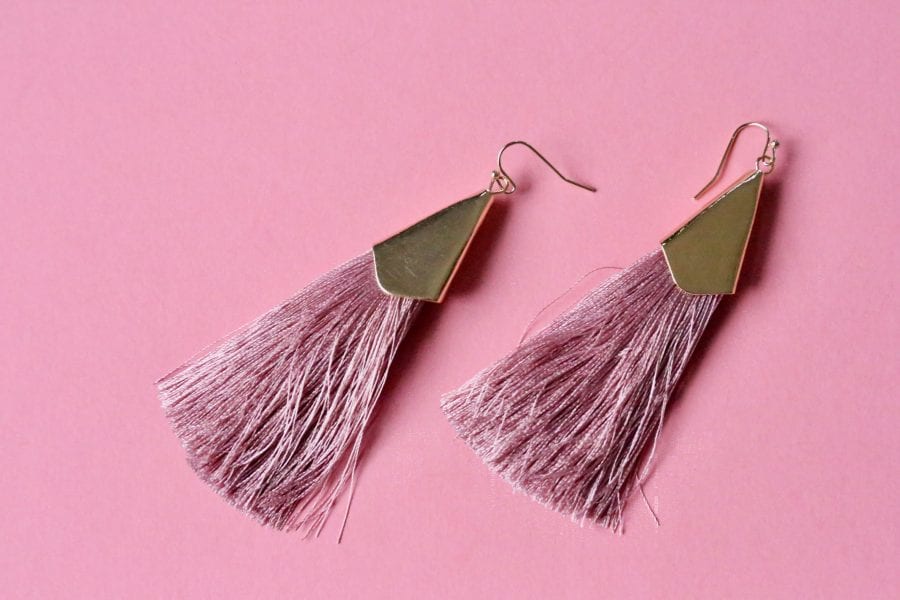 Tassel Earrings
Nothing says "celebrate" quite like these colourful tassel earrings. The mauve and gold colors make them versatile enough for any season, and the best part is you can pair them with just about any outfit long after the wedding festivities end.
I am obsessing over these earrings!!! Really I am. I have received some really gorgeous earrings over the years in my subscription boxes but these would definitely be my favorite. And once again they have gone with their signature mauve/pink color which means they will match my new Mrs tee. What's not to love!?
Bride-to-Be Sash
Let's get this party started! Wrap yourself in this white sash with gorgeous rose gold lettering, and prepare to take the town by storm in style. We apologize in advance for all the attention you'll be getting.
This is such a cute idea. It's the perfect addition to your stagette outfit.
Daily Planning Notepad
From tasting to alterations, there's a lot to keep track of while wedding planning. Luckily, this notepad does it all. Consider it your very own personal assistant.
Lastly we have this awesome little notepad. I am a HUGE fan of lists and this really is the perfect notepad for wedding planning. I love that it allows you to keep track of all your appointments, your daily schedule as well as your meals and water intake.
Maeven Review December 2018 – Final Thoughts
I'm sorry……but how can you not love this box!? It's so darn pretty and it's full of items perfect for planning your big day. Maeven is easily one the best bridal boxes we have ever reviewed. I love that they keep it classy but fun at the same time. I love that we receive a little bit of everything – jewelry, planning tools, decorations, skincare, etc. I also love that the items we receive in one box complement the items we have received in other boxes. I really do think this is a must-have subscription for any new bride.
XOXO