Maeven Review February 2019: Bridal Subscription Box
Maeven is a luxury subscription box designed for today's trendy and sophisticated bride. Each monthly subscription arrives beautifully packaged in their signature white box and the value of every box far exceeds the subscription cost. They kindly sent us this box for review.
FYI – For their first month, all brides receive the Intro Box with everything they need to kick off the planning process. Each subsequent month offers a new curated collection of amazing full-size gifts and ideas.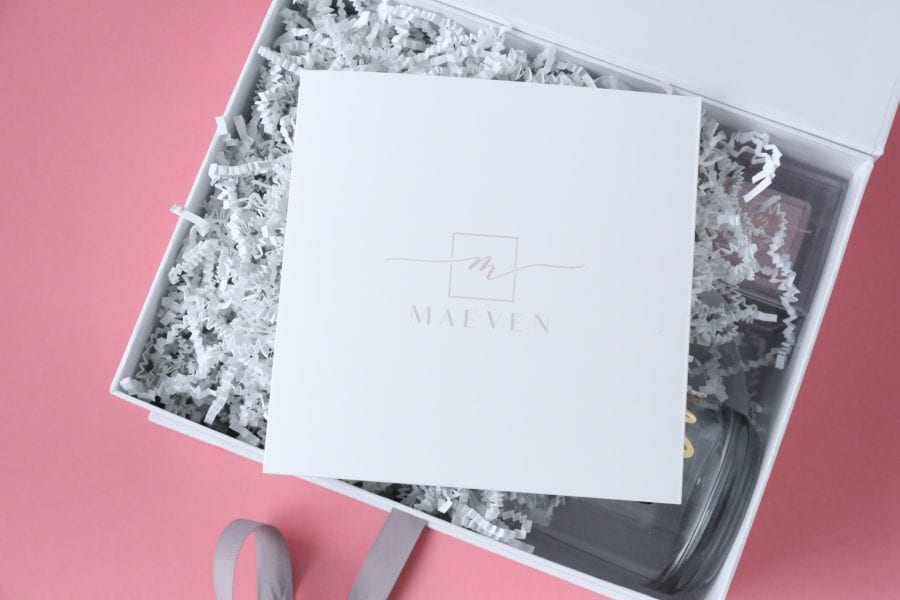 I have been reviewing Maeven since September of last year and it is easily one of my favorite boxes to receive. My wedding has come and gone (only a few months ago) but I still love this box. They manage to impress me month after month with their attention to detail and the gorgeous items they curate for us.
Subscription Details
Introducing Maeven, a luxury bridal subscription box designed for today's trendy and sophisticated bride. Each month brides receive stunning gifts and inspiration to help throughout the planning process, always updated to stay in season and on trend.
Subscribe: Choose a subscription length and each month you will receive a bridal subscription box containing the newest and trendiest bridal products.
Curate: Each box contains a box full of must-have items for your wedding day and planning process. Each bride receives our Maeven Intro Box for their first month.
Receive: Once a month your box is delivered to your door to further increase the excitement to your big day. Happy planning!
Here's a closer look at the February Maeven box…….
"Mrs" Glass Mug
I love you a latte. Wake up in wedded bliss with this glass Mrs. mug, and drink in all the mornings you have to look forward to together.
Love, love, love this mug! It's a must-have for any new bride. How cute will this be for the morning after the wedding, or for every day during your honeymoon, or for every morning from now on?! I have a "wifey" mug and it's one of my faves. Now I have an adorable "Mrs" mug to go with it.
PS – Coffee mugs are the way to my heart so we are off to a GREAT start!
Acrylic & Rose Gold Makeup Brushes
Out with the old and in with the new, wow does makeup look good on you! Between the bachelorette party and honeymoon, there's a lot to primp for. Brush on beauty with this brand new brush set, and get ready to flaunt that flawless face.
This is a wonderful product (or set of products) for a bridal box. I don't know about you, but I feel so pampered when I have new makeup, or makeup tools to use when getting ready for a big event. And…..they are absolutely gorgeous. And…..they come with their own little travel case.
Patchology A Wink & A Kiss Set
No one will ever know how late you were up sealing envelopes with these rejuvenating eye and lip gels from Pathology. With ingredients like caffeine and collagen, you can forget fatigue and feel refreshed in 5 minutes or less.
In the December box we received a face mask, in the January box we received face wipes and now we have lip and eye masks to complete the set. I see a spa night in my future……
Blush Velvet Ring Box
Store your ring in style! Perfect for pictures, this blush box is designed to look perfect in any setting.
Isn't this just the cutest little ring box! They have stuck with the gorgeous blush pink color that they provide for us in every box and that makes my little heart happy. I didn't have a special place for my engagement ring……but now I do.
Beaded Hair Band
Hair today, married tomorrow. Adorn your updo with this timeless beauty, or embellish one of your pre-wedding looks. This chic accessory can also be used as a flower girl's sash. It's your day, you decide.
I LOVE the look of a beaded headband. I think it's such a great way to dress up an outfit. And I love that it can also be used as a flower girl's sash. Multi-tasking products are another way to my heart.
Set of Thank You Cards & Envelopes
With so much to be thankful for, what's a girl to do? Take your stationery to the next level with these rose gold foil-printed thank you notes, or pair them with your bridesmaid gifts for some sleek salutations.
So far we have received a few different stationery items and they all match – bonus points for that. These are a nice addition to the collection as every bride needs a stash of thank you cards on hand.
Maeven Review February 2019 – Final Thoughts
Maeven has done it again. How do they manage to put together such an amazing box month after month. I am always so curious (and excited) to see what they come up with. And the fact that each box builds upon the last, but can also stand alone, is genius. Maeven really is one of the best bridal subscription boxes on the market. For those of you lucky ladies who got engaged this Valentine's Day…..I highly recommend you get yourself a subscription to Maeven. You won't regret it.
XOXO