Maeven Review November 2018: Bridal Subscription Box
Maeven is a luxury subscription box designed for today's trendy and sophisticated bride. Each monthly subscription arrives beautifully packaged in their signature white box and the value of every box far exceeds the subscription cost. They kindly sent us this box for review.
Maeven is a new subscription box for brides and this will be our second review. In September we received the intro box and today we are showing you the November box.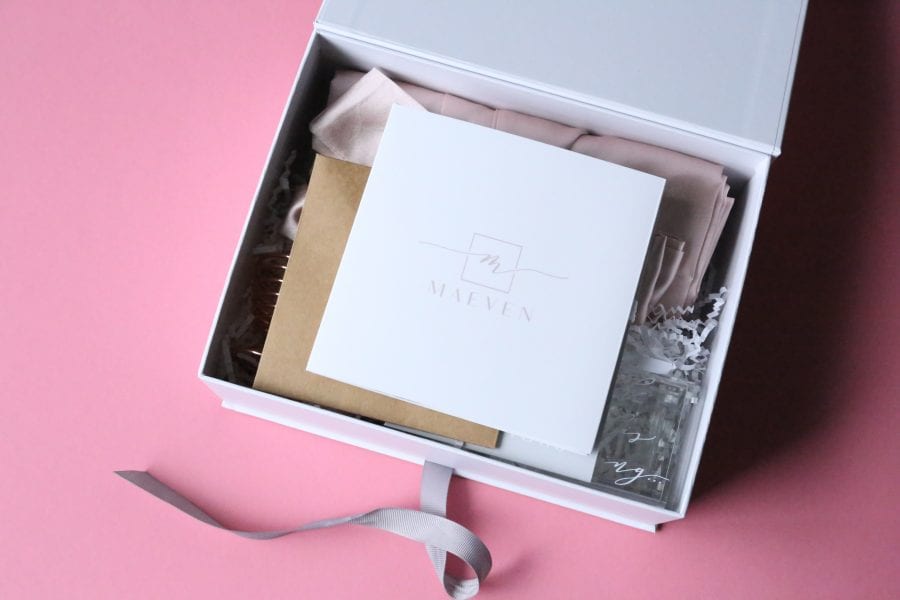 FYI – For their first month, all brides receive the Intro Box with everything they need to kick off the planning process. Each subsequent month offers a new curated collection of amazing full-size gifts and ideas.
Subscription Details
Introducing Maeven, a luxury bridal subscription box designed for today's trendy and sophisticated bride. Each month brides receive stunning gifts and inspiration to help throughout the planning process, always updated to stay in season and on trend.
Subscribe: Choose a subscription length and each month you will receive a bridal subscription box containing the newest and trendiest bridal products.
Curate: Each box contains a box full of must-have items for your wedding day and planning process. Each bride receives our Maeven Intro Box for their first month.
Receive: Once a month your box is delivered to your door to further increase the excitement to your big day. Happy planning!
Here's a closer look at the November Maeven box…….
Keepsake Box
Your Maeven box comes beautifully packaged in our ribbon-tied keepsake box. This box is perfect for so many uses, including beautifully storing your wedding keepsakes! Share with us on social media all of the creative ways you reuse your Maeven Box!
Maeven ships in an outer mailing box so as not to damage this gorgeous white keepsake box. I love the idea of keeping all your wedding moments tucked safely inside these beautiful boxes.
Blush Silk Robe
Wrap yourself in this blush beauty as you plan your big day, or don it on your wedding day as you get ready. This color photographs beautifully and will remain a favorite long after you say " I do".
As soon as I saw this robe I fell in love. It's the perfect bridal accessory. Wear it the day of, on your honeymoon, after a long day of wedding planning, etc…..
In addition to that, it is a gorgeous color and can be worn long after your special day is over.
Acrylic Ring Box
With this ring, I thee wed. This acrylic box is a stunning way to display and photograph your wedding rings on your big day. Add an extra touch by filling the bottom with flower petals, feathers or greenery from your wedding flowers. The florals can also be used to stabilize the rings for photos.
What a great idea!!! One of things you will definitely be taking photos of on your big day is your ring and of course your hubby's ring. This is a lovely way to display them, and to keep them safely stored after the big day.
Vow Book Set
This set of vow books is perfect for capturing your promises to your soon-to-be spouse. Reading them at the altar will be picture-perfect before preserving them as a wedding memento.
I love the idea of writing your vows in these gorgeous little books. After the big day, tuck them in one of your keepsake boxes and store them until your anniversary.
Pop Fizz Clink Acrylic Sign
We love this versatile sign. Add an extra level of fun throughout the festivities by placing it on the bar at your reception or using it as decor for your bridal shower or bachelorette party.
In our Intro Box we received the cutest gold bottle opener and it had the same words on it – Pop Fizz Clink. I love that Maeven pays such close attention to the details and provides us with items that complement things we have received in previous boxes.
Silver Bar Necklace
This chic silver bar necklace is great for any occasion. We can't wait to see how you style it.
When it comes to Maeven boxes this is a feature I absolutely LOVE! I'm not sure if we can expect to see a jewelry item in ever box but so far we have received one in the Intro Box, the November box and the December box (review to come). This gorgeous necklace will be the perfect accessory for any of your bridal outfits.
Makeup Blending Sponge
If you haven't applied foundation with a blending sponge, prepare to be amazed. Use it to apply foundation, bronzer, blush, concealer and highlighter for an ultra-smoothing effect and a camera ready status.
Blending sponges are a must-have beauty product and I LOVE  that this one is pink and matches other items in the box. Blending sponges are an easy way to apply foundation and moisturizer. I use mine on a regular basis.
Blending Sponge Holder
This blending sponge holder is ideal for drying your new sponge after use and keeping it clean and hygienic. Bonus, it looks darling on your countertop too.
Maeven really has thought of everything. Here we have a gorgeous rose gold sponge holder to go with your new blending sponge. I've never seen a sponge holder. It really is the perfect little accessory for your new sponge and it will look super cute on your bathroom counter.
Maeven Review December 2018 – Final Thoughts
Wow, wow, wow. I am absolutely in LOVE with the November Maeven box. It's unbelievably gorgeous from beginning to end. I love everything about this box – the packaging, the product card, the price point, the gorgeous items and the fact that they take in to consideration items we have received in past boxes and provide us with complementary items to those we have already received. Out of all the bridal boxes I have seen, or reviewed, this is definitely one of my favourites. It's classy and beautiful and I love all of the items we receive. December is a popular time for engagements so keep Maeven in mind if you find yourself planning a wedding come January:)
XOXO