Manifestation Box Review October 2021
The Manifestation Box from Gogh Jewelry Design is an empowering monthly practice that's sent right to your door created to inspire connection with yourself and Mother Earth. They kindly sent us this box for review.
My very first Manifestation Box is here and I am so excited to share it with you. This past year has been one of changes and discovery. I'm learning more about my spiritual side, manifesting, and listening to my soul. So……Manifestation Box will fit into my lifestyle perfectly.
Subscription Details
Each month, Manifestation Box subscribers will receive a handcrafted gemstone bracelet and necklace with carefully picked healing crystals based on the energies in the Universe to assist your practice. ($29 + $29 value)
A Healing Crystal, a Gemstone or an Earth Element to meditate with. You can hold it in your palm or keep it under your pillow to enhance your practice. ($9 value)
Your PERSONALIZED Astrology forecast for health, love and happiness based on your Zodiac. ($10 value)
Each month you will receive two powerful affirmation cards to create EMPOWERING BELIEFS and set your mind on compassionate living. Keep one, gift one ($10 value)
Here's a closer look at the October Manifestation Box……
Crystal
Each Manifestation Box includes a crystal, and for the month of October we received – Selenite. It is accompanied by an information card which is absolutely perfect because I am not overly familiar with crystals and all the wonderful powers they have. I will hold on to all of the cards going forward and refer back to them often. Here's a little more info…..
Selenite – Selenite is one of the most important tools in any energy worker or crystal lover's arsenal. Through clearing energy blockages, Selenite allows for liquid-like energy fluidity. It's extremely high vibration floods your energy field with the highest vibrations of light. 
How to Use: I'm still learning a lot, but from what I understand you can hold on to your crystal while meditating. It is also said to place Selenite on your desk or where you work (perfect for me), and you can also place it under your pillow.
Gemstone Bracelet
Our beautiful gemstone bracelet for October is a mix of Citrine and Lapis Lazuli. Just a quick note, when you sign up for a subscription you get to choose your wrist size. They offer sizes x-small to x-large.
Here's a little more info on Lapis Lazuli and Citrine….
Lapis Lazuli is a symbol of truth, as it is brought to you to see yourself for what you really are, and at the same time helps you to accept those parts of yourself that you may see as undesirable.
Citrine is said to be a gift from the sun and it's believed to be a healing gemstone. Citrine brings happiness, joy and optimism into your life.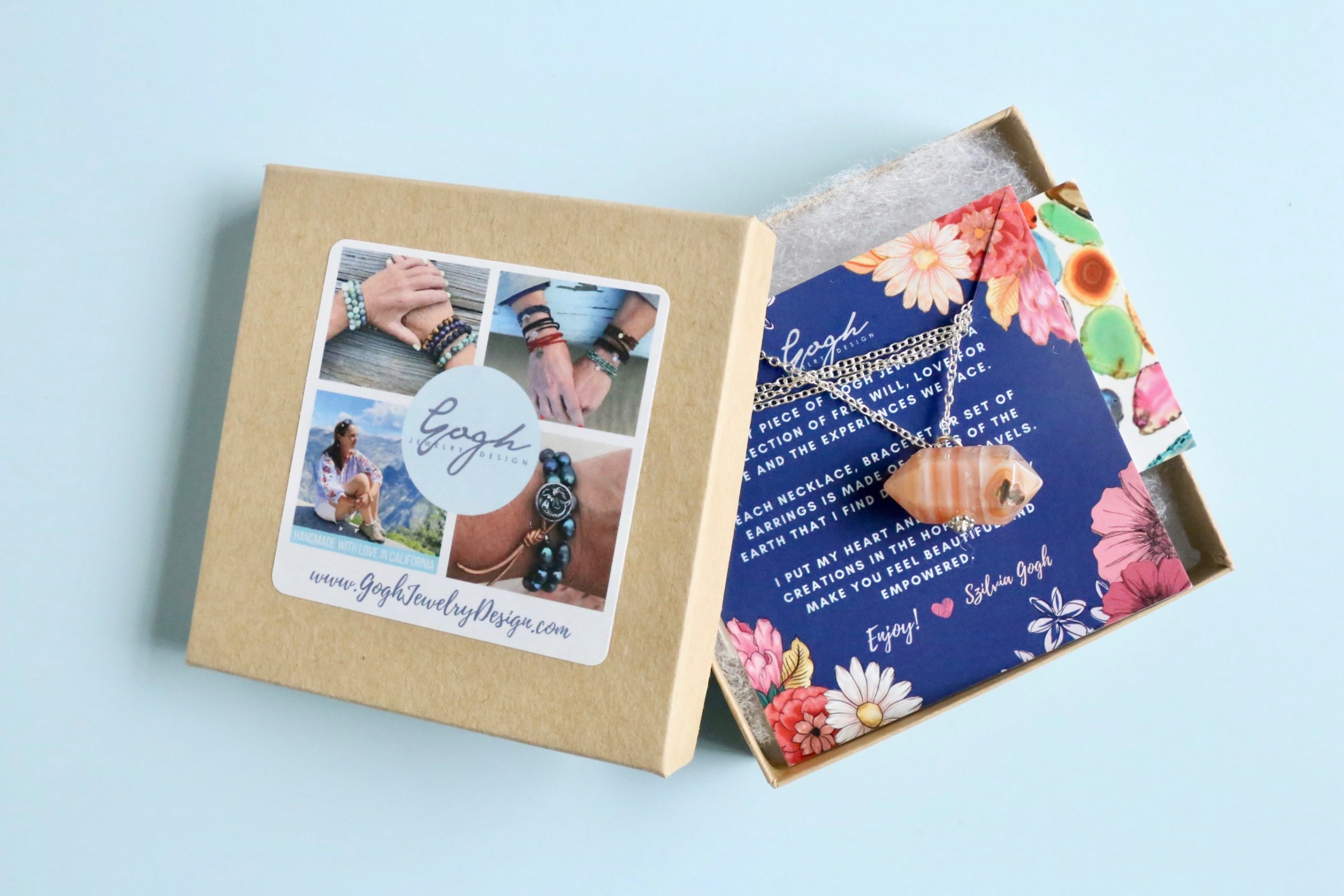 Necklace
My October necklace is made with a beautiful Agate Stone. When you sign up for a subscription you can choose your necklace length and I went with 18″.
Agate is the stone everyone should have for protection. Agate is believed to enhance intelligence, and make its wearer more articulate. It attracts strength, protects from bad dreams, stress and energy drains.
Oh my……I feel like this month's necklace was chosen specifically for me. It's absolutely perfect for the phase of life I am currently going through. I will make an effort to wear this as often as I can.
Personalized Astrology Forecast
Here's a peek at my Personalized Astrology Forecast which is included in every box. It is absolutely spot on! Here are a few key points….
October will put a significant focus on your finances and how you are building your life – true!
If I embark on a more spiritual path, I will find more happiness and blessings come my way – SO true!
Heal anything that is out of balance and let go of baggage – something I am currently working on!
Healthy Habits
The theme for the October Manifestation Box is Healthy Habits so here we have a really great read – Healthy Habits We Can Learn from Ocean Creatures.
I spent all my time learning about the stones/crystals and going through my Astrology Forecast so I will save this for another day:)
Affirmation Cards
Each Manifestation Box also includes a set of Affirmation Cards – one for myself and one to gift. Our affirmation for October is….
"Discipline is choosing between what you want now and what you want most."
I would maybe consider this more of a "quote" card and would love to see a monthly affirmation to accompany the crystal. Maybe something like "My Mind is Clear and at Peace". The perfect compliment to our beautiful Selenite crystal:)
Manifestation Box Review October 2021 – Final Thoughts
Wow…..what a beautiful subscription box! This was my very first time receiving Manifestation Box and I am already very fond of it. It's the perfect compliment to my spiritual journey, and a great way for me to expand my knowledge of crystals. I throughly enjoyed reading all of the information cards, learning how to best use/wear my new peices, and I also really loved reading my Astrology Forecast. If you are a manifestation babe (like I am) this is definitely one to check out!
-AYOB Sarah