Mapleblume Review December 2016
Mapleblume Review December 2016
Mapleblume is a premium subscription box of luxury cosmetic and skincare products containing only the highest quality ingredients that are beautifying and nourishing. The Mapleblume subscription box contains 5 full size or deluxe sample size skincare and cosmetic products. A new box is delivered to your door every 2 months filled with different products every time. They kindly send me this box to review.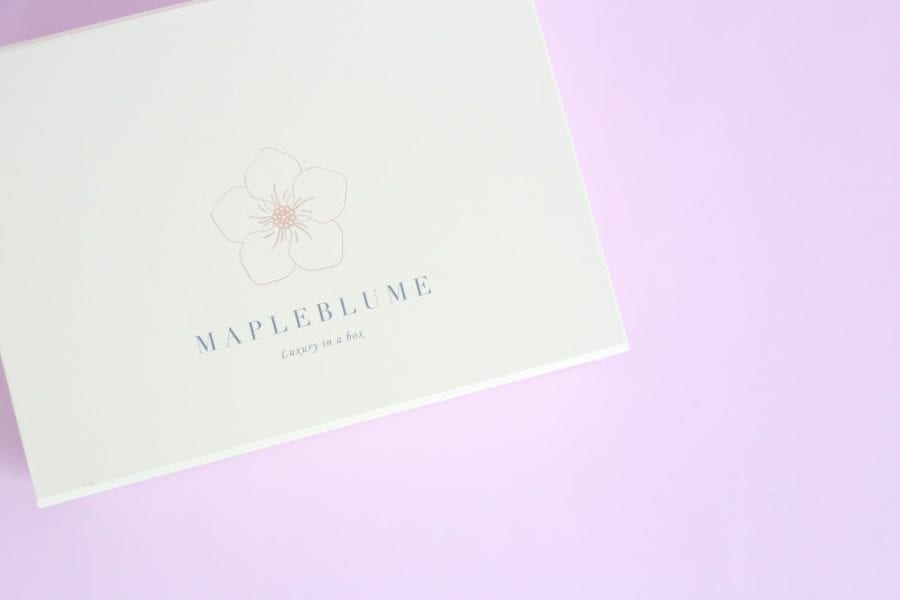 Mapleblume is a brand new Canadian subscription box, and you know what they means…..this girl is very excited! 2016 has been an amazing year for Canadian subscription boxes and I have a feeling 2017 is going to be even better.
Subscription Details
Here's what I like about Mapleblume so far, it was created because owners (Sarah & Hollie) found a void in the Canadian subscription box market for luxury brand skincare and cosmetic products that are high in quality and that provide more than just sample sized amounts. I also like that they ensure that every box contains a balanced combination of skincare and cosmetic products that work well together, AND…..they guarantee that the value of every box will be significantly more than the retail cost of the products.
So far things are sounding pretty wonderful. let's have a look at what I received in my very first box……so excited……
LINNE Repair Face Oil
Massage 1 pump of REPAIR into face and neck to moisturize, help reduce the appearance of wrinkles and scars, protect against environmental stress, encourage cellular regeneration and support collagen production. Apply morning and night after RENEW face serum for best results. REPAIR may also be applied to ends of hair and facial hair. Best stored in a cool, dark place.
I am super excited about this first item. I LOVE face oil, but you already know that. This one contains Rose Hip Seed Oil, Green Tea Seed Oil, Argan Oil, Sacha Inchi Seed Oil, Sea Buckthorn Berry Oil, Frankincense Essential Oil and Sandalwood Essential Oil – all of which I love. It also receives amazing reviews on their site. People seem to be obsessed with this oil. I can't wait to try it!
Pure Anada Petal Perfect Natural Lipstick in Hibiscus
Pure Anada Petal Perfect Lipstick is a moisture intensive natural lipstick. Made with rich butters, plant oils, and waxes provide a smooth, creamy consistency. For a boost of shine, apply the coordinating Pure Anada Lip Gloss on top of your lipstick.
This lipstick contains Rosehip Oil which is one of my all-time favourite oils when it comes to beauty products, and the color is gorgeous for winter. I thought it might be a little too dark for me at first, but you can adjust the pigmentation depending on how much you apply.
Organic Nation Hydration Day Cream
This beautifully light moisturiser is steeped in plant stem cell science and nourishing plant emollients. The regenerative action is due to the active ingredient Swertiamarin, extracted from the Indian Gentian leaves. This hero ingredient is surrounded by beautifully time honoured plant oils such as Camellia, Jojoba and Argan. A daily moisturiser that will improve skin tone and elasticity whilst leaving it nourished and hydrated. The delicate aroma of Rose and Neroli essential oils will relax and calm the senses.
I love the sound of this day cream. It's 76% organic, and contains some really great ingredients. I tried to find some reviews on it, but came up empty handed. Jojoba and Argan oil are some of my favourite ingredients and my skin responds very well to them.
Trust Fund Beauty Nail Polish in I Love My #Selfie
Perfect for any Holiday party! Paint on this festive red and let your nails say "HELLO!"
Trust Fund Beauty nail polish is one of my favourites. I have a few different shades and have been happy with all of them. Their polish is vegan, cruelty-free, and 10-free.
FitGlow Beauty Mineral Blush in Pure
Silky mineral blushes offer natural finish and long-lasting wear while enhancing skin. Easy blending formula brings out your natural radiance and glow. Suitable for sensitive, acne prone and mature skin. Oil-absorbing and moisture balanced. Triple-milled formula allows for smooth blendability while staying true to color.
FitGlow Beauty creates natural beauty products. They use no synthetic fragrances, parabens or dyes, which means I already love them. I love a good blush and am looking forward to testing this one out.
Update – I tested this out after taking the photos and found that it goes on very well. It's easy to apply, and similar to the lipstick, you can adjust the pigmentation.
Herbivore Pink Clay Exfoliating Mask
This is a truly beautifying and skin softening mask. Great to use before a night out or anytime your skin needs some extra nourishing and TLC. There are no fillers in this mask, just skin softening totally natural botanicals and clay.
I'm finally confident enough to use face masks (they scared me before) and have really been loving this clay mask trend. I've tried a few different brands so far and have been pretty happy with the results. This particular mask receives some really great reviews. Lots of customers mentioned that is was great on their sensitive skin. This makes me happy, because my skin is very sensitive to new products.
We also received two little bonus items – a discount code for Linne Botanicals and a little maple sugar candy!
Mapleblume Review December 2016 – Final Thoughts
For my very first Mapleblume box I am very happy. The value is definitely there (approx. double the cost of the box) and they included some really great brands. We received a face oil, a face cream, a mask, polish, lipstick and blush. I like the mixture of beauty products and makeup. It's very exciting to see a new Canadian subscription box on the market, and a luxury box at that. The price point won't be for everyone, but if you love quality face products as much as I do, then the value will definitely outweigh the cost. I think the thing I like most about this box is the fact that we receive full-size items. I'm definitely willing to pay more for a subscription box if I know I'm not going to receive sample sizes. I want to be able to fully test the beauty products, and the only way I can do that is if I receive enough to last me a few weeks. As of right now, I am a huge fan. I can't wait to see more from Mapleblume.
What do you think of this new Canadian Subscription Box?
XOXO
Explore.
Save.
Enjoy!
Sign up for a free account on A Year of Boxes to receive exclusive offers, be added to our monthly mailing list, and much more! We are always adding features to improve the experience for our users, from their valuable feedback!
Join Today!