MeUndies Review #2 June 2017
MeUndies is a monthly subscription box that will help you build the freshest and sharpest underwear drawer over the course of a year. They kindly sent us this bag for review.
Is it weird that MeUndies has become the subscription I look forward to the most? If I had to pick my favourite subscription right now…..out of ALL the boxes I review….this would probably be it. I don't know why I am so obsessed with the fun new patterns they release each month, but I am. Wait till you see the patterns we received in our second bag for June……just wait…….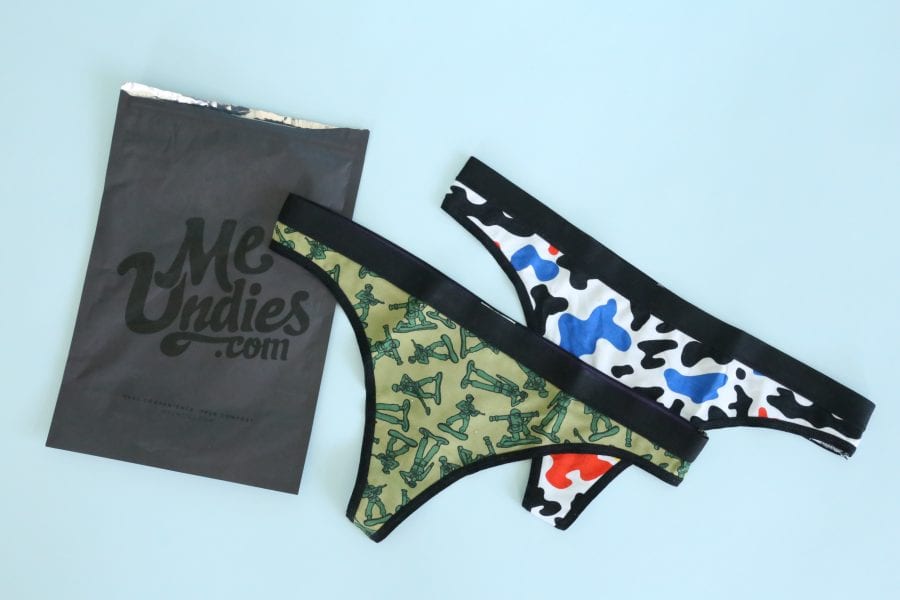 Today we are reviewing the thong again, same as the last bag, but you should also check out the other styles because I love them ALL!
Thong Details
Be your cheeky self in a MeUndies Thong. Designed with our signature soft and stretchy fabric, MeUndies Thongs aren't made for those who see them, they're made for the ones that wear them.
All undies are knit from Lenzing Modal®, an all-natural, breathable, and exceptionally ecological fabric extruded from naturally rejuvenating Beechwood trees found in the Austrian Alps. The cellulosic properties of Lenzing Modal® fiber naturally inhibit odor-causing bacterial growth, keeping you smelling fresh. This smooth and supple wood fiber gives the fabric a luxurious soft, warm, and cozy feel.
Modern Camo
Love, love, love these! The updated camo is super fun. The colors are perfect as I will be able to pair these with a white or black bra.
Toy Soldiers
I almost fell off my chair when I pulled these out of the bag. How awesome are these!! As it is with most of their patterns, I never would have picked it out on my own, but now that I have it in front of me I am in love. These panties are hilarious and wonderful at the same time. I NEED the matching boy shorts and ASAP!
MeUndies Review #2 June 2017 – Final Thoughts
Ummm…..are you kidding me!! How amazing are these patterns! I am beyond excited about them. MeUndies has definitely opened me up to wearing fun panties, until now I would stick to the boring ol' white, black and beige. These are just SO much better. Especially the Toy Soldiers print. And if you are concerned about matching, like I am, the black waistband allows you to pair all the panties with a cute black bra. Would it be weird for me to say that I want my underwear drawer full of MeUndies and my bra drawer full of black bras? I don't think it is. Fashion rule #53…..if you find something you love, purchase it in multiple colours…….
Question: Do you subscribe to MeUndies? Leave your own review – HERE
XOXO