MeUndies Women's Review June 2017
MeUndies is a monthly subscription box that will help you build the freshest and sharpest underwear drawer over the course of a year. They kindly sent us this box for review.
Ummm…..I may have just peed my pants!! I am beyond excited about this month's MeUndies review because I received the pattern I have been lusting after for months!! It's happy dance time!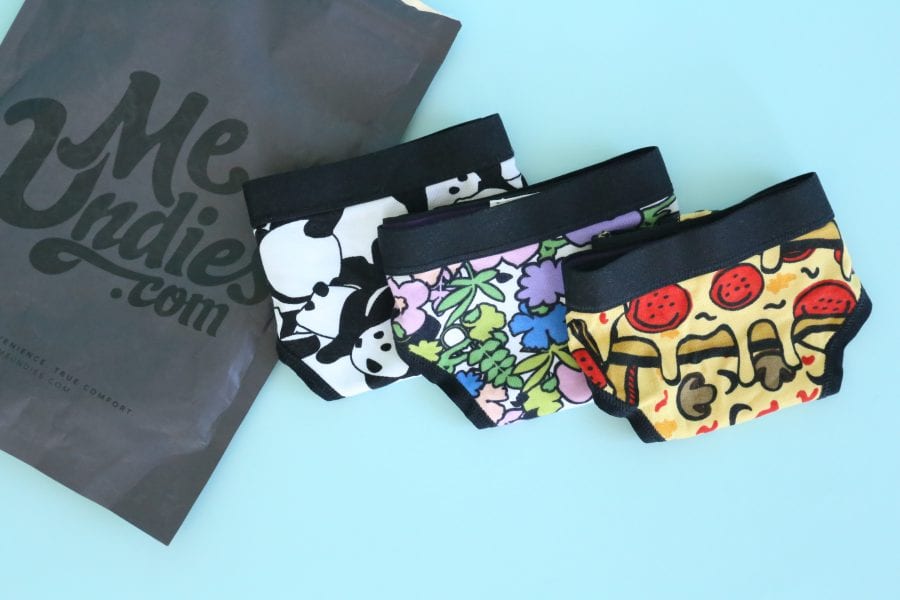 For those of you who aren't familiar with MeUndies, it is a monthly subscription for the most comfortable underwear EVER. It might not be love at first sight, but once you try these undies one, you will be hooked. It took me a few months to take the plunge because I am extremely picky when it comes to my panties, but I finally gave in and haven't looked back.
Another thing I LOVE about this subscription is the monthly pattern selection. I have been obsessed with their patterns for the last few months and I finally have some in my possession. Each month MeUndies comes out with new patterns of which you can choose to receive in your monthly delivery or choose not to receive.  You will get an email three days before your ship date that shows you the pair you're set to receive. At that point, you can choose an alternative pair if you like.
This month we are reviewing one of my favourite styles…..the thong. And we get to have a look at three different patterns……eeek!!!
Thong Details
Be your cheeky self in a MeUndies Thong. Designed with our signature soft and stretchy fabric, MeUndies Thongs aren't made for those who see them, they're made for the ones that wear them.
All undies are knit from Lenzing Modal®, an all-natural, breathable, and exceptionally ecological fabric extruded from naturally rejuvenating Beechwood trees found in the Austrian Alps. The cellulosic properties of Lenzing Modal® fiber naturally inhibit odor-causing bacterial growth, keeping you smelling fresh. This smooth and supple wood fiber gives the fabric a luxurious soft, warm, and cozy feel.
Pizza
This is a pattern I would NEVER have picked out for myself, but now that I have them in front of me I actually kind of love them. I see these being my Friday night, Netflix and wine undies…..is it weird that I have certain undies for certain days?
Pandamonium
It took me a minute to realize that these were panda undies and not just a black/white abstract pattern. Now I love them even more. Not too in your face, and super cute.
Floral (no longer available)
Yes!!!! The clouds parted and the angels began to sing when I pulled these out of the bag. I've had my eye on this pattern for months! It's so darn pretty and so darn fun. I want every style in this pattern – bikini, brief, and boyshort. I wonder if they ever bring back popular patterns for a second round. I sure hope they do.
MeUndies Women's Review June 2017 – Final Thoughts
I am in love with MeUndies! I just might be their biggest fan. I live in these undies and I can say that with 100% confidence because it is 100% true. They are so darn comfortable that I no longer want to wear my other undies. I want my entire panty drawer to be filled with MeUndies. All the styles and all the patterns. My only complaint would be the subscription options. I received this box for review, but if I were to subscribe (and I am seriously contemplating it) I would want to receive all 4 styles every month. Right now the subscription allows you to choose one style to receive. I think you can sign up for more than one subscription, but I would love to see the option to choose the number of undies you want to receive each month instead. In the meantime, I think I might have to purchase a couple of their packs. They are a one-time purchase of 3, 6, or 10 pairs of undies. I'm also think I need to get a pack for the BF……….the obsession is real.
XOXO