mintMONGOOSE Review January 2021
mintMONGOOSE is a monthly jewelry subscription that sends you high quality, limited edition jewelry pieces, curated to your preferences. Turn heads with adorable, now-trending pieces that will take your favorite outfits to the next level!
What You Get: mintMONGOOSE subscribers will receive 3 mintMONGOOSE-exclusive pieces of adorable, high-quality jewelry (with a retail value of $40+) for just $15.99+s/h! mintMONGOOSE subscribers will receive customized jewelry based on their preferences with the ability to choose silver, rose gold, or gold jewelry, (or a surprise preference to change it up from month to month), earrings or no earrings, watches, or no watches. mintMONGOOSE subscribers will also receive an awesome free gift every three months (think a pair of fun socks, must-have hair accessory, or adorable pair of sunglasses!)
Each month mintMONGOOSE will release a piece as a spoiler and the other two jewelry pieces will come as a surprise! Save for yourself, share with your friends, or give an adorable gift to a loved one!
mintMONGOOSE offers two different subscription packages: mintMONGOOSE ($15.99/month) and mintMONGOOSE BLACK ($22.99/month). mintMONGOOSE ships worldwide from California on the 15th of every month with free US shipping or low-cost international shipping! Your first box will ship within 48 hours or less of placing your order.
*They kindly sent us this mintMONGOOSE package to review*
I am a huge jewelry fan and always sport necklaces and earrings. This month's package features gold jewelry!
This mintMONGOOSE package was delivered in a blue bubble mailer and inside there was a product card and a white cardstock envelope wrapped with a ribbon and stamped with a wax seal with their mintMONGOOSE logo.
This month's set is inspired by three people very special to mintMONGOOSE's owner, Helena. Her grandma, grandpa, and sister.
The product card reads:
"One thing that the world as it is currently has made abundantly clear to me is the value the people in our lives offer. The ability to spend time with, hug, love on, and laugh with family and friends is something so important and irreplaceable.
Last year I spent many, many days with the kiddos at my grandparents' house. My sister and I would be playing Rummy with our grandma while the kids ran around playing with grandpa. As the virus grabbed ahold of society that norm changed shape, but oh how I miss those cozy love-filled days.
I'm grateful for the visits I do still get to have with my grandparents, although they may look different now. I'm grateful that my sister (a lover of sunflowers – which you will see tied in when you receive the rest of this set) has devoted her life to caring for and loving on my grandparents and is there with them every day. I'm grateful to have the grandparents I have and that they both continue to thrive as they continue to graduate into their upper 80s.
Their impact on my life has been significant. I wanted to design this set in honor of them to serve as a reminder to all of the lovely ladies who wear this set that although the warm hugs and in-person love from those in your life may look different at the moment, it is still very much present, true, and stronger than any distance that challenges it.
The color blue is my grandma's favorite color. The black wisps of resin resemble the countless ways our loved ones touch and influence our lives. The rope around the piece symbolizes the strength we gain from those who love us and whom we love.
It's my hope that whenever you wear this set you will feel the love of your loved ones in a real, tangible way. I pray this set inspires phone and video calls to check-in on those who mean the most, a shared laugh when it's needed most, and an "I love you" from someone who couldn't mean the words more sincerely."
I can relate to the inspiration of this month's set. Though my grandparents have passed, they are a significant piece of who I am and strive to be today. Distance has been hard, but this pandemic has inspired my family to reconnect with long-lost cousins, aunts, uncles and family members who we have not seen in person, in years! Last week, we actually held a zoom call for my Mother's family that included all of her cousins, their kids, great uncles and a great aunt. It was magical and I could feel the love from my distanced loved ones!
Inside the envelope, the jewelry was packaged in teal tissue paper and there was a "thank you" business card with their social media channels listed on the other side.
Each jewelry piece was individually bubble-wrapped, in a small plastic bag and had a mintMONGOOSE tag attached. This is a nice touch if you wanted to give a piece to someone else.
Inside the package were a pink jewelry cloth and a card with jewelry care tips!
This month I received a set of two stackable necklaces and matching earrings in gold. Let's take a closer look at the pieces:
Earrings
These earrings are simple yet stunning! They have a slight dangle which I appreciate. These earrings will be a unique addition to my wardrobe or will make a spectacular gift. As always, they are versatile and can be dressed both up and down to suit any occasion.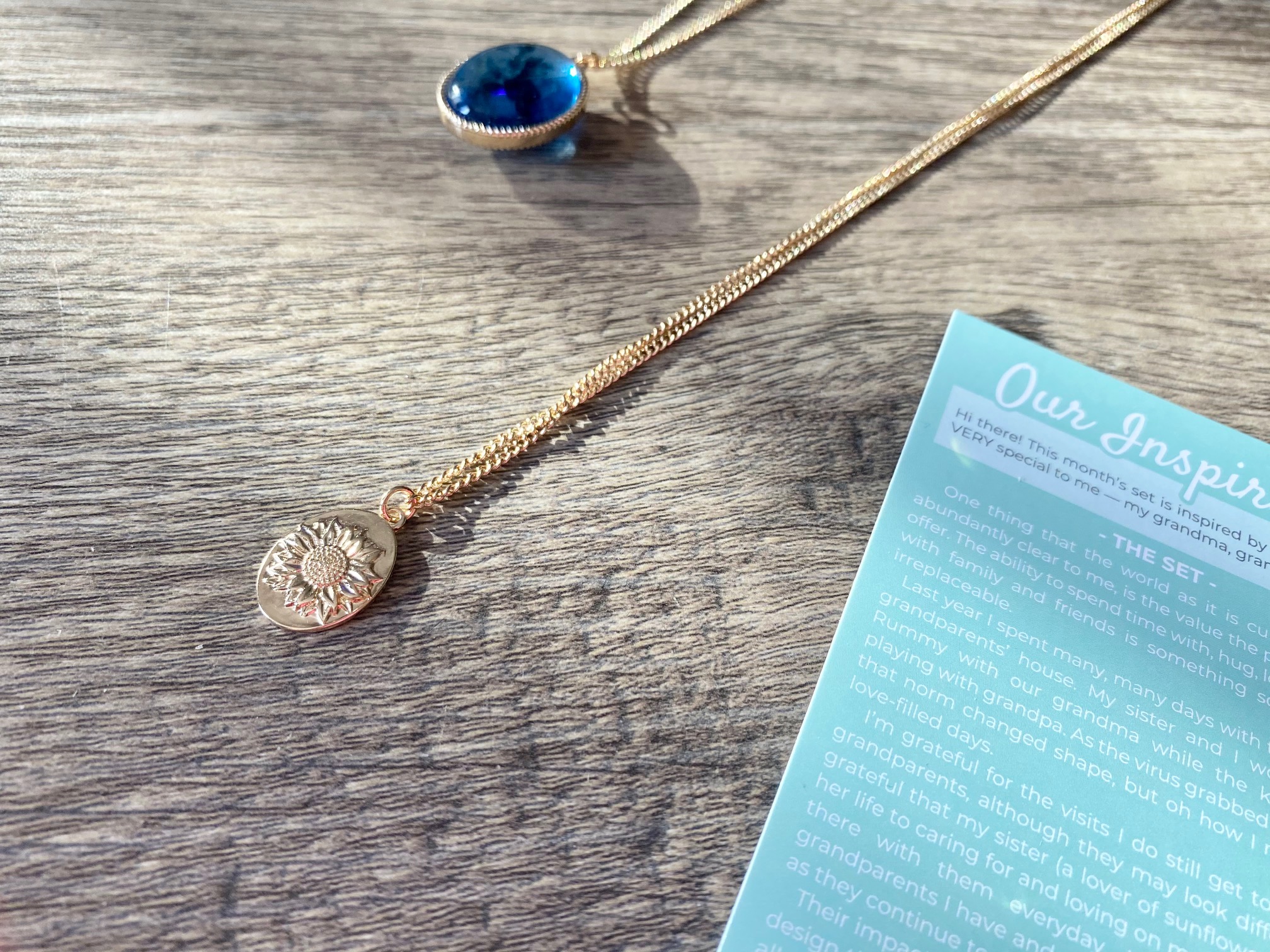 Necklace
This necklace is long and has a sunflower on it. It is also simple yet stunning, and will definitely become a staple in my wardrobe. I adore simple, cute and unique long necklaces as they do not get stuck in my cleavage and can really add something to an outfit. It has three adjustable lengths and could be worn on its own or with the necklace below.
Necklace
This necklace was the spoiler piece released by mintMONGOOSE earlier in January. It is blue like her grandmother's favourite colour and the black flecks within the resin represent connecting with those we love. The rope frame of this piece matches the same shape and design as the earrings. The gold metal complements the blue resin nicely. It also has three adjustable lengths but is quite shorter than the other necklace. I think I am going to gift the necklace and earrings to a friend who adores blue, gold and unique statement pieces like this.
The January 2021 mintMONGOOSE package had three beautiful gold jewelry pieces that fit the "loved by loved ones" theme well. All three pieces could be worn together or separately and would go well with many outfits. My favourite piece is the longer sunflower necklace and I know my gal pal will adore the blue resin piece with the matching earrings. The value was not provided for each piece, but I would happily pay $15.99 for this set. The mintMONGOOSE subscription would be great for anyone who already loves jewelry or is looking to add to their collection without breaking the bank!
Hayley Savanna – https://www.instagram.com/hayleysavanna/
Explore.
Save.
Enjoy!
Sign up for a free account on A Year of Boxes to receive exclusive offers, be added to our monthly mailing list, and much more! We are always adding features to improve the experience for our users, from their valuable feedback!
Join Today!