mintMONGOOSE Review June 2020
mintMONGOOSE is a monthly jewelry subscription that sends you high quality, limited edition jewelry pieces, curated to your preferences. Turn heads with adorable, now-trending pieces that will take your favorite outfits to the next level!
What You Get: mintMONGOOSE subscribers will receive 3 mintMONGOOSE-exclusive pieces of adorable, high-quality jewelry (with a retail value of $40+) for just $15.99+s/h! mintMONGOOSE subscribers will receive customized jewelry based on their preferences with the ability to choose silver, rose gold, or gold jewelry, (or a surprise preference to change it up from month to month), earrings or no earrings, watches, or no watches. mintMONGOOSE subscribers will also receive an awesome free gift every three months (think a pair of fun socks, must-have hair accessory, or adorable pair of sunglasses!)
Each month mintMONGOOSE will release one piece as a spoiler and the other two jewelry pieces will come as a surprise! Save them for yourself, share with your friends, or give an adorable gift to a loved one!
mintMONGOOSE offers two different subscription packages: mintMONGOOSE ($15.99/month) and mintMONGOOSE BLACK ($22.99/month). mintMONGOOSE ships worldwide from California on the 15th of every month with free US shipping or low-cost international shipping! Your first box will ship within 48 hours or less of placing your order.
*They kindly sent us this mintMONGOOSE package to review*
I was excited to review mintMONGOOSE as I have been following them for a long time. I opted for the "surprise preference" as I love all jewelry metals the same and I have pierced ears 🙂
This mintMONGOOSE package was delivered in a beautiful teal bubble mailer with a sticker that read: "Thank you for supporting a woman & mom-owned small business <3 Helena" and inside there was a product card, a Werther's Original candy and a white cardstock envelope wrapped with a ribbon and stamped with a wax seal with their mintMONGOOSE logo.
The product card reads:
Our inspiration: Summer is upon us! And with the summer solstice right around the bend, I wanted to celebrate the beginning of this warm and toasty chapter with this month's design! So cheers to us awesome humans making some great memories this summer!
The product card then goes on to describe this month's jewelry set being inspired by the summer solstice as it is the longest day of the year (length of the long necklace), the strength of the geometric hexagon shape and a crowd-favorite, the chevron shape.
"Summer solstice marks the onset of Summer and the longest day of the year, I wanted to incorporate that length into the piece. I also wanted to incorporate the hexagon shape, known to be the strongest geometric shape there is since we could all use a reminder of our strength now and then. As the idea of length and the shape of a hexagon came together, they paved the way for the inclusion of a crowd favourite, the chevron and thus, the set took shape."
Inside the envelope, the jewelry was packaged in teal tissue paper and there was a "thank you" business card with their social media channels listed on the other side.
Each jewelry piece was individually bubble-wrapped, in a small plastic bag and had a mintMONGOOSE tag attached. This is a nice touch if you wanted to gift a piece to someone else.
This month I received a set of two necklaces and matching earrings in gold. Let's take a look at the pieces:
Earrings
I am in love with these earrings! They have a strong hexagon shape and the crowd-favorite chevron symbol. These earrings are exactly what I needed to add to my wardrobe. I like that they are slightly dangly, but not too long, and they would be perfect to wear for a night out, to a business function or to work. They are quite versatile which I love and will go with many outfits.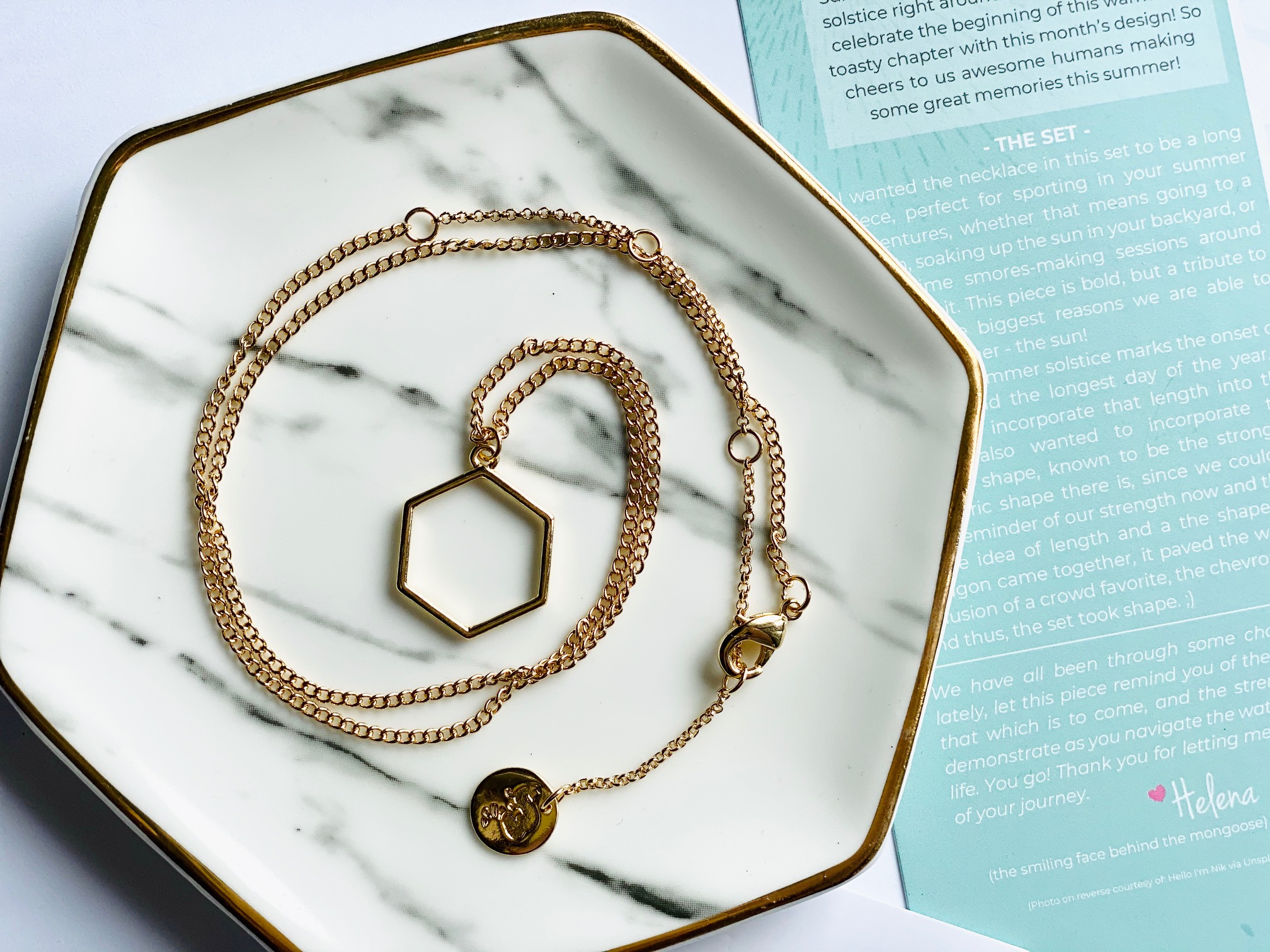 Necklace
This dainty hollow hexagon necklace is amazing! I put it on immediately after receiving it as I fell instantly in love with it. It is simple yet classy, and the geometric hexagon shape represents strength and serves as a nice reminder "since we could all use a reminder of our strength now and then". I love that it has three adjustable lengths as I dislike when I lose necklaces in my cleavage or if they are too tight around my neck.
Necklace
This necklace was the spoiler piece released by mintMONGOOSE earlier in June. Green is my favorite color and I love this green stone with the gold metal. It reminds me of summer on the prairies as we often have golden skies or canola fields surrounded with nature's greenery. It also is a nice tie-in to the other two pieces as it is similar to the earrings and has the hexagon like the shorter necklace. It also has three adjustable lengths but is longer than the other necklace.
mintMONGOOSE Review June 2020 – Final Thoughts
The June MintMONGOOSE package had three beautiful gold hexagon/chevron jewelry pieces that fit the "summer solstice" theme well. All three pieces could be worn together or separately and would go great with many outfits. My favourite piece was the shorter hexagon necklace but I will wear all the pieces often. The value was not provided for each piece, but I would happily pay $15.99 for this set. The MintMONGOOSE subscription would be great for anyone who already loves jewelry or is looking to add to their collection without breaking the bank!
Hayley Savanna – https://www.instagram.com/hayleysavanna/
Explore.
Save.
Enjoy!
Sign up for a free account on A Year of Boxes to receive exclusive offers, be added to our monthly mailing list, and much more! We are always adding features to improve the experience for our users, from their valuable feedback!
Join Today!