Miss Musclebox Review June 2021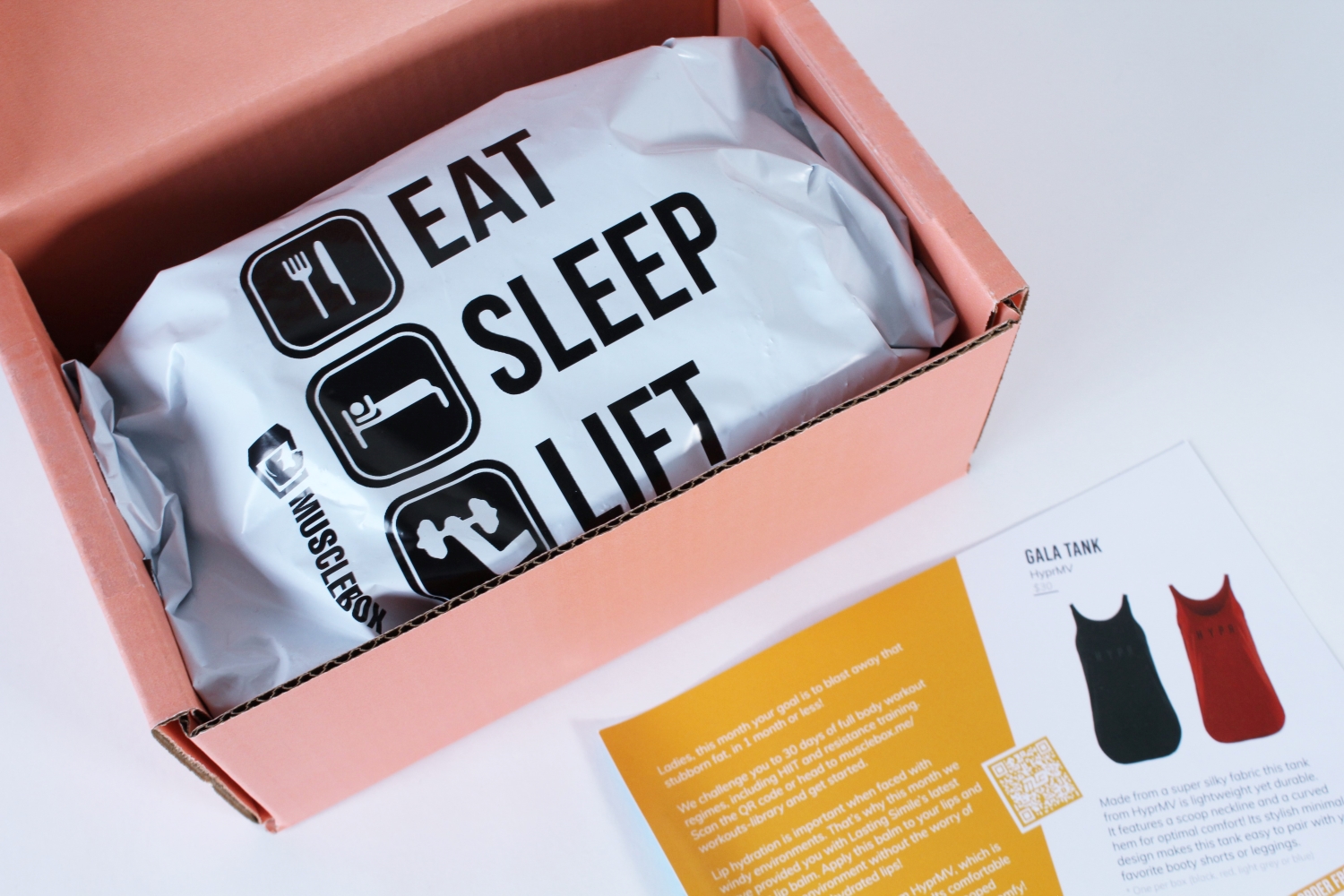 Mix gym apparel, a workout routine, tasty but healthy food and fitness accessories and you just made a perfect box for anyone aiming for a well-balanced life with exercises and healthy habits. That balance can be hard to sustain for a long period of time and from my experience, a little incentive can always be helpful to keep pushing yourself in the right way.
The May Miss Musclebox was my first box and I really liked it. I am currently half in last month's training program and it is fun to get back at lifting weights.
Miss Musclebox is the box I would recommend adding to your routine for extra fun, and to keep you motivated. It is filled with quality products and professional workout routines at a very reasonable price. The value of the box is over double the subscription price. Here are the details for this subscription:
$22.99/month + $7 shipping in the US, international shipping price varies
Miss Musclebox donates $1 from every box to Paradise 4 Kids
Miss Musclebox kindly sent me this box for review. Here is what I received this month and what I thought of the products…
Gala Tank – HyprMV
I loved the item I received from HyprMV last month. The movement band is super useful and as expected, it was perfect to go climbing and keep my cards and phone secured (the lockers being inaccessible, it is even more appreciated to have the movement band).
As for the Gala Tank, it looks perfect for any sport. It comes in black, red, light grey and blue. I got the black top that will match nicely with the grey shorts I received last month. The fabric is silky and makes it flowy and comfortable. I see myself going for a jog, climbing or doing yoga in that tank top. Perfect for the hot Summer days.
Organic Lip Balms – Lasting Smiles
These vegan and organic lip balms look promising for a good hydration treatment. They are made mostly of coconut oil, beeswax, sunflower oil, shea butter, cocoa butter and jojoba oil. The added vitamin E is also great for its cell restoration properties.
Not only are they good for your lips, they are also good for a cause. When buying on Lasting Smiles website, 50% of your purchase is donated to a cause of your choice. Miss Musclebox decided to support the Women for water cause. It is such a good idea. I love it when subscription boxes get invested in a good cause.
Gluten-Free Cookie Bites – MPB Snacks
That is a lot of cookies. With two per bag, one being one portion, that makes a total of 6 snacks. MPB Snacks sells a box with these three flavours plus White Chocolate Macadamia, so this will give me a good idea if I like most flavours and if the big box is worth it.
They are high in protein (5g per cookie) and low in sugar (only 3g of added sugar). A few ingredients that stand out are the rolled oats, chickpea flour and almond milk.
I have seen similar cookies advertised to be soft and was disappointed. No disappointment here. I tried the Birthday Cookie flavour and loved it. The texture was pleasant as much as the taste.
Monthly Workout
This month's training program is called "Full body 1-month fat blasting". Once the QR code is scanned, Miss Musclebox workout library will open in your browser and this is the latest program published in the library.
The program is detailed in a 12-page document. This month's program is divided in two parts: the first 14 days are quick and effective HIIT workouts with no rest days and the second focuses on resistance training and most exercises are performed with weights.
This program is recommended for those who do not have much time to workout but want to gain endurance and overall get fitter. With no rest days in the first part, I believe you also must be all little bit motivated to embark on the challenge. It is not said in the booklet, but it should be recommended to do at least 5 minutes of warm up exercises as well as some stretching after your daily routine.
I like that the HIIT part has a different routine everyday. It helps to stay motivated and if you do not like burpees, it is fun to know that they will not be on the menu every day. There are cardio, core, circuit training, Tabata training, just to name a few.
Miss Musclebox June 2021 Review – Final Thoughts
This month's new products and training program were great. The tank top was my favorite item and looks perfect for my various activities. The organic lip balms were also a good idea and the fact that they support a good cause makes them even better. Finally, the cookies filled with good ingredients and good proteins are a hit in my house. We will buy some more of those. This was my second Miss Musclebox and I cannot wait to try this new challenge and workout in my new top. This box is definitely a good motivator for me.
Jacynthe Létourneau – https://www.instagram.com/miss_minamie/
Miss Musclebox is a monthly subscription box tailored for women. Every month you will receive unique bodybuilding and fitness products.
Learn More about Miss Musclebox »