Monthly Gift Review January 2017
Monthly Gift is a femme care company designed to make that time of the month a little less stressful. They deliver the products you need, on time, and in one convenient, customized package. They kindly sent me this box to review.
You all know how much I LOVE my Time of the Month Subscription Boxes. I would be lost without them. I'm not even sure how I went for 20-some years without a subscription to a TOM box. They really are game-changers. Today I get to review a new TOM box – Monthly Gift. When I saw the box in the mail it was love at first sight.
Subscription Details
When you sign up for a Monthly Gift subscription you have a few options to choose from. First of all you fill out your period profile:
is your period light, combination, or heavy
do you use tampons, pads, liners
would you like chocolate (as if they need to ask me that)
You will then be presented with 3 different subscription options based on your profile, and can choose to purchase 1 cycle, 6 cycles or 12 cycles.
Let's have a closer look at this adorable little black box…..
Tampons – Monthly Gift tampons are made of the same materials that have been safely used in leading brand feminine care products for years. The primary materials of Monthly Gift tampons are cotton, rayon and a non-woven cover.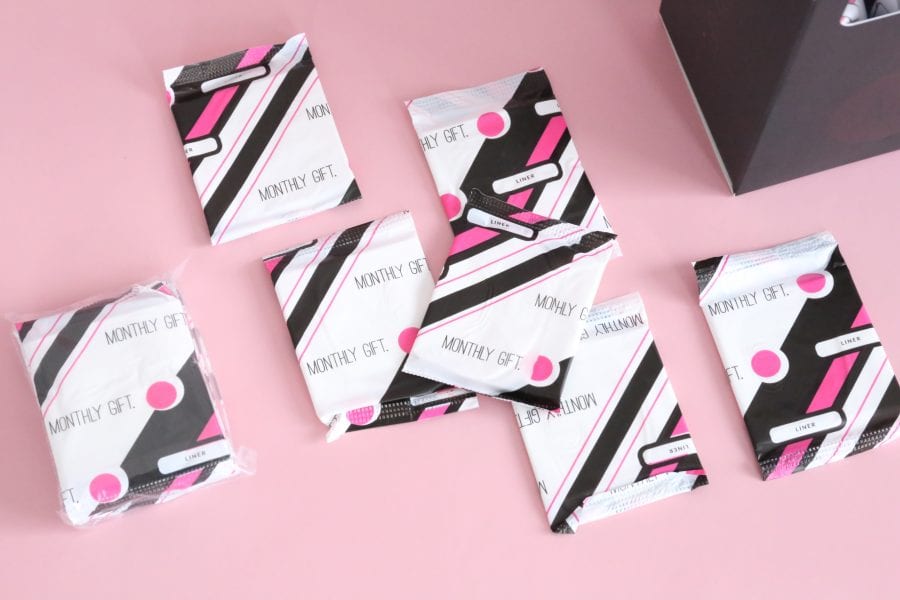 Liners – Monthly Gift liners have a natural contour shape to better fit your body and an extra wide slip-proof adhesive for your busiest days.
MG Emergency Chocolate – Cute packaging and the perfect amount of indulgence!
Monthly Gift Review January 2017 – Final Thoughts
What I like most about Monthly Gift is the packing. That may sound trivial, but when it comes to period protection, packaging is key. I love the sleek black box, I'd much rather put this in my bathroom cabinet than your typical tampon box. I also love that everything comes packaged in one neat little box…..tampons, liners & chocolate. I love to be organized, and this is organized! Monthly Gift seems to have all their bases covered – price, packaging, product, and features. In addition to your monthly delivery, they also have a period app. If you haven't used a period app before, you MUST try it out. I would be lost without my app. I refer to it at least 2-3 times each month. For my first Monthly Gift box I am extremely happy!
PS – Here's a few little bonus items they sent me. How can you not love this tote bag!!
XOXO
Explore.
Save.
Enjoy!
Sign up for a free account on A Year of Boxes to receive exclusive offers, be added to our monthly mailing list, and much more! We are always adding features to improve the experience for our users, from their valuable feedback!
Join Today!