My Meraki Box Review February 2017
My Meraki Box features new exclusive designs, only available to My Meraki Box subscribers. Each month will feature 2-3 brand new Wristicuffs designs, exclusive to My Meraki Box.  Every box will contain  jewelry pieces handcrafted in their studio with a minimum $100 retail value. They kindly sent us this box for review.
About a month ago I got to review my very first My Meraki Box. I had only just discovered them, and was extremely happy to find out they were based in Canada. Their designs are beautiful and have been featured on display and in the gift bags at the 2014 Golden Globe and Emmys GBK Celebrity Gift Lounges. That's pretty darn exciting if you ask me!
February Theme
This month we are reviewing The Gemstone Collection. Here's what the product card says:
"Our gemstone collection features matching sets of lariat necklaces and earrings, made to add some sparkle into your life! Each box will feature one of three separate gemstone combinations including amethyst, blue topaz and green amethyst, black onyx, rutilated quartz and garnet or rutilated quartz, chalcedony and black onyx."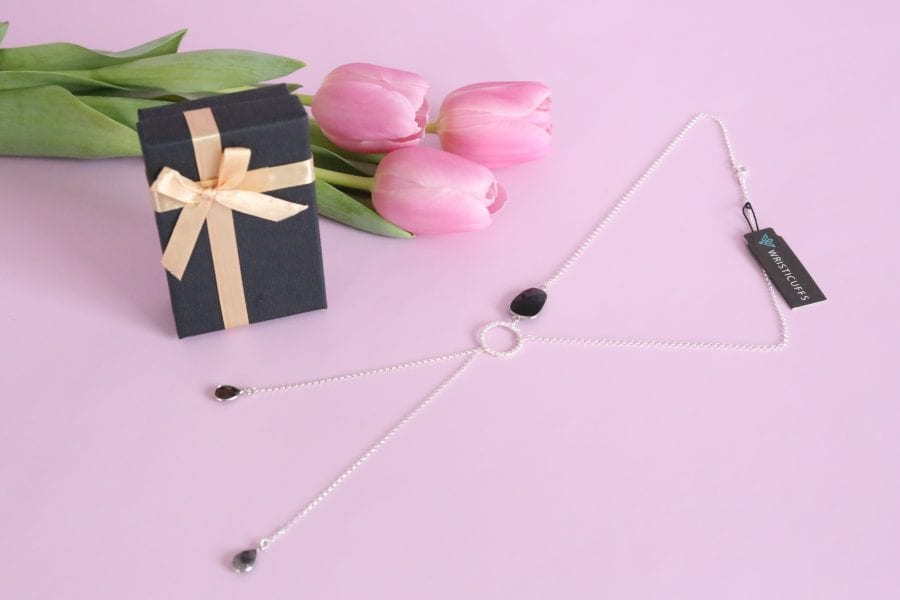 Gemstone Lariat – $74.99
This is a gorgeous piece. I don't own anything like it. This would be beautiful with a dress or simple tee and blazer. The value is more than the cost of the box. That's pretty amazing! The following item will pair beautifully with this necklace.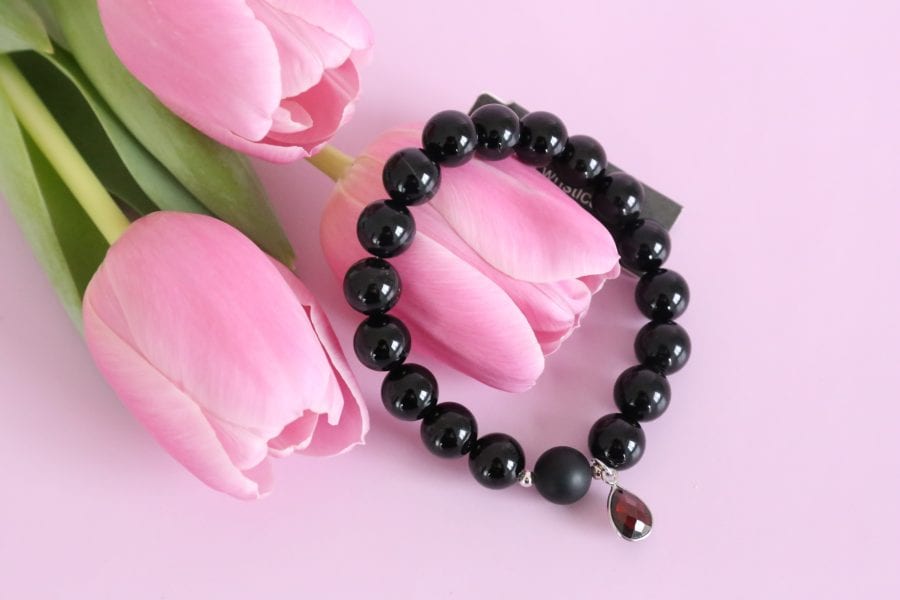 Stone Beaded Bracelet
I'm a huge fan of beaded bracelets. They are easy to throw on, look great on their own, and can be stacked with a watch or another bracelet. The stone on this one gives it some style, and is gorgeous at the same time. I am always happy to add another beaded bracelet to my collection. I wear them quite often.
Note: When I filled out my style profile I indicated that I do not have pierced ears (a mistake on my part) so this is the item I received in place of the earrings this month. I think this is a really great feature for those who don't have pierced ears or those who simply would rather not receive earrings. It ensures that each box is customized to the individual.
Pinecone Necklace – Bonus Item
We appreciate you joining us for our February Box. As a token of our thanks, we hope you enjoy our bonus item this month, a sterling silver pinecone layering necklace. Pair it with other necklaces for a layered look or wear it on its own as a simple and delicate day to day piece. 
This is a little bonus "thank you" item from My Meraki this month. How sweet of them to include this for their subscribers. It's cute and simple, not really my style, but super nice of them to include it regardless. And even though it's not something I would pick out for myself, it will be a really nice "every day" piece. I could literally wear this with anything. And I like their idea of layering it with other necklaces.
My Meraki Box Review February 2017
My Meraki Box did a wonderful job this month. We received 3 pieces whereas last month we received two. I think it was super sweet of them to include a bonus item as a little thank you for their subscribers. In regards to style, this month's box feels a little more dressy thanks to the lariat necklace, whereas last month was a little more casual. I like that the designs are exclusive each month as it adds value to the box. I would definitely recommend checking their website out. They have some really gorgeous designs. I have my eye on the Mala Necklaces and Bracelets, as well as the Simone & Abbey bracelet…..gorgeous!!
XOXO
Explore.
Save.
Enjoy!
Sign up for a free account on A Year of Boxes to receive exclusive offers, be added to our monthly mailing list, and much more! We are always adding features to improve the experience for our users, from their valuable feedback!
Join Today!