My Trove Box Review Summer 2022
My Trove Box is a home decor subscription box focused on helping you tell the story of your home – who you are, your passions, and your purpose. My Trove Box helps the busy home décor enthusiast looking to transform and elevate their space by introducing them to curated, exclusively designed home goods made with high-quality materials, and handcrafted by global master artisans. Members' purchases economically empower communities, artisans, women and minority-owned small businesses. They kindly sent us this box for review.
My Trove Box has been shipping since September 2019 but this is my very first time reviewing it and I am SO darn excited!!! I've had a peek at past boxes and oh my……this is a beautiful subscription!
Subscription Details
What You Get: Each seasonal quarterly box is packed with 5 – 8 timeless, curated decor accents, lifestyle, kitchen and houseware accessories for the home. We've curated a collection that ensures classic year-round "must-haves," and encourages eco-friendliness by utilizing handmade, artisan-designed products sourced from natural and sustainable materials. With each box, members will see a cost savings of 40-50% percent off MSRP (a little over $350 in value).
Each My Trove Box will be accompanied by our Discover~Delight~Design~Delivered seasonal magazine highlighting styling and placement suggestions, with featured stories of the artisans and small businesses behind the decor item.
Your subscription through My Trove Box helps empower communities, artisans, and women-owned small businesses.
Here's a closer look at the Summer 2022 My Trove Box…
Egyptian Kilim Bolster Pillowcase: Inspired by Art Deco design and the geometric lines of Ancient Egypt's temples and obelisks, this throw pillow is designed and handwoven in Egypt by kilim weavers. 100% cotton with linen backing and zipper enclosure. Measures 26" x 16".
Pillow Insert: Custom made 18×26 pillow insert with polyester fiber and microfiber soft fabric. Made in the USA by a certified WBNEC Women-owned business. Measures 28″ x 18″ for maximum fullness when used with our bolster pillowcase.
I am absolutely thrilled to see a pillow case complete with matching insert. Often times when I receive pillow cases in subscription boxes I then have to go out and find an insert to match. Not in this case though….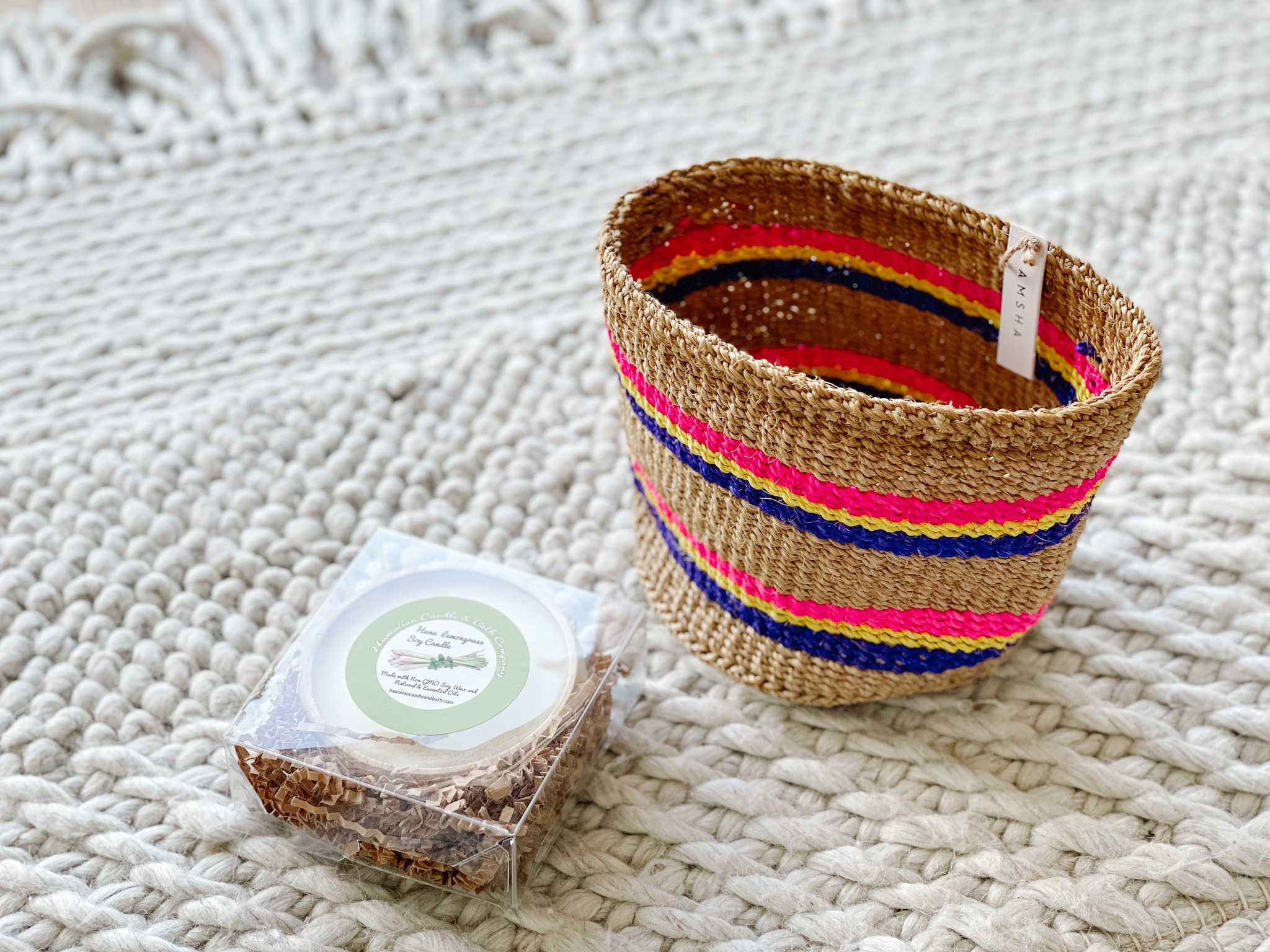 Kenyan Handwoven Basket: Great for 4″ plants, or as a catchall for jewelry, makeup, hair accessories, and other odds & ends! Each basket measures 6″ diameter x 6″ tall. Made from handwoven and dyed sisal by artisan weavers in Kenya.
Indoor/Outdoor Soy Candle: Hand poured into a handcrafted, reusable acacia wood bowl. Made with pure soy wax, natural and essential oils. You'll receive one of two scents, both great for indoor or outdoor: Citronella & Lime or Hana Lemongrass. ABT: 25 Hours, 5 ounces. Made in the USA by a small, woman-owned business.
I love receiving candles (as you all know) and this one will be perfect for our patio! And I love the versatility of the basket…..but I'm definitely leaning towards using it to display one of my favourite plants.
Decorative Resin Hand: Think outside the box for this stylish, thought-provoking décor accent and conversation piece. Great for any living room, den, office, or bedroom!
Definitely a thought-provoking piece (as it says in the description). I actually really like it. It is unlike any decor piece I currently have. I think it would look great on the shelf in our living room.
Wine Appetizer Plates, Set of 4: Perfect for entertaining at home or bringing on your next picnic! Made of acacia wood, each plate measures 9" x 6".
These little appetizer plates are so practical and so fun. I love that they have a spot to hold a wine glass, and the size is perfect for snacks/appies.
Stemless Wine Glasses, Set of 4: Add a touch of practical elegance to your barware collection, table setting, or party. Made with shatter-resistant glass. Each glass measures 2.8" x 2.8" x 4.8" and holds 19 ounces.
I've been meaning to get a set of stemless wine glasses ever since we moved in to the new house. Both my husband and I prefer the stemless style so these are absolutely perfect!
Farmers Market Tote: Made of premium jute, lightly treated with wax coating for waterproofing. Tall, rolled handles for hand or shoulder carry. Measures 16"L x 13"H x 7"D with 10" drop handles.
I have a slight obsession with reusable totes right now and this one is absolutely gorgeous! I love that the handles are long enough to wear on my shoulder. I will get a ton of use out of this.
My Trove Box Review Summer 2022 – Final Thoughts
My very first My Trove Box has exceeded my expectations. This is a beautiful home decor subscription box and I love that they feature artisan made products while supporting sustainability and social responsibility. We received a lovely mixture of items including a little something for my kitchen (wine glasses) which I very much appreciate. I am SO excited to see what they put together for Fall & Winter as those are my favourite seasons for decorating. Stay tuned as we will be sure to post spoilers!
-AYOB Sarah