Naked Beauty Box Review October 2020
The Naked Beauty Box is the perfect subscription for those who love clean, cruelty-free, and vegan skincare products.
What You Get: The Naked Beauty Box subscribers will receive a monthly box with at least $85+ worth of clean skincare products ranging from essential daily cleansers and oils to rejuvenating face masks. All products featured in The Naked Beauty Box are guaranteed to be 100% clean, cruelty-free, and vegan. Subscribers will receive only full-sized products.
The Naked Beauty Box offers three different subscription options: one-month, three-months and six months. The Naked Beauty Box ships from Elko, Nevada, on or before the 15th of every month with free US shipping!
*They kindly sent us this box for review*
I was so excited to review October's The Naked Beauty Box as I really enjoy this subscription and am going through skincare at an exponential speed!
The Naked Beauty Box arrives in beautiful floral packaging with leaves, lovely colors, and the phrases, "Love the skin you're in" and "Beauty begins with you" written on the sides. There was also a card with an empowering quote: "What makes you different or weird, that's your strength."
Let's take a look inside: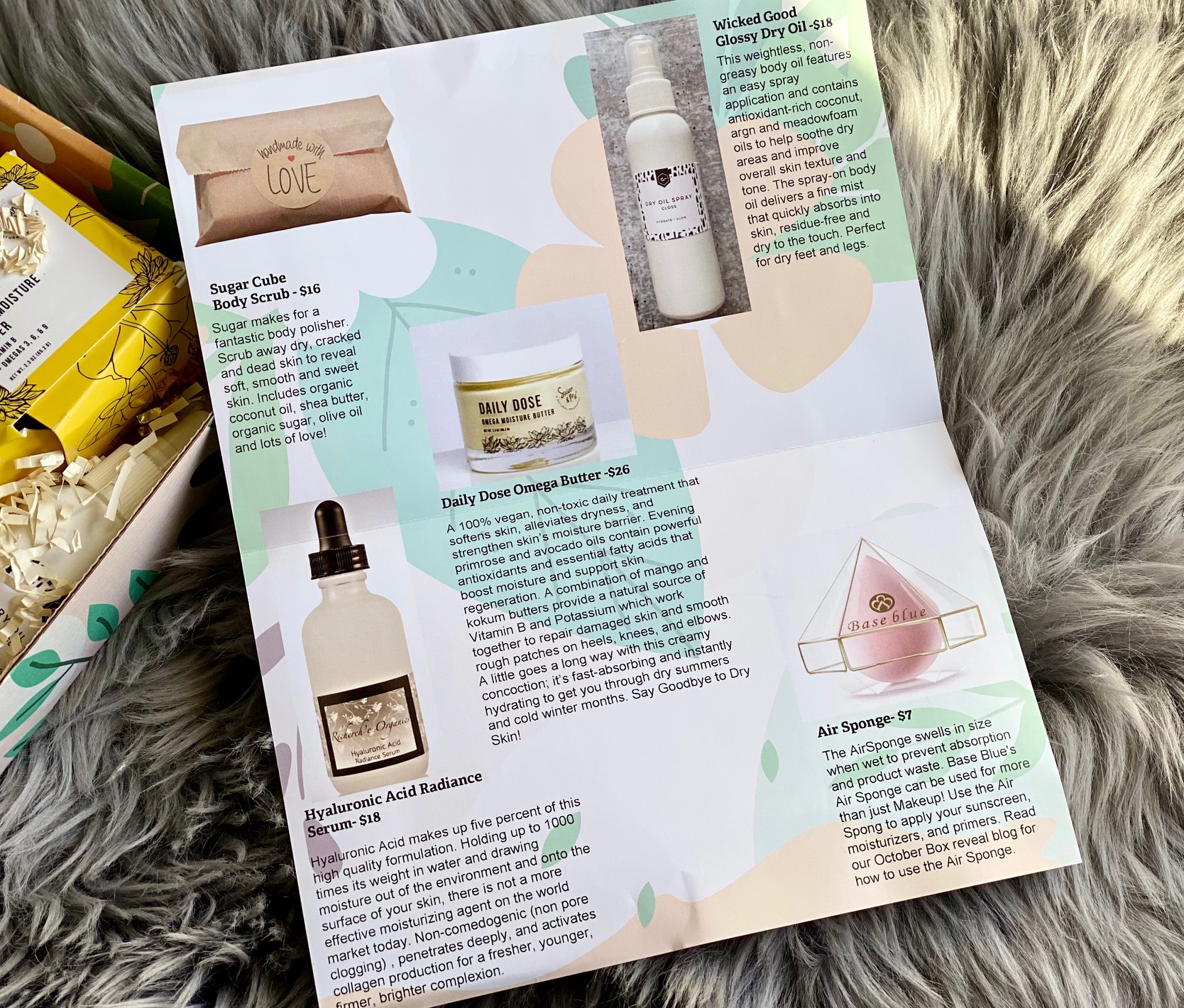 The product card was a paper pamphlet with product photos, names, descriptions, and MRSP prices.
Bubble Bee Soapery Sugar Cube Body Scrub ($16)
"Sugar makes for a fantastic body polisher. Scrub away dry, cracked, and dead skin to reveal soft, smooth and sweet skin. Includes organic coconut oil, shea butter, organic sugar, olive oil and lots of love!"
These scrubs are so cute and effective. One smells quite floral and the other one smells like tea tree oil.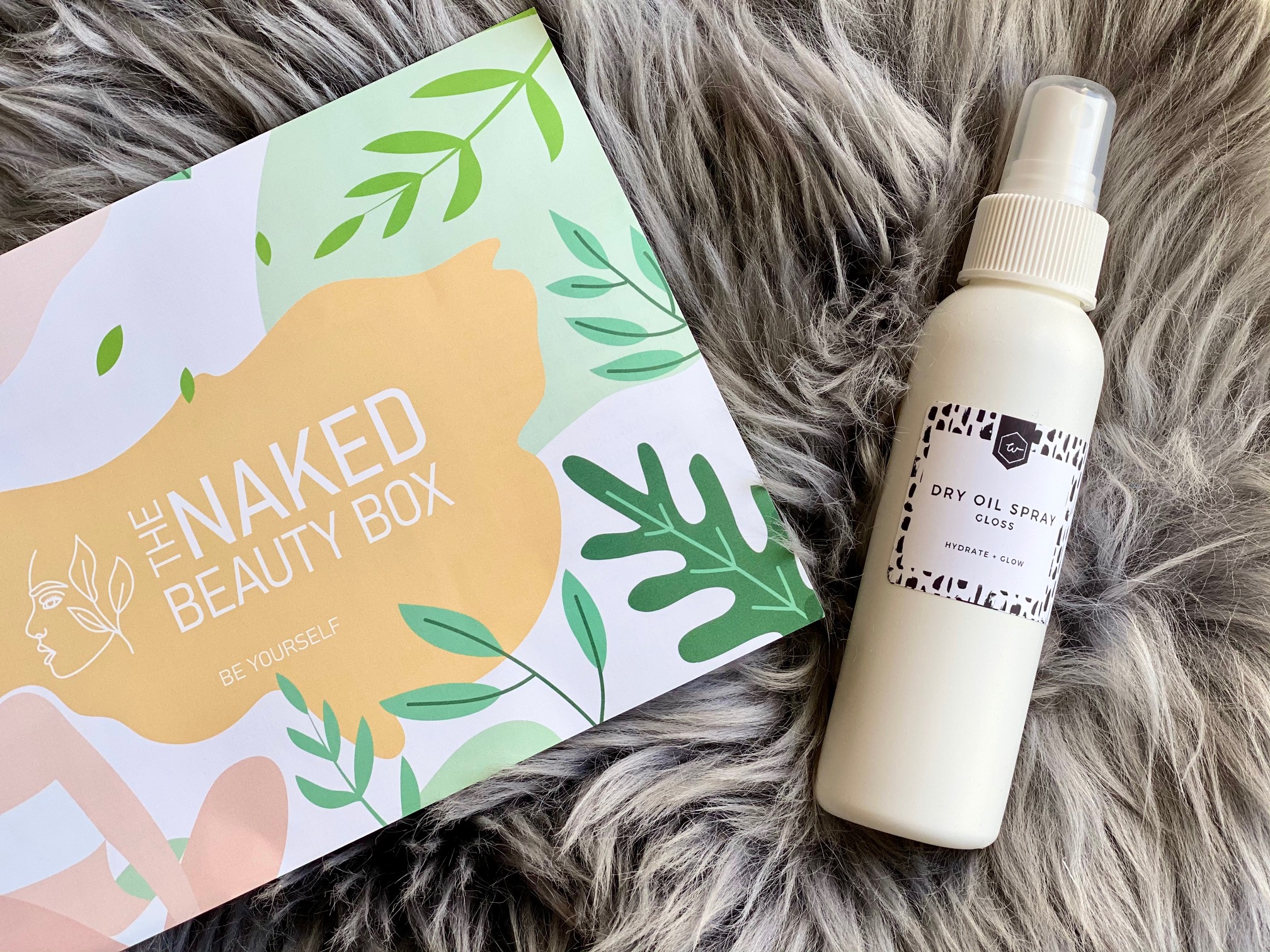 Wicked Good Glossy Dry Oil ($18)
"This weightless, non-greasy body oil features an easy spray application and contains antioxidant-rich coconut, argan and meadowfoam oils to help soothe dry areas and improve overall skin texture and tone. The spray-on body oil delivers a fine mist that quickly absorbs into skin, residue-free and dry to the touch. Perfect for dry feet and legs."
This is a really neat product as it is a luxurious, lightweight fast-absorbing dry body oil that leaves your skin moisturized without being greasy.
Daily Dose Omega Butter ($26)
"Daily Dose: Omega Moisture Butter is a 100% vegan, non-toxic daily treatment that softens skin, alleviates dryness, and strengthen skin's moisture barrier. Evening primrose and avocado oils contain powerful antioxidants and essential fatty acids that boost moisture and support skin regeneration. A combination of mango and kokum butters provide a natural source of Vitamin B and Potassium which work together to repair damaged skin and smooth rough patches on heels, knees, and elbows. A little goes a long way with this creamy concoction; it's fast-absorbing and instantly hydrating to get you through dry summers and cold winter months. Say Goodbye to Dry Skin!"
The package was a little crunched, but the product was still in perfect condition. I have been using it on my hands, feet/heels and elbows and my skin is happy! This will be perfect for winter as my skin becomes so dry!
Recherch's Organics Hyaluronic Acid Radiance Serum ($18)
"Hyaluronic Acid makes up five percent of this high quality formulation. Holding up to 1000 times its weight in water and drawing moisture out of the environment and onto the surface of your skin, there is not a more effective moisturizing agent on the world market today. Non-comedogenic (non pore clogging) , penetrates deeply, and activates collagen production for a fresher, younger, firmer, brighter complexion."
Hyaluronic acid seems to be all the rage these days and I am here for it! This is a non-0greasy serum and my face is looking healthier and more radiant because of it.
Base Blue Air Sponge ($7)
"The AirSponge swells in size when wet to prevent absorption and product waste. Base Blue's Air Sponge can be used for more than just makeup! Use tye AirSponge to apply your sunscreen, moisturizers, and primers."
This AirSponge is a fantastic quality and is as good or better than my BeautyBlender!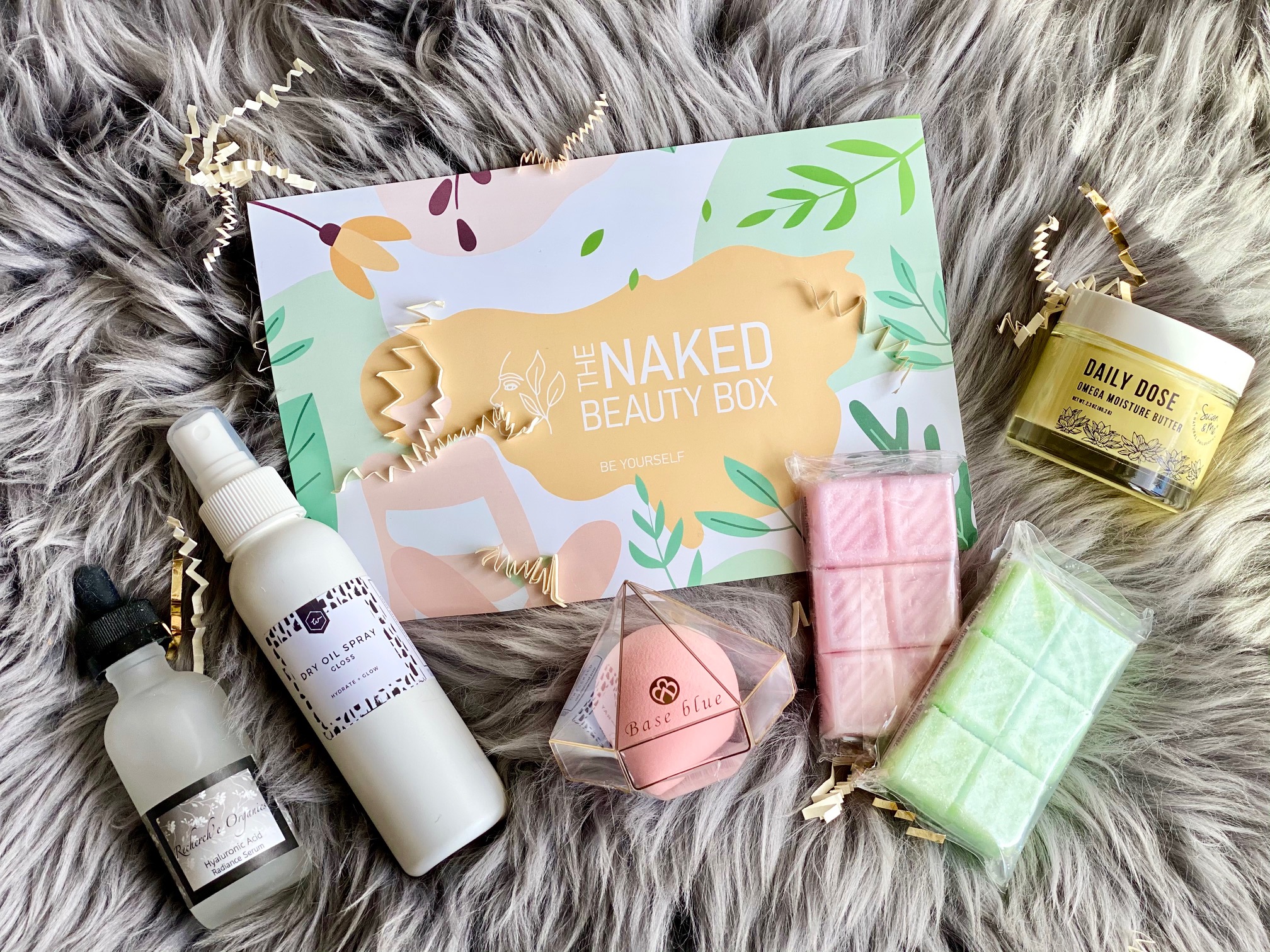 The October 2020 The Naked Beauty Box contained six full-size products and the estimated retail value of this box is $85! This is probably my favourite The Naked Beauty Box yet as I love all of the products and have used them all already. I am familiar with a few of the brands included in the box this month as we have received a few brands in previous boxes, but there were still new brands that were fun to discover. I also like that all of the products included are clean which is so important to me. My favourite items are the Wicked Good Glossy Dry Oil, the Daily Dose Omega Butter and the Base Blue AirSponge! The Naked Beauty Box is the perfect subscription for someone who appreciates trying clean, cruelty-free, and vegan skincare products!
Hayley Savanna – https://www.instagram.com/hayleysavanna/
Explore.
Save.
Enjoy!
Sign up for a free account on A Year of Boxes to receive exclusive offers, be added to our monthly mailing list, and much more! We are always adding features to improve the experience for our users, from their valuable feedback!
Join Today!