Naked Snacks Review October 2020
Naked Snacks is a healthy snack box subscription service where you choose the snacks you want. They use whole ingredients in fun and delicious ways, hence their 80/20 nutritional philosophy: 80% whole grown goodness, 20% earned indulgence as a reward for making smart decisions. Discover deliciousness from over 30 snacks online, including vegan, gluten-free and nut-free options. They kindly sent us this box for review.
Believe it or not, healthy snack subscription boxes are few and far between, especially here in Canada. I can maybe think of 2 or 3 off the top of my head, but the one that stands out the most is definitely Naked Snacks. They have been in business for quite some time and have proven themselves as a quality subscription. If you love snacks as much as I do then you MUST check it out!
Subscription Details
Naked Snacks has 3 subscription options to choose from….
Choose from 5, 10 or 20 snack box sizes. Delivery is always free for 10 and 20 snacks, and free to some areas on 5 snacks.
Choose the snacks you want each month or let them surprise you!
Here's a closer look at the snacks we received in our October Naked Snacks box….
Aloha Kauai
Welcome to the islands! This tropical treat will escort you to your own private cabana on the beach. Macadamia nuts mingle with island fruits and toasted coconut to give you that cool-dip-on-a-hot-day feeling. Coconut flakes contain manganese for making strong bones and processing cholesterol. Heart-healthy Aloha Kauai is also high in fibre and helps speed along full body healing. Mahalo!
Ingredients: Sugars (banana chips (banana, coconut oil, sugar, banana flavour), pineapple (sugar, pineapple, citric acid)), Toasted macadamia nuts, Coconut ribbon
This is a mix I have had a few times before and can safely say it's a good one! It's perfect when you are needing something sweet but are conscious about your sugar intake. I love the banana chips and pineapple pieces. SO good!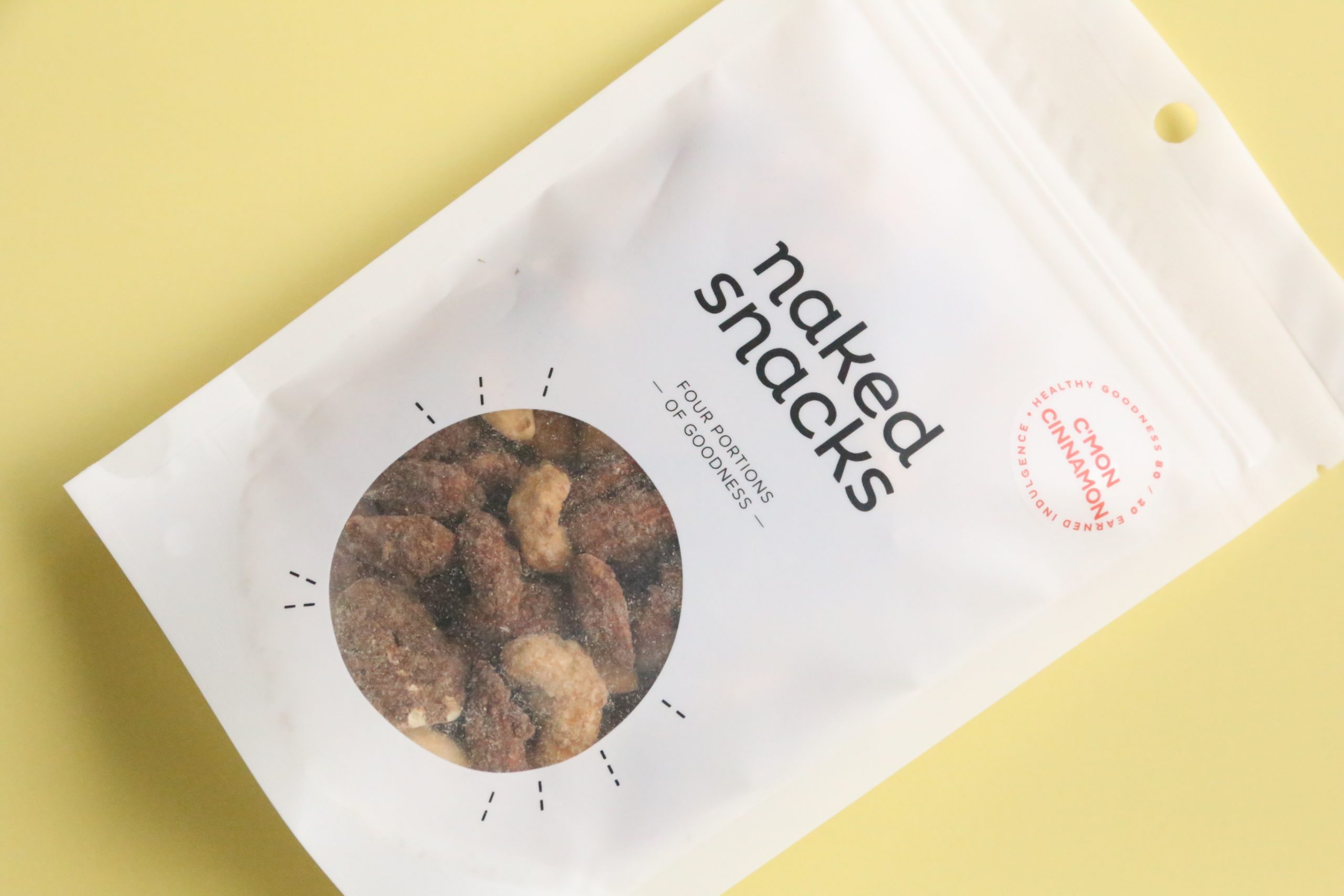 C'mon Cinnamon
You don't need to be a cinna-maniac to enjoy this delicious mix. For those who love the sassy spice, prepare to have your socks knocked off. This nutty medley is long on flavour with just the right amount of salty and sweet roasted in. Cashews give you an extended energy boost and help support the immune system, almonds help us build strong bones, and pecans are heart healthy. C'mon Cinnamon, let's get spicey!
Ingredients: Dry roasted almonds, Dry roasted cashews, Sugar, Dry roasted pecans, Spices, Sea salt, Cornstarch, Expeller pressed canola oil, Natural flavour
This is a new mix for me, one I've never tried before, and I am DYING to know if they got the name from THIS YouTube video! It's one of my favorite videos and I rolled over laughing when I saw the name of this snack. All that aside, I am a huge fan of cinnamon so I already know this is a keeper. I will have a handful with my afternoon tea on days when I need a little pick-me-up.
Mexican Remix
All fiesta, no siesta! This Mexican-inspired mix has more joy to give than an overfilled piñata. No blindfolds or dangerous stick swinging required to open up this delicious snack! And taco'bout a combo of all the right things: crispy corn nuts, roasted black beans and spicy jalapeño cashews packed with protein. We guarantee your taste buds will be moving and shaking long after the bag is empty.
Ingredients: Corn nuts, roasted black beans, sriracha cashews (roasted cashews, organic sriracha sauce, garlic powder, chili powder, kosher salt)
This is one I've had before and it is SO dang good! I love the corn nuts (who doesn't) and the roasted black beans are yummy as well.
Spicy Joe
A yawn is a silent scream for coffee. Reaching for your afternoon cup of joe? Maybe it's time to try something a little different. Is Spicy Joe a coffee-flavoured snack that's spicy or a spicy snack with coffee flavour? Regardless, coffee and chocolate make life better, so we've mixed energy (and mood) boosting dark chocolate coffee beans with protein rich Sriracha cashews, spicy wasabi peas and crunchy wild rice sticks.
Ingredients: Wasabi peas, dark chocolate coffee beans, sriracha cashews (roasted cashews, organic sriracha sauce, garlic powder, kosher salt), wild rice sticks
This is one of their new releases and I have been dying to try it. I think it sounds so unique. I'm not even sure how I feel about chocolate coffee beans and wasabi peas in the same mix, but I am really excited to give it a try.
Protein Power-Up
Building a strong body starts with good protein, whether you're a veteran athlete or just hitting the beach weights for the summer. Get the fuel you need for growth through almonds loaded with potassium, protein-rich cashews, high fibre chickpeas, and cranberries with high nutrient and antioxidant content. Yoghurt chips give a smooth finish to your session, no blender required!
Ingredients: cranberries, yogurt chips, almonds, roasted cashews, sea salt chickpeas
Lastly we have Protein Power-Up which is another mix I have tried in the past and, in my personal opinion, it is a pantry staple. It's perfect for kid's lunches, afternoon treats, and road trip snacks. I love the mix of sweet and salty.
Naked Snacks Review October 2020 – Final Thoughts
Naked Snacks is one of those subscriptions that just makes me happy. I love snacks and like to have a variety of snacking options in my pantry at all times so I view this as a convenience subscription. It provides me with something I eat on a regular basis, and as such, saves me a trip to the grocery store. I also love that I get to try out different snack mixes each month. It means I never get sick of one certain snack and it keeps the surprise element, making the box fun to open. Overall I would HIGHLY recommend Naked Snacks to anyone who loves snacking, has children, travels for work……I could go on and on. Basically it's great for everyone!
-AYOB Sarah