Namaslay Box Review January 2017
Namaslay Box is a brand new Canadian Subscription Box. It is a bimonthly Yoga lifestyle box to support your yogi lifestyle. Every other month receive 4-6 high quality products for a cleaner, healthier lifestyle. Few examples of what we intend to send you are: Green skin care made with essential oils, Organic Tea, Natural makeup, Eco friendly household items, Handmade items, Yoga Jewellery, and Incense. They kindly sent me this box for review.
Oh my goodness!!! It's a very exciting day. Today we are looking at a brand stinkin' new Canadian Subscription Box! I get very excited when I discover new boxes, especially when they are based in Canada. And, the fact that it is a yoga lifestyle box just makes it that much better. The January box is their very first box.
Subscription Details
I spent a little time on the website prior to the review and so far I like what I see. Namaslay Box is a bimonthly box, meaning it ships every 2 months. The FAQ section says that there will be a theme for every box. I wasn't able to find theme details on the product card for this box, so I'm not entirely sure what it is. Hopefully they will include this info next time. But for now, let's have a look at the products in their very first box! So exciting!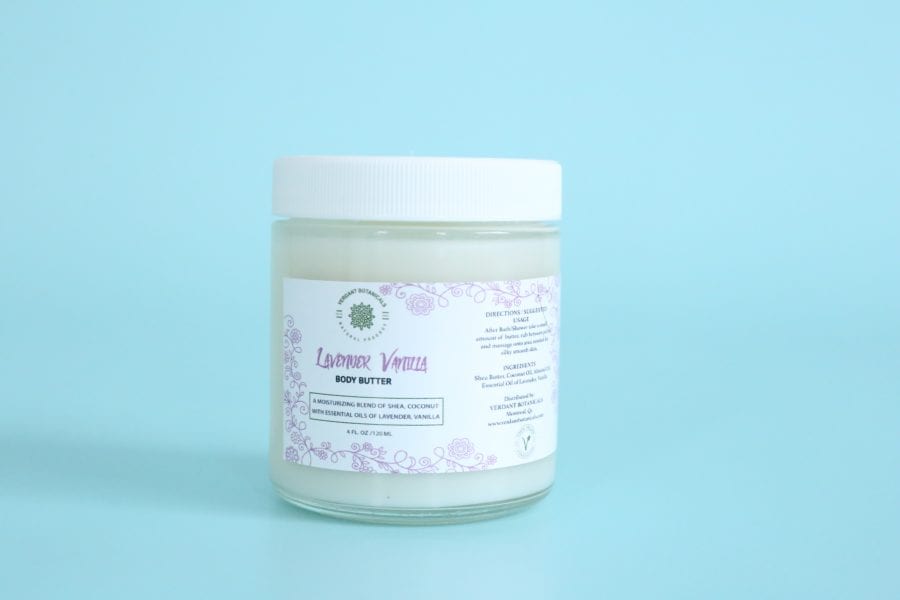 Verdant Botanicals Lavender Vanilla Body Butter
Lavender Vanilla is a sweet calming blend of Lavender and Vanilla Essential Oils with Shea butter & Coconut. It is an ultra hydrating body butter suitable for all skin types. Made with only few vegan natural ingredients it is a lush moisturizer for your body. It will restore, protect and soften skin with regular use.
This is one of my favourite fragrance combinations, so we are off to a good start. And, it only has 5 ingredients – 3 oils, and 2 fragrances. These are my favourite kind of products to receive. Handmade, simple, and effective.
LeftoverHippies Sandalwood Vanilla Incense
My Sandalwood Vanilla Incense is made with real vanilla beans and white sandalwood, and each 4″ stick burns for about half an hour. Since it is made with all natural ingredients, there are no toxins released into your home as with inferior commercial brands, plus, it smells so much more delicious! 
Wow, I can't remember the last time I received incense in a subscription box. This is great! As much as I love burning my candles day in and day out, I kind of need a break from them. And……. they had me at "no toxins". I have a feeling I am going to love these.
Shanti Tea Lemon Ginger Tulsi Tea
A slightly spicy and minty blend, warming with a touch of lemon – a winter favourite!. Tulsi is one of India's most sacred herbs, an aromatic shrub recognized for its spiritually uplifting and healing properties.
I have a confession to make. I still have to film the YouTube unboxing, but I have already open the tin and am drinking the tea as we speak. Normally I try to keep everything closed until I am done with videos and photos, but I just couldn't stop myself from trying this tea. I've been looking for a blend like this. Something simple, not too complicated, caffeine free, and soothing. I find ginger and lemon very soothing, especially in the afternoon.
Fruit Box All the Way Apple Snack
This is such a simple snack, but also very exciting. I like simple. I like minimal ingredients. I like things that come from nature. And I like crunchy. This is all of those things, and I can fit it in my purse or gym bag.
Warm Thick Loop Scarf
This item was made exclusively for Namaslay's January Box. It doesn't have any brand info on it, so I'm not sure who made it for them, but it's pretty darn cute. It's soft, warm, and cozy. I would wear this with jeans, a white tee, and army green jacket. Super cute!
Vegetarians Recipes!
Yoga poses!
Namaslay Review January 2017 – Final Thoughts
First of all, can I just reiterate how exciting it is to see a new Canadian subscription box on the market! And, one that fits my lifestyle perfectly! Namaslay Box contains a mix of products like aromatherapy products, natural skincare, healthy snacks, organic tea, and home items – all my faves!! This is the kind of box that, if done right, could easily become my favourite. Now, what do I think of their very first box? Well, I think they did a good job. There are a couple little things I would tweak, but for the most part they are on the right track. They included 5 really fun items, all of which fit my lifestyle, as well as vegetarian recipes and yoga postures. Going forward I would LOVE to see them spruce up their packaging just a little, and maybe put the recipes and yoga postures on cards so they are easier to use. I think Namaslay Box has the makings for a great box, and I am super excited to see more from them!
XOXO
Explore.
Save.
Enjoy!
Sign up for a free account on A Year of Boxes to receive exclusive offers, be added to our monthly mailing list, and much more! We are always adding features to improve the experience for our users, from their valuable feedback!
Join Today!