Naturally Crated Review Winter 2018
The Naturally Crated quarterly subscription box is the long awaited subscription box for those who seek out natural, organic, and eco-friendly products. Whether you are looking to sit back and be spoiled, or discover new products without all the label-reading and research, a box will be curated especially with you in mind. Your box will be packed with full-sized, quality products from conscious brands…just like all of our other gifts. You can anticipate fun, seasonal products you will want to use now! They kindly sent us this box for review.
Naturally Crated is a brand new quarterly subscription box. They have only been shipping since July of 2017 and this will be our first time reviewing them. The idea of a box full of natural, organic, and eco-friendly products makes me very excited as these are the kind of items I like to receive most. Upon first glance, this box has the makings to become a new favourite, but let's have a closer look before I make my final decision…..
Winter Box Details
This box is full of everything you need to make these cold winter months cozy and enjoyable.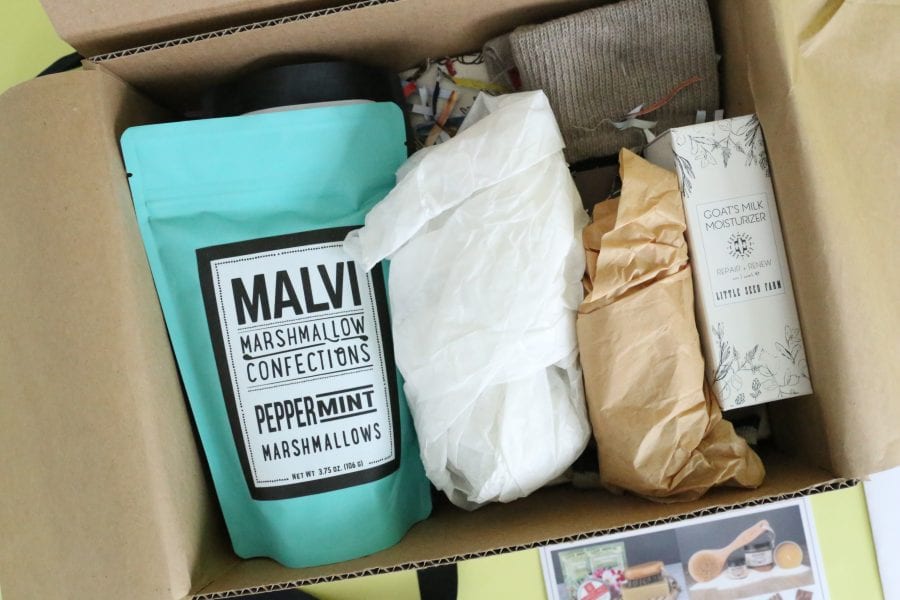 Here's a closer look at the items we received in the Winter Box…..
Organic Goat's Milk Moisturizer ($26)
Our moisturizer is made from organic ingredients, on a sustainable farm! Use it to hydrate wind-chapped skin and renew before bed.
I have received products from Little Seed Farm in the past and have been quite happy with all of them. They have a variety of items in their product line – deodorant, scrub, soap, serum, etc….. Their Goat's Milk moisturizer is made from Goat's Milk, Argan Oil and Perilla Seed Oil. It is a lightweight cream that won't clog pores and absorbs quickly leaving a silky lightly matte finish.
Throw Pillow Cover ($28)
These limited edition 18″x18″ pillow covers are hand-made in the US by skilled artisans. Their designs are hand-illustrated and then screen printed using plant-based inks. We like to overstuff our pillow covers with 20″x20″ 100% cotton inserts.
How fun is this pillow cover! And how great is it that the illustrations are printed with plant-based inks. I will definitely be finding a spot for this on my couch or my favourite chair. I really love that we received a home decor item in the Winter box. I wonder if this is the kind of item they include on a regular basis?
Marshmallows ($5)
These melt-in-your-mouth marshmallows are made in Georgia from high quality ingredients. You can expect non-GMO ingredients, pure cane sugar and kosher gelatine. No corn syrup, artificial colouring or preservatives.
These yummy little treats fit the cozy Winter theme perfectly. Nothing says cozy like a warm cup of cocoa topped with marshmallows…….
Cocoa ($10)
This delicious cocoa is non-GMO and fair trade certified. Curl up with a warm cup of hot cocoa and marshmallows, add to your holiday cookies, or make one of the mask include in our product booklet.
And here we have the cocoa to go with the marshmallows. I love it when items complement each other. Simply add 2 tbsp to 8oz of milk, warm, whisk and enjoy. I have a wonderful little mug cake recipe that includes cocoa, banana, and peanut butter so this will definitely come in handy.
Socks ($15)
in2green is a truly innovative American company! Their socks are made from 75% up-cycled cotton and 25% polyester (also, almost completely recycled). We love their fun designs!
Ummmm…..I LOVE these socks. The colors are fun and I love that they are knee-high. This is another item that fits the cozy theme. When I am cozying up with my mug of cocoa in my favourite chair with my new pillow you can bet I will be wearing these bad boys.
Elderberry Syrup Mix ($15)
These easy-to-use mixes from Mamas Blooming help boost immune function! They are hand-made from organic ingredients in small batches.
Just what the doctor called for. A little something to boost my immune system. I've been battling a cold for the past month and am at the point where I am willing to try anything to get rid of it. Elderberry Syrup is known for providing major cold and flu relief. This is exactly what I needed in my life.
Beeswax Candle ($26)
Our candles are made using only organic beeswax, organic coconut oil, and pure essential oils. Clean the container and save the natural wool tie, after burning, for double the use!
My cozy night in wouldn't be complete without a candle. I love that this one is made with beeswax and comes in a re-usable jar.
Bonus Item? – Bee Maternal Calming Spray
This wonderful little spray must be a bonus item as it wasn't listed on the product card. How nice of them! This blend will stimulate your limbic system & is said to calm, center & provide balance to your conscious mind.
Naturally Crated Review Winter 2018 – Final Thoughts
It's official, I am a HUGE fan of Naturally Crated. But, based on the description alone I figured I would be. There's just something so lovely about a box full of natural products. I would take a box full of eco-friendly products over a box full of regular products any day. Here's what else I like about my first Naturally Curated box – it has a wonderful product mix, it included a home decor item, it followed a theme, provided great value, and was packaged beautifully. Oh, and did I mention they included a bonus item?! I have a good feeling about this box and can't wait to see more.
XOXO