Nature's Wellness Box Review October 2020
Nature's Wellness Box is an aromatherapy-focused, lifestyle & wellness subscription box that will send you 5-6 full-size, non-toxic, natural, vegan and cruelty-free products with a value of $80 or more! Your Nature's Wellness Box will be filled with all things to help you de-stress through self-care including essential oils, natural health products, healthy snacks – everything you need to match a healthy and chemicals-free lifestyle.
**Nature's Wellness Box kindly sent me this beautiful box for review**
I was so excited to review Nature's Wellness Box as I have been reading great reviews of it since it started earlier this year. Natural, non-toxic and cruelty-free items are my jam – I refuse to use products filled with hard-to-pronounce chemicals as they have an adverse effect on my health.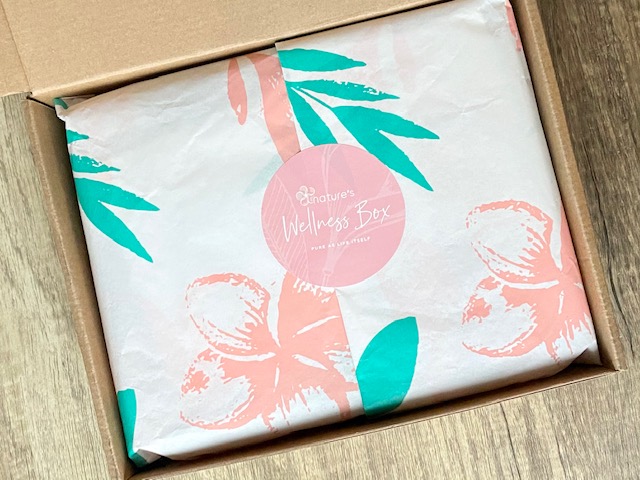 I love Nature's Wellness Box colours and the printed tissue paper that wraps the products. It is made of high-quality and has a beautiful pattern of coloured leaves with plumeria flowers. According to Nature's Wellness Box website, "In the Hawaiian culture, the plumeria symbolizes positivity and new beginnings." It is their hope that their Nature's Wellness Box subscription will bring positivity into your home and life.
A little about Nature's Wellness Box story and mission…
The theme for October's Nature's Wellness Box is Self-Love through Self-Care.
"Self-care and self-love aren't about rewarding yourself; it's about spending time with yourself and loving every minute of it. Enjoy your Nature's Wellness Box this month and make sure to take some time for yourself."
The Nature's Wellness Box product card was sent digitally this month as they had some printer delays due to COVID-19. Inside the product card are photos and details about the products, including price and ingredients.
Old Soul Soap Company Sleep Well Bath Bomb ($6)
"Drop this bath bomb into the tub, enjoy the fizz, and inhale the aromatherapy. Relax in the perfect blend of essential oils to get you ready for a good night's sleep with this vegan friendly bath bomb."
This Sleep Well Bath Bomb smells incredible and immediately put me at ease with my first sniff! It was a hint crumbly, but poured into the bath it will still do the job.
BKIND Natural Toothpaste Tabs ($16)
"These toothpaste tabs allow you to brush your teeth in a 100% eco-friendly, nice and effective way: it gently polishes your teeth leaving fewer places for bacteria and tartar to attach, and leaves in your mouth a pleasant fresh feeling. Our toothpaste is free from fluoride, artificial colors, aluminum and preservatives. Chew a tab or two until it gets soft and smooth. Crush and brush as you would with any conventional toothpaste, then rinse. Repeat twice a day."
These BKIND toothpaste tabs are super intriguing. I love that you could throw a few in a small pill box and essentially brush anywhere as long as you had a travel toothbrush with you.
Bamboo Biodegradable Charcoal Toothbrush ($6)
"Each Custom Bamboo Toothbrush is made from renewable and environmentally – friendly bamboo wood that guarantees a good quality product, soft, lightweight, hygienic, and resistant at the same time. Its bristles are soft and infused with natural charcoal that is antiviral and antibacterial."
I've always wanted to try charcoal oral hygiene products. This Bamboo Toothbrush is so soft and I like the idea of charcoal being antiviral in times like this.
Cela Skincare Crème Rose ($39)
"The Very Best Creme Rose Deliciously aromatic with notes of sweet jasmine, peach and rosewater, and enriched with Canadian botanicals, cupuaçu butter and Abyssinian oil, this velvety body cream hydrates and softens skin. Céla's inclusive mission flows from the same holistic principle that has sustained Celine (The Owner) through the many years as a veteran in the beauty industry. She is devoted to helping clients to look and feel their best, and throughout a lifetime of making wellness a priority in her own family – that every person deserves the benefit of honest, natural ingredients."
This cream is very luxurious and smells incredible. It is very hydrating without being oily.
Nature's Lavender Essential Oil Roll On ($18)
"Lavender Oil works to kill bacteria and anti-inflammatory abilities. Also can help sleeplessness, anxiety and migraine relief. This roll on is a combination of Pure Lavender Essential Oil and fractionated Coconut oil. It is premixed and ready to use. Lavender is known for its relaxing and comforting scent."
I absolutely love the scent of lavender and you can tell this roll on is made with high-quality ingredients. I have never heard of using lavender for migraine relief, but I may give it a try next time I experience one coming on.
Taste of Nature Organic Coconut Dark Chocolate Snack Bar ($2)
"Taste of Nature is a privately owned and operated Canadian company established in 1989, located in Markham, Ontario,. They want you to love their bars. That's why they use only the best ingredients – real nuts, organic fruit and sweet agave syrup, with no fillers, additives or artificial products – and show them off with their distinctive clear packaging."
This snack bar was sooo tasty. It was a perfect snack for when I was feeling hungry and did not want to compromise my health.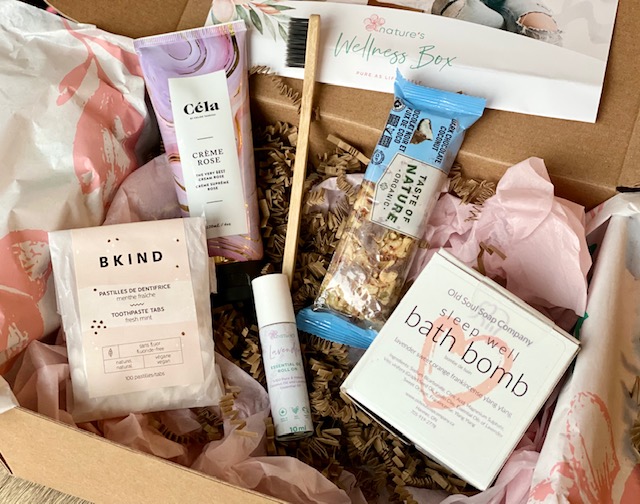 October's Nature's Wellness Box was filled with six products for a total value of approximately $85. Thanks to Nature's Wellness Box, I was introduced to new brands and products that I will incorporate into my life for self-care and self-love. I am so excited about the BKIND Toothpaste Tabs and the Taste of Nature Snack Bar was so good! If Nature's Wellness Box is calling to you, you can subscribe for a month to month subscription or bi-monthly or every three months, for only $44.99 CAN per month.
Hayley Savanna – https://www.instagram.com/hayleysavanna/
Explore.
Save.
Enjoy!
Sign up for a free account on A Year of Boxes to receive exclusive offers, be added to our monthly mailing list, and much more! We are always adding features to improve the experience for our users, from their valuable feedback!
Join Today!