Nature's Wellness Box Review September 2020
Nature's Wellness Box features 5-6 full-size, natural, vegan and cruelty-free products. Get directly delivered to your door carefully picked products that you will use daily. Essential oils, self-care items, natural health products, healthy snacks, everything that you need that matches your healthy and chemicals-free lifestyle.
Last month went so fast and now it is already September, and the weather is getting colder every day. Lucky me, Nature's Wellness Box kindly sent me this beautiful box for review. It is filled with five products for a total value of approximately $100. I think it is the one with the highest value since I started reviewing. Not only does this box have great value, but it supports my lifestyle and makes me discover new brands that are aligned with my values. If Nature's Wellness Box is calling to you, you can subscribe for a month to month subscription or bi-monthly or every three months, for only $44.99 CAN per month.
I like the beautiful sticker used to close the box and the printed tissue paper that wraps the products. It is thick and has a beautiful pattern of colored leaves with the flower of Nature's Wellness Box logo.
Under the tissue papers, I found the pamphlet detailing the five carefully chosen items for the September box. This month's text at the back of the pamphlet was about gratitude and abundance. It was not all about the abundance in the garden, but a more profound thought. The read really resonates with me. It is with a lot of gratitude that I will show you what I received from Nature's Wellness Box.
Granola Bar from Nature's Path
This is one of my favourite granolas bars! It tastes delicious with just enough sweetness. There are a lot of ingredients, but only good ones and they are all organic. This bar was created from the Love Crunch granola flavour (I am personally a big fan of the apple chia crumble granolas, yum!). Exactly the kind of snack I like to find in a healthy box like this one. My bar arrived broken in two, but that will not make it any less good. This one is going straight on my desk for a quick snack.
Calm and Collected Candle from Moonlust Divination
"Hand poured soy wax candle in a jar. Scented with lovely fragrant essential oils – sandalwood, cedarwood, and lemongrass. Each candle is a completely natural white colour and is topped on the surface with a sprinkle or two of sage and/or lemon balm."
The smell of this candle is so relaxing, they could not have chosen a perfect name. This candle gives me a "Fall feeling". As I am writing this, I cannot stop myself from taking the jar again and again to inhale the aroma of sandalwood, cedarwood, and lemongrass. I like the addition of leaves on top that creates a little decoration. Moonlust Divination is a young company (created in June 2020), but has a promising future. I love this kind of shop with natural products with a witchy side. They even have subscription boxes.
Luminizing Facial Serum from NIU Body
I had the chance to receive other products from NIU Body in another subscription box and I loved them all. I never tried the Glow serum, but I cannot wait to try it. It is a blend of camellia seed oil, jojoba oil, bergamot essential oil, and Vitamin E to leave your skin extra smooth and radiant. The smell is delicate and from my test on my hand, it is quickly absorbed. Just so you know, if you are looking for this product, NIU Body recently changed their company name for "Three ships". The look changed a little, but the products are the same and still amazing.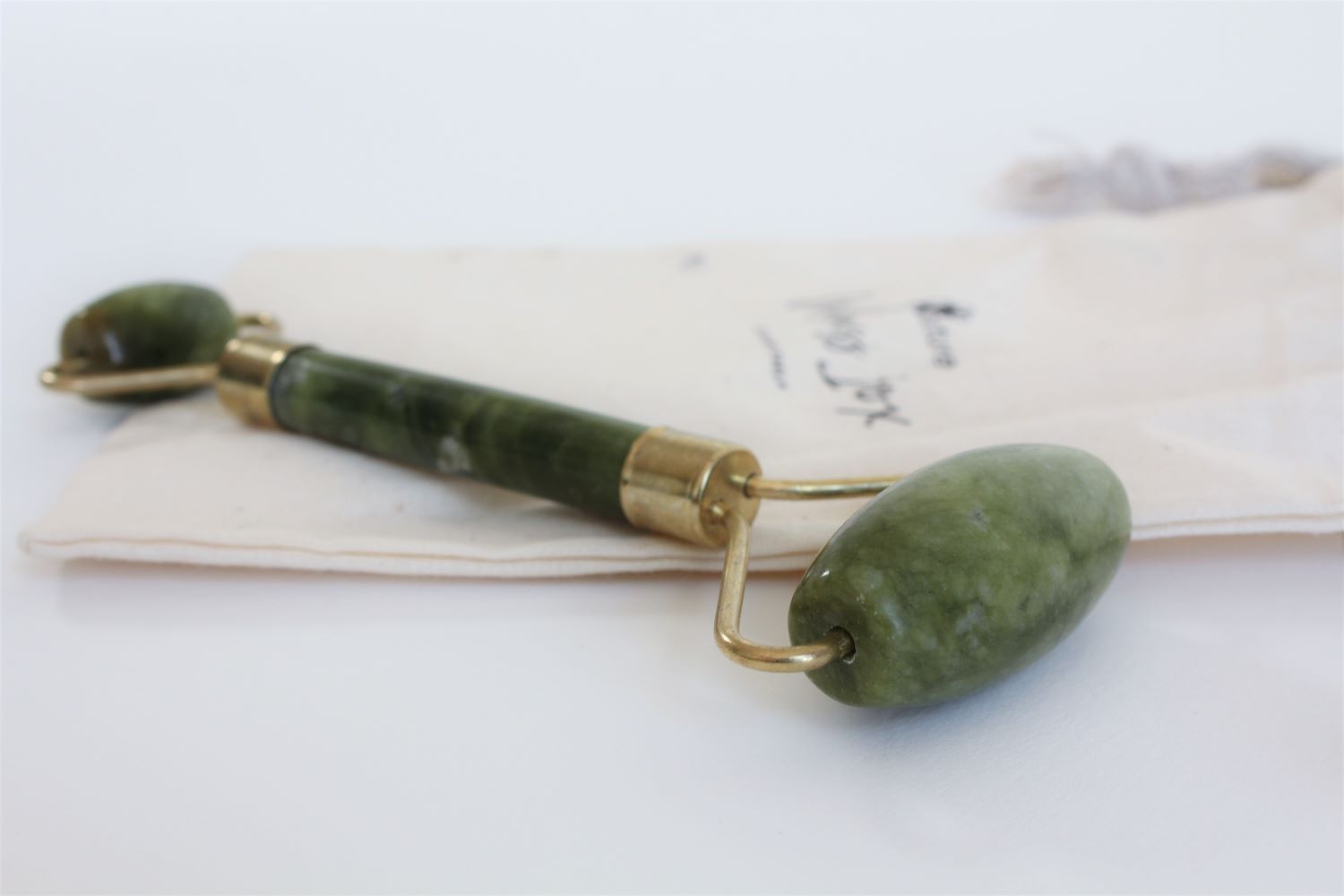 Natural Jade Stone Face Roller
I know face rollers have been on the market for a while, but I never had one. This specific one was handmade of 100% of natural green jade stone and has two roller sizes. The bigger one of the larger areas like the cheeks and forehead and the smaller one for the under eye and around the mouth. I am very curious to see if it is going to make a difference. I will try it with my new Glow serum. It is said to "help diminish appearance of fine lines and wrinkles, uneven skin tone, dark under eye circles, puffiness and bloating, acne, scars and enlarged pores". That is a lot of promises, but even if it does not do all that, it will at least add a relaxing moment to my routine.
Nourishing Face Cream from Demes Natural
Demes is a company based in Ontario, Canada. I read about their company and their philosophy matches perfectly with Nature's Wellness Box. They produce 100% vegan and natural cosmetics and are implicated in the world of cosmetics to promote safe and non-toxic products. The cream I received smells like a desert. It is a mix of fruits (there are banana extract and mango fruit powder in it) and macadamia, rosehip and sweet almond oils. The texture is rich, and it leaves the skin well hydrated. I hope to see more of this brand in future boxes.
Nature's Wellness Box September 2020 – Final Thoughts
The September Nature's Wellness Box has a Fall vibe with the beautifully scented candle from Moonlust Divination and the products centered on self care. The cream and serum are reminders that I kind of gave up on my skin care routine this Summer and it is time to hop back on the track. I will add the serum and the face roller to my routine, and I hope to see some results. Also, I was happy to find one of my favorite granola bars in this month's box. I love to discover new brands, but I am always happy to see the ones I already love. Another great box from Nature's Wellness Box!
Jacynthe Létourneau – https://www.instagram.com/miss_minamie/