Nicely Noted Review August 2016
Nicely Noted Review August 2016
Nicely Noted Review August 2016 – This is the perfect subscription for any stationery lover, and I just happen to be a stationery lover. I have a bit of an obsession/appreciation for greeting cards and LOVE to have a selection on hand at all times. To be completely honest, I use to give gifts without cards because I would leave the card buying to the last-minute and then forget to pick one up. But…..now that I have my trusty little Nicely Noted subscription I just open up my card box, pick one out and I'm good to go. I now have cards for every occasion…..it's super convenient.
Nicely Noted Details
If you aren't familiar with Nicely Noted it is a monthly letterpress subscription service. Every month they send you a package with 3 cards and stamps to mail them (US subscriptions only). This box was provided complimentary for review.
The Box: Nicely Noted
Cost: $20 a month
What You Get: A curated collection of letterpress cards and stamps.
stamps are included with US subscriptions
Ships to: US, Canada, UK and European Union
Shipping Cost: FREE
YouTube Unboxing: CLICK HERE
This month's Nicely Noted package didn't come with an information card, and I've kind of gotten use to them. I like to read about each card, and I like to know where they are from. I also kind of like the little note the owner sends us each month telling us why we received the cards and how to use them. Oh well, not a huge deal, this just means I have to research each card on my own.
You Nailed It Card
This little card is hilarious. It's not something I would ever have picked out on my own, but it will be the perfect card for anyone needing a little congratulations.
Gold Lucha Libre by Lucky Horse Press
You guys are going to laugh at me, but I had NO clue what this card was all about. It's not my style at all, and who is this little guy on the front? So…..I looked it up and realized that Lucha Libre is "a type of professional wrestling originating in Mexico, in which the contestants wear masks and use rapid, acrobatic techniques." Now that it makes a little more sense I have to figure out what to do with it….
Iron Curtain Press Happy Birthday Card
This is another card that it isn't really my style, but that is strictly personal preference. Some subscribers are going to love this. I just prefer the cutesy, girly cards that are pink and bright and pretty.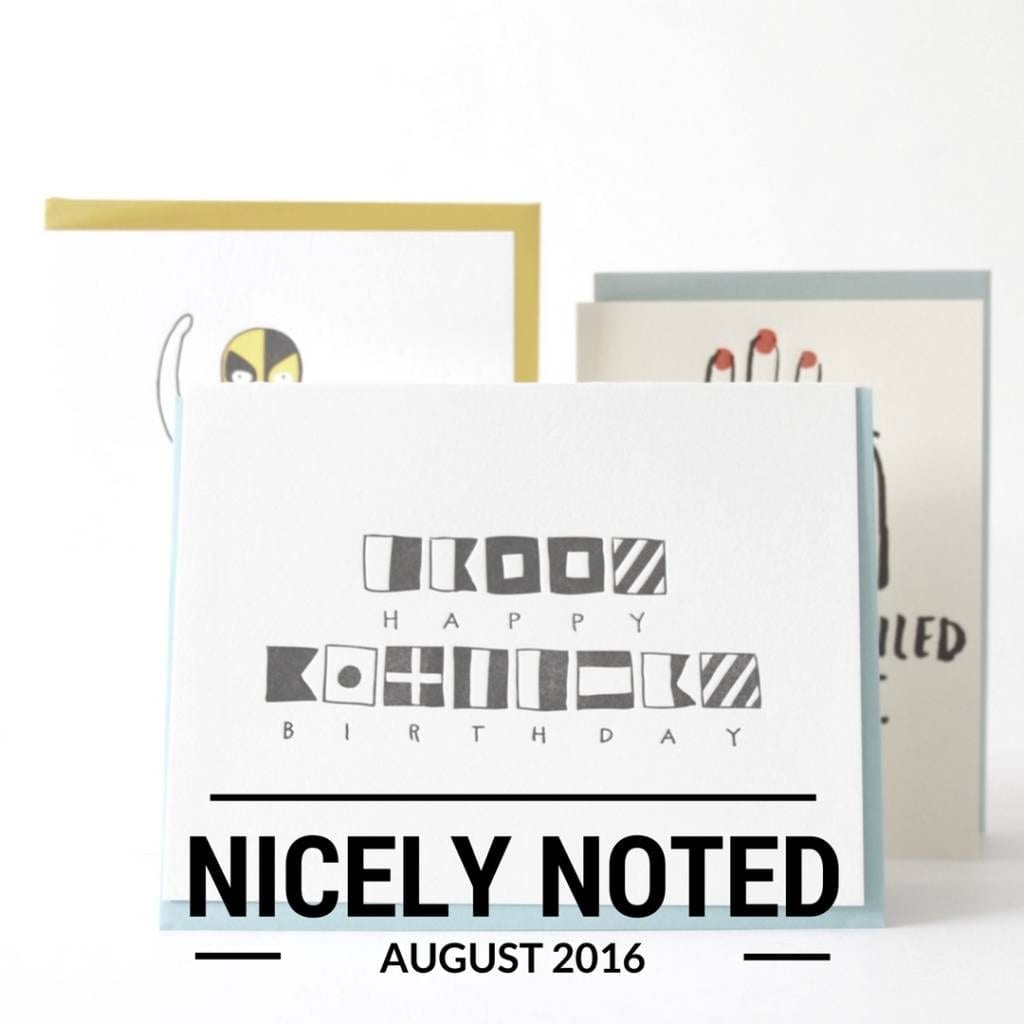 Nicely Noted Review August 2016
Hmmm, I have to be honest, I'm not really feeling this month's Nicely Noted selections. These are card styles I wouldn't necessarily pick out on my own, and I'm not sure if I will use them. I will add them to my card box but I will definitely reach for my other cards before I reach for these. But…..with that being said, it's kind of nice to see them switch it up a bit. We can't have girly cards every month, it's good to receive a variety of styles. I still really love this subscription. I ALWAYS look forward to it.
What do you think of this month's Nicely Noted selections? Do you like them or do you prefer a different style?
XOXO
Explore.
Save.
Enjoy!
Sign up for a free account on A Year of Boxes to receive exclusive offers, be added to our monthly mailing list, and much more! We are always adding features to improve the experience for our users, from their valuable feedback!
Join Today!