NoMakeNoLife Review February 2019
NoMakeNoLife, or 'nmnl' for short, is a monthly subscription box filled with Japanese and Korean beauty products! If you're not familiar with the popular Japanese phrase "nomakenolife," it translates into 'makeup is life'. Each month you'll receive 8-9 full-sized, trendy and high quality items including makeup, skincare, beauty tools, nails, body care and much more! They kindly sent me February's box to review.
Subscription Details
Box Details: NoMakeNoLife (nmnl) curates their monthly beauty boxes with a mix of popular products as well as unique and trendy items handpicked by their in-house licensed beauty consultants. Boxes will contain 8-9 full-sized beauty items including a mixture of makeup, skincare, bath, body, hair, nails, and beauty tools. All of the beauty products are sourced from Korea or Japan.
NoMakeNoLife Packages:
Monthly: $35/month
3 Months Prepaid Plan: $100.50 ($33.5/month)
6 Months Prepaid Plan: $192 ($32/month)
12 Months Prepaid Plan: $378 ($31.50/month)
Shipping: Free Worldwide Delivery
Here's a closer look at the items I received this month….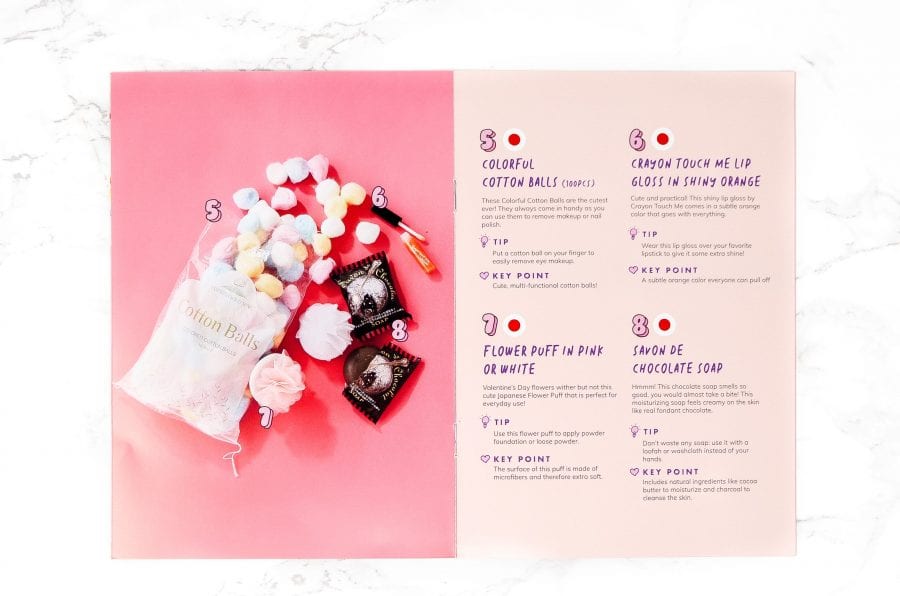 This month's NoMakeNoLife box was curated around the theme, Sweet Date! In this box, you'll find yummy sweets-inspired beauty products, or items that will help you prepare for a big date.
Included in every box is a mini pink booklet detailing all of the hand-picked products each month. You'll get in-depth descriptions, instructions (in English, of course) and upcoming news!
G9SKIN Milk Bomb Face Mask (Korea)
This month's sheet mask comes in two possible 'flavors', Chocolate or Strawberry! I received the Chocolate version which has a sweet chocolate milk scent. It contains milk protein extract that provides the skin with ample amounts of moisture. The milky essence on the sheet mask left my skin feeling very hydrated and bouncy!
Savon De Chocolate Soap (Japan)
Wow – This chocolate face and body soap smells SO good, just like rich hot chocolate! It lathers really easily and can be used as is, or with a washcloth or loofah. I've been using this as a face soap, but it can also be used on the body. It contains natural ingredients like cocoa butter and charcoal, which helps to moisturize and deeply cleanse the skin from impurities. I'm pretty picky about my facial soaps, and this one does not strip my skin of its natural oils. It leaves my skin feeling really clean and refreshed!
Fascy Moisture Bomb Hand Cream (Korea)
I love receiving hand cream in my beauty boxes, since I tend to wash my hands often and they get really dry all the time! The Fascy Moisture Bomb Hand Cream comes in 4 possible varieties: Strawberry, Peach, Grapefruit, or Violet. I received the Strawberry one, which has a sweet strawberry candy scent. It does smell artificial, but I don't mind it. The hand cream has a gel cream texture that blends and absorbs into the skin instantly. It's very lightweight and my hands are left feeling moisturized without any stickiness.
Crayon Touch Me Lip Gloss – Shiny Orange (Japan)
This lip gloss comes in a very subtle and sheer orange hue that compliments all skin tones. It's practically clear! It contains mini specks of micro-glitter that's not really noticeable on the lips, but they help add a glossier shine when the light hits it. I love how this enhances my natural lip color to look a little more lively and plump. Plus, it smells like sweet peaches!
Sparkling Eye Gloss – Honey Gold (Japan)
The Sparkling Eye Gloss is perfect for all makeup lovers whether you're into full glam or no-makeup makeup! It's a very creamy liquid eyeshadow that's easy to apply and blend. This one comes in a shimmery champagne-gold hue that'll look good on anyone! It can be worn as a base shade or as an accent shade on top of other shadows. The texture is very similar to the Stila Shimmer and Glow liquid shadows.
Tony Moly Eyebrow Pencil (Korea)
For this month, subscribers will receive either the Tony Moly or Etude House Eyebrow Pencil. I received the Tony Moly one, which I'm glad because I already own several Etude House ones and can attest that they're great! The Tony Moly one comes with a thin pencil tip on one end and a spoolie on the other. The small tip makes it easy to draw thin hair-like strokes with precision. The only negative for me is the shade… I got 05 Black Brown, but my eyebrow hairs are more of an ashy (grey) brown.
Colorful Cotton Balls (Japan)
These are hands-down THE cutest cotton balls ever! The pack comes with 100 pieces in blue, pink, yellow, and white colors. Each cotton ball has a indent in the center where you can put on your finger for easier makeup removal, or for removing nail polish. Plus, the bottom of the bag comes with a tiny drawstring for you to easily seal the bag back up.
Flower Powder Puff (Japan)
Subscribers will receive the flower powder puff in either pink or white. I received pink, which comes with a beautiful mesh flower attached to the applicator strap. It has a very soft velour-like surface that's great for applying powder foundation or setting your face with loose powder.
NoMakeNoLife Review February 2019 – Final Thoughts
After a lackluster box last month, NoMakeNoLife definitely redeemed themselves this month! The selection this time around was much more spread out and included several makeup items, various skincare products, as well as beauty tools and body care. NoMakeNoLife is delving deeper into both Japanese Beauty and Korean Beauty, so I think this box would be great for those who love Asian beauty (whether you're new to it or not)!
My favorite items has to be the Flower Powder Puff and the Sparkling Eye Gloss. I'm a huge makeup lover, so it's no surprise these made it to the top of my list. The powder puff not only works wonderfully, but it looks so elegant sitting on my vanity. Plus, the Sparkling Eye Gloss has become one of my makeup bag essentials. My only small complaint this time around is that I've received a cleanser this month as well as two cleansers last month, so it's hard for me to use them up quick enough. Besides that though, I'm very satisfied with the selection this month!
Mary Vu – http://thepointofvu.blogspot.com