NoMakeNoLife Review February 2020
NoMakeNoLife, or 'nmnl' for short, is a monthly subscription box filled with Japanese and Korean beauty products! If you're not familiar with the popular Japanese phrase "nomakenolife," it translates into 'makeup is life'. Each month you'll receive 8-9 trendy items including makeup, skincare, beauty tools, nails, body care and much more! They kindly sent me the February box to review.
Subscription Details
Box Details: NoMakeNoLife (nmnl) curates their monthly beauty boxes with a mix of popular products as well as unique and trendy items handpicked by their in-house licensed beauty consultants. Boxes will contain 8-9 total beauty items including a mixture of makeup, skincare, bath, body, hair, nails, and beauty tools. 1-2 products will be "Instagrammable" and there will be at least 1 beauty tool in every box. All of the beauty products are sourced from Korea or Japan.
NoMakeNoLife Packages:
Monthly: $35/month
3 Months Prepaid Plan: $100.50 ($33.5/month)
6 Months Prepaid Plan: $192 ($32/month)
12 Months Prepaid Plan: $378 ($31.50/month)
Shipping: Free Worldwide Delivery
Here's a closer look at the items I received this month….
February Theme – XOXO
"We hope you're getting the love you deserve this February! We're back with your monthly dose of Japanese and Korean cosmetics, skin care, beauty tools and more. Whether you plan on pampering your loved one(s) or yourself on Valentine's Day, we support you and hope you will enjoy this month's beauty box!"
Included in every NoMakeNoLife box is a mini pink booklet detailing all of the hand-picked products each month. You'll get in-depth descriptions, instructions (in English, of course) and upcoming news!
A'Pieu Chocolate Milk Sheet Mask (Korea)
"What is a must-have for Valentine's Day? Besides love, we believe chocolate is the correct answer! This sheet mask from Korean brand A'Pieu uses the ingredient cacao to remove dead skin cells and milk essence to moisturize the skin."
The Chocolate Milk Sheet Mask is the perfect pick-me-up! It smells strongly of chocolate and comes with a creamy, milky essence that's sure to moisturize and nourish the skin. Plus, the star ingredient cacao helps exfoliate dead skin cells. The sheet mask left my skin feeling very hydrated, plump, and smooth.
Medius Heart Eye Mask (Korea)
"As you may know, the skin around our eyes is very delicate and in need of extra care, that's why we're sure that you will fall in love with this heart-shaped hydrogel eye mask! Can you resist the lovely rose scent?"
If your eyes are in need of de-puffing, then this mask is for you! It's a heart-shaped hydrogel eye mask that feels very cooling on the delicate eye area. It helps calm puffy eye bags while adding some major hydration.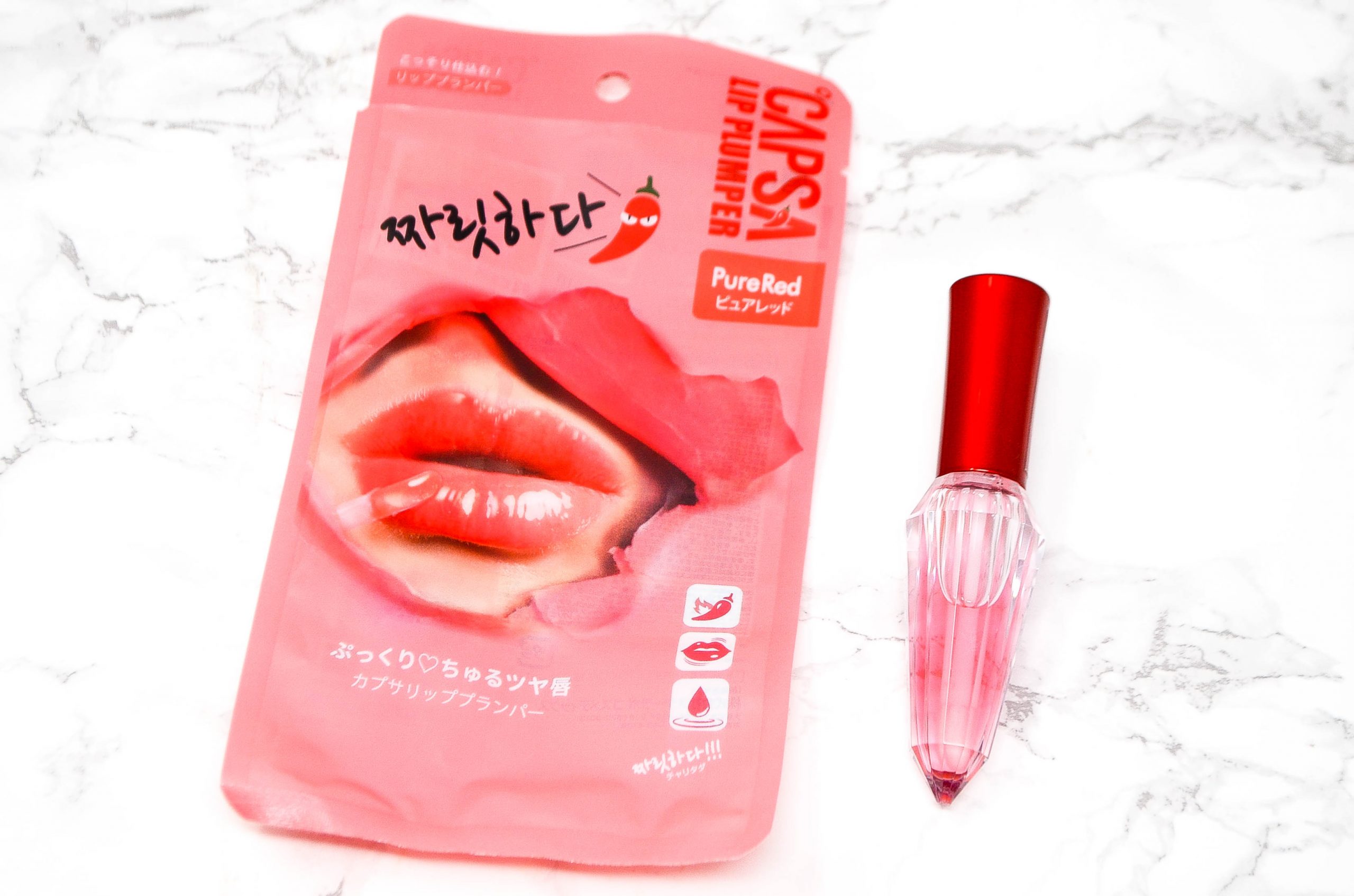 Capsa Lip Plumper (Japan)
"No need to try the lip challenge, with the Capsa Lip Plumper you can achieve full lips with the help of pepper extract. In your box comes either a red gloss, a clear gloss, or a moisturizing lip serum."
I love the packaging on this lip plumper – it looks like a jewel! Subscribers will receive one of 3 varieties, and I received Pure Red which is a translucent red gloss. The lip plumper contains pepper extract and you can feel a subtle burning/tingling sensation upon initial application. Don't worry though, the tingling sensation subsides after a short while!
Melliesh 3-Way Multi Heart (Japan)
"You just gotta love multi-purpose makeup products, that's why we included this cute balm from Japanese brand Melliesh in this month's beauty box. The case even has a small mirror so you can apply your makeup on the go! In February's box comes one Melliesh 3-Way Multi Heart in pink, cherry red, rich brown, or cassis berry."
I'm a huge fan of multi-use products since it helps simplify my beauty routine when I'm in a time crunch. The Melliesh 3-Way Multi Heart is a cream blush that comes in an adorable heart compact. You can use this product on your cheeks, eyes, or lips! I've been using this as a cream blush and it gives a healthy and dewy flush.
Momocos Colored Eye Pencil (Japan)
"Do you remember the cute Momocos monsters from our previous beauty boxes? Previously we've included a lipgloss and a blush, this time you can complete your collection with a colored eye pencil!"
I received the Momocos Colored Eye Pencil in a classic black, which is perfect for me since I wear black liner everyday. The creamy formula works well and goes on smoothly with minimal tugging or smudging.
Holika Holika Heart Crush Lipstick Creamy Velvet (Korea)
"This heart-shaped lipstick is every girl's dream! The velvet matte finish is just what you need to create a romantic Valentine's day look that will turn heads. In your box comes one of the nine pink, red, coral, or beige colors."
This heart-shaped lipstick could not be any cuter! Not only is the case heart-shaped, but so is the lipstick bullet! Besides the adorable packaging, the lipstick formula itself is fantastic. It's creamy and pigmented with a soft velvety finish.
Beauty World Makeup Palette (Japan)
"The Beauty World makeup palette will have you covered this Valentine's Day! Create endless looks with this Japanese 10-color palette with colors suitable for your eyes, cheeks, and face. In your box comes one of the four varieties: Daily Color, Elegant Color, Tropical Color, or Natural Color."
It's always exciting to receive an eyeshadow palette in any subscription box, but I was a little disappointed with this one. It has a really cheap look and feel to it, and the eyeshadows themselves are pretty sheer. As personal preference, I tend to only wear neutral shades, and this is pretty bold with the bright blue hues. Nonetheless, if you're into a sheer wash of color than you may like this palette!
Dear My Soap (Japan)
"Get ready for the cutest soap of the year! This heart-shaped soap bar has a sweet Bulgarian rose scent. In your box comes one in pink, blue, or white."
This adorable heart-shaped soap has a fresh Bulgarian rose scent that makes me happy every time I use it! I'm not sure how it's meant to be used, but I use it as a hand soap and it leaves my hands feeling very soft.
NoMakeNoLife Review February 2020 – Final Thoughts
February's NoMakeNoLife box is definitely more makeup heavy than previous months and I am here for it! I love makeup as much as skincare, so I was excited to see a switch this month. Plus, you can use all of the items to create an entire makeup look!
I'm still a little disappointed that two single-use masks were included this month as full-size items. It's hard for me to view them as full-size since you can only use it once (and most deluxe samples offer multiple uses)! Nonetheless, this box was a hit for me. My favorite items were the Holika Holika Heart Crush Lipstick, the Melliesh 3-Way Multi Heart, and the Momocos Colored Eye Pencil.
Mary Vu – http://thepointofvu.blogspot.com