NoMakeNoLife Review July 2018
NoMakeNoLife, or 'nmnl' for short, is a monthly beauty box subscription filled with specially curated beauty products straight from Japan! If you're not familiar with the popular Japanese phrase "nomakenolife", it basically translates into makeup is life and this box is all about beauty! Each month you'll receive 5-7 full-sized, trendy and high quality items including makeup, skincare, beauty tools, nails, body and much more! They kindly sent me this month's box to review.
Subscription Details
Box Details: NoMakeNoLife (nmnl) specially curates their monthly beauty boxes with a mix of popular products as well as unique and trendy items handpicked by their in-house licensed beauty consultants. Boxes will contain 5-7 full-sized beauty items including a mixture of makeup, skincare, bath, body, hair, nails, and beauty tools.
NoMakeNoLife Packages:
Monthly: $29.99/month
3 Months Prepaid Plan: $87 ($29/month)
6 Months Prepaid Plan: $170 ($28.33/month)
12 Months Prepaid Plan: $330 ($27.50/month)
Shipping: Free Worldwide Delivery
Here's a closer look at the items I received this month….
Included in every box is a mini beauty magazine that gives you in-depth details of each product in the box, full instructions, and upcoming news! I accidentally received June's booklet, but the NoMakeNoLife customer service team was excellent and quickly sent me a digital copy of July's.
To my knowledge, I don't think NoMakeNoLife curates their boxes towards a specific theme each month. However, they did mention in the pamphlet that since it's summer, they selected items that will help keep you feeling fresh and looking good from head-to-toe.
Venus Spa Sakura Rose Perfume Stick
I'm a huge sucker and collector of perfumes so this was my most exciting item. The Venus Spa Sakura Perfume stick has quickly become my new favorite travel perfume! I've never used solid perfumes before, but this makes it easy to always smell fresh even on-the-go. It has a very fresh floral scent that is reminiscent of sakura, roses, and light laundry detergent (in a good way).
Dessert Face Mask
There are three possible variations of the Dessert Face Mask in this month's box including Mint Orange, Frozen Peach, and Almond Tofu. I received the Mint Orange flavor and it has a delicious citrus mint fragrance. This is a very poorly shaped sheet mask that was way too narrow and long in width. Thankfully, there are slits along the edges of the masks allowing the user to customize some of the fit. The sheet mask is made out of a very thick cotton fabric that doesn't hug onto the skin as well as others I've used. However, it is very calming and refreshing on the skin – it emits a cooling/tingling effect that felt very relaxing! After about 15-20 minutes, my skin was noticeably brighter and more evenly toned! The majority of my redness was minimized and I had really good skin when I woke up. Despite the poor fit of the mask, the effects made it well worth and I would use it again.
Brush Styling Sheets
If you want a quick hair treatment that'll make you hair appear shiny, sleek, and smooth or if you just want to refresh your hair, then these Brush Styling Sheets are for you! Each pack comes with 10 sheets which has mini holes all throughout and can attach to the bristles of any hair brush. Just attach the sheet, comb through your hair, and you'll get shiny beautiful hair just like that. I loved how quick and easy these were to use and if you're in a pinch, you can also use them without a brush!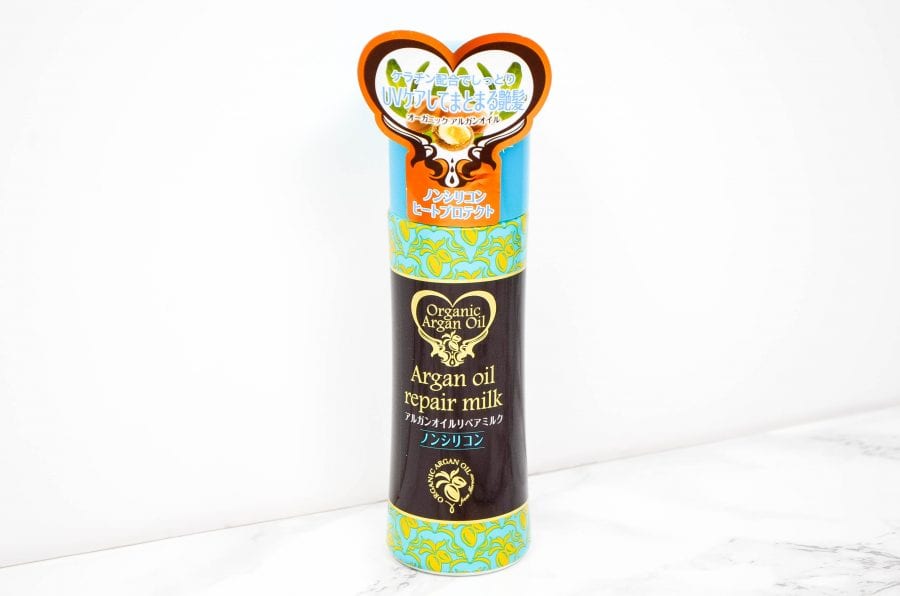 Argan Oil Repair Milk
NoMakeNoLife listed this as an Argan Hair Oil in the pamphlet, but it's not actually a hair oil (just in case you get confused). It's a hair repair milk that consists of argan oil. It has a thick cream like consistency that's not really milk-like but it helps nourish my hair as it coats it. I really appreciate the pump bottle as it makes it easy to dispense into my palm and I like to finger-comb it through my hair. It has made my hair feel softer, smoother, and much shinier too!
Double Color Eyeshadow Crayon
The Dodo Double Color Eyeshadow Crayon turned out to be one of the best glitter shadow sticks I've EVER used. The eyeshadow crayon has two different complementary shades combined into one shadow stick. There are two color variations, and I received the lavender version. One side is a beautiful icy lavender with silver glitters and the opposite side is a shimmery frosted white with a pink duochrome shift. It's completely transfer-proof and does not budge at all! Seriously, once it sets, it stays put!
NoMakeNoLife Review July 2018 – Final Thoughts
The NoMakeNoLife box keeps impressing me each month! It included a nice range of products from makeup, hair products, body products and a sheet mask. I loved how the types of products varied from last month too (there were skincare tools and nail stickers last month). As always, NoMakeNoLife managed to introduce me to so many Japanese beauty brands and products that I never knew of and I was able to find some new favorites! The Dodo Double Eyeshadow Crayon and the Venus Spa Perfume Stick have both become items that I reach for over and over again. If you're interested in trying out fun and unique beauty products, I highly recommend giving this box a try!
Mary Vu – http://thepointofvu.blogspot.com