NoMakeNoLife Review July 2019
NoMakeNoLife, or 'nmnl' for short, is a monthly subscription box filled with Japanese and Korean beauty products! If you're not familiar with the popular Japanese phrase "nomakenolife," it translates into 'makeup is life'. Each month you'll receive 8-9 full-sized, trendy and high quality items including makeup, skincare, beauty tools, nails, body care and much more! They kindly sent me the July box to review.
Subscription Details
Box Details: NoMakeNoLife (nmnl) curates their monthly beauty boxes with a mix of popular products as well as unique and trendy items handpicked by their in-house licensed beauty consultants. Boxes will contain 8-9 full-sized beauty items including a mixture of makeup, skincare, bath, body, hair, nails, and beauty tools. All of the beauty products are sourced from Korea or Japan.
NoMakeNoLife Packages:
Monthly: $35/month
3 Months Prepaid Plan: $100.50 ($33.5/month)
6 Months Prepaid Plan: $192 ($32/month)
12 Months Prepaid Plan: $378 ($31.50/month)
Shipping: Free Worldwide Delivery
Here's a closer look at the items I received this month….
July Theme – Summer Essentials
"With the weather heating up we wanted to bring you a box of beauty items that will be staples for you this summer! Don't forget to bring these essentials with you on your summer holiday!"
Included in every box is a mini pink booklet detailing all of the hand-picked products each month. You'll get in-depth descriptions, instructions (in English, of course) and upcoming news!
Hatomugi UV Milky Gel (Japan)
Japanese sunscreens are some of the best on the market due to their advanced technology and skin friendly formulas. The Hatomugi UV Milky Gel has easily become one of my daily go-to's. This is a two-in-one sunscreen and moisturizer combo that has a soothing gel formula. It feels incredibly lightweight and breathable on the skin. Plus, it doesn't leave any white cast or sticky finish! It only contains SPF31PA+++, but I think that's enough for my daily use (since I don't spend a lot of time in the sun).
Prreti Pure White Milk Cream (Korea)
The Prreti Pure White Milk Cream contains a bunch of ingredients to help brighten your skin tone like milk protein extract, white flower complex, and peach extracts. It has a smooth and creamy texture that blends easily onto the skin without leaving a sticky finish. It definitely gives my skin a brighter complexion, but it leaves a semi-white cast. If you have some foundations that are a little too dark to wear right now, this would be a great mixing medium to help lighten the shade!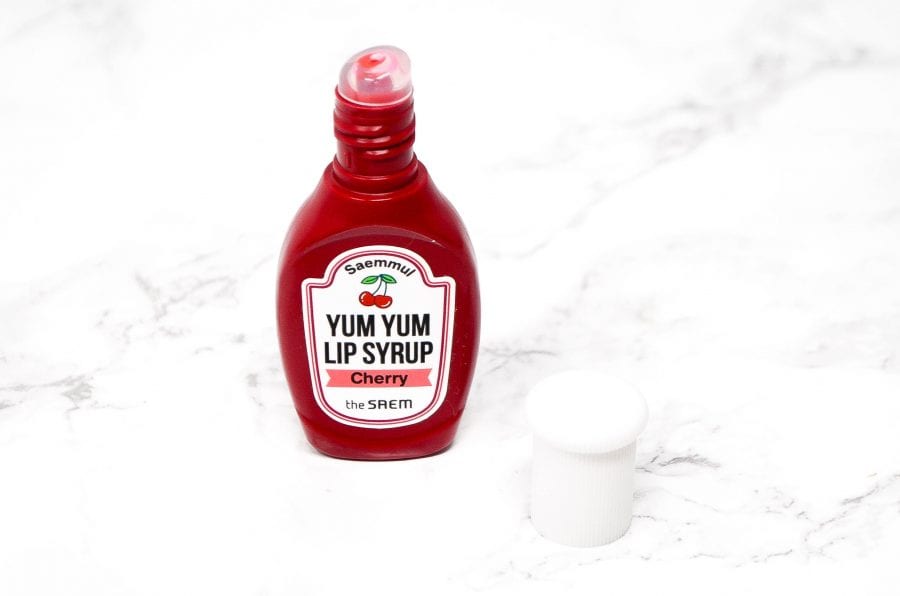 Etude House Bling Bling Eye Stick (Korea)
The Bling Bling Eye Stick from Etude House is a shimmery eyeshadow crayon that's perfect for creating an easy summer eye look! It glides onto the lids without any tug or pull and blends out nicely with a finger or brush.
The Saem Yum Yum Lip Syrup – Cherry, Strawberry, or Peach (Korea)
Say hello to glossy lips this summer with the Yum Yum Lip Syrup from The Saem! Subscribers will receive one of three shades: Cherry, Strawberry, or Peach. I got Cherry, which is a bright glossy red. It reminds me a lot of a lip oil or a lip gloss, but with high color payoff and minimal stickiness. Plus, they're shaped like mini syrup bottles – how cute!
Kocostar Foot Moisture Pack (Korea)
This month's mask is actually a foot mask from Kocostar. The Foot Moisture Pack comes with two "sock" like masks that you can easily slip onto your feet for 15-20 minutes. The outside of the foot masks are waterproof, so feel free to walk around or move about with these on.
Choosy Air in Beauty Gummy (Japan)
The Choosy Air in Beauty Gummies contain collagen, calcium, hyaluronic acid, and dietary fiber to help give you plump and healthy lips. These are peach flavored gummies, but they tasted a little weird. It was sweet, but had a creamy milk taste that I didn't enjoy.
Sakura Blotting Paper and Bandage Set (Japan)
Blotting paper is a must-have in my purse, especially during the hot summer months. This cute pack comes with 10 blotting sheets and 2 bandages. Plus, it has a pretty sakura design on the cover!
Frill Makeup Pouch (Japan)
Last but not least is the, Frill Makeup Pouch! This pink makeup pouch is big enough to carry all of your summary beaut essentials in.
NoMakeNoLife Review July 2019 – Final Thoughts
This month's NoMakeNoLife box was filled with beauty essentials for the summer including easy and effortless makeup and necessary skincare (like sunscreen)! It was nice seeing a mix of popular beauty brands like Etude House, The Saem, and Kocostar, as well as other new-to-me brands. My favorites items this month was the Hatomugi UV Milky Gel, The Saem Yum Yum Lip Syrup, and the Etude House Bling Bling Eye Stick!
Mary Vu – http://thepointofvu.blogspot.com