NoMakeNoLife Review June 2018
NoMakeNoLife is a monthly beauty box subscription filled with specially curated beauty products straight from Japan! If you're not familiar with NoMakeNoLife, nmnl stands for the popular Japanese phrase "nomakenolife", which basically translates into makeup is life! Each month you'll receive 5-7 full-sized, trendy and high quality items including makeup, skincare, beauty tools, nails, body and much more! They kindly sent me June's box to review.
Subscription Details
Box Details: NoMakeNoLife specially curates their monthly beauty boxes with a mix of popular products as well as unique and trendy items handpicked by their in-house licensed beauty consultant. Boxes will contain 5-7 full-sized beauty items including a mixture of makeup, skincare, bath, body, hair, nails, and beauty tools.
NoMakeNoLife Packages:
– Monthly: $29.99/month
– 3 Months Prepaid Plan: $87 ($29/month)
– 6 Months Prepaid Plan: $170 ($28.33/month)
– 12 Months Prepaid Plan: $330 ($27.50/month)
Shipping: Free Worldwide Delivery
Here's a closer look at the items I received this month….
Included in every box is a mini beauty magazine that gives you in-depth details of each product in the box, full instructions, and upcoming news!
To my knowledge, I don't think NoMakeNoLife curates their boxes towards a specific theme each month. However, they did mention in the pamphlet that since it's now summer, they chose items that will help provide proper protection against the sun's harmful rays, as well as other beauty items to keep your skin clean and refreshed!
Vibeke's UV Protection Gel
An important staple for summer is sunscreen! I'm a huge advocate for wearing sunscreen year-round to protect from the sun's harmful rays, so I'm excited to try this Japanese one. This features SPF 30, is HUGE (200ml), and can be used on both the face and body. It's gentle on the skin and soaks up fairly quickly. The unique gel texture is very lightweight and breathable on the skin. It's white in color, but once you completely blend it out, it's translucent and there's no white cast! Plus, Vibeke's UV Protection Gel is non-alcohol as well as free from fragrance, artificial coloring, parabens, and silicone!
Pelican Soap Beautiful Pearl Soap
Pelican Soap is a popular Japanese beauty brand that is known for its luxurious soaps, lotions, and bath products. Included in this box is the Beautiful Pearl Soap which contains pearl essence and powder that aims to keep skin soft, blemish-free, and moisturized!
18 Color Eyeshadow and Highlight Palette
I was the most excited about this eyeshadow palette because I love trying out new makeup products from different countries! This eyeshadow palette is from the brand Beauty World PRM and is a part of their Trick Mode collection. I received the Sexy Turquoise color, which there is really only one blue shade in the palette. These shadows are a huge contrast from typical American palettes since the pigmentation is more subdued and soft. This palette contains a lot of neutrals as well as a mixture of different formulas ranging from mattes, shimmers, and glittery shades. The mattes and shimmers blended out smoothly, while the glittery shades were more chunky and best applied with the fingers!
Maiko-san Facepuff Wash
The Facepuff wash is your cleanser's new bff. It utilizes ultra-thin silk fibers that reach far into your pores giving them a deep clean while still being gentle to sensitive areas. To use, just wet the puff, apply your favorite cleanser to the puff and massage onto the face in gentle circular motions!
Elegant Nail Stickers
I'm not much of a nail person because painting my nails is such a struggle for me! Luckily these nail stickers make "painting" your nails a breeze. To apply, just select the sticker that matches your nail size, apply it onto the nail, and fold over the excess edges. Then, file away the edges you don't need and voila! These come in 3 different designs, and I received a pretty nude pink design with black flowers around the edges!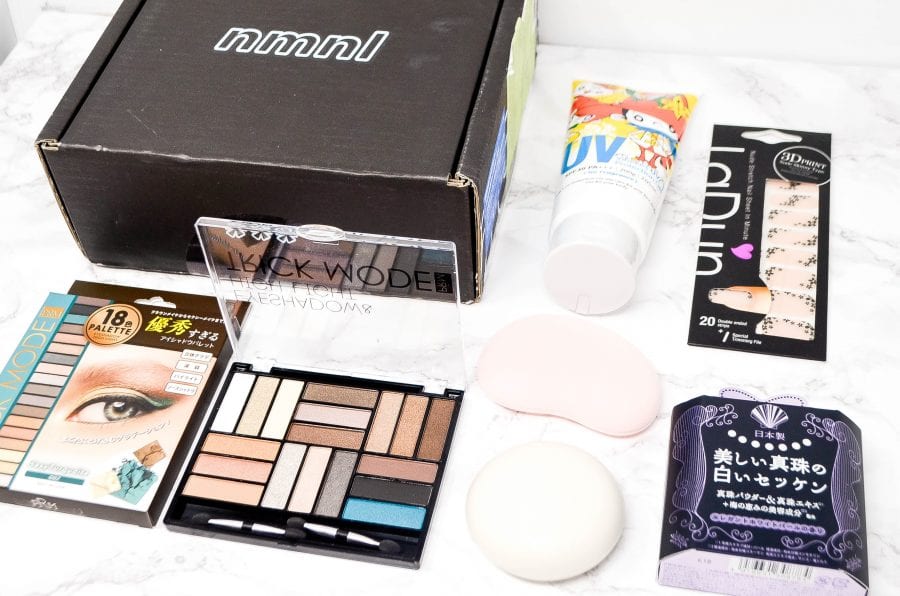 NoMakeNoLife Review June 2018 – Final Thoughts
This month's NoMakeNoLife box was such a delight! It included a nice range of products from makeup, skincare, a beauty tool, bath, and nail items. I loved how it introduced me to so many Japanese beauty brands that I didn't even know existed. I was able to find a few new favorites like the Vibeke UV Protection Gel and the Maiko-san Facepuff Wash, which I have been using non-stop since. If you're interested in trying out unique beauty products, I recommend giving this box a try!
Mary Vu – http://thepointofvu.blogspot.com