NoMakeNoLife Review March 2017
NoMakeNoLife is a subscription-based service that delivers you a box full of unique japanese beauty products from Tokyo straight to your doorstep. Their aim is to introduce Japanese culture via beauty products that not only look good but make you feel good. They kindly sent us this box for review.
Our last review for NoMakeNoLife was in February.  I guess it took a long time for this box to finally reach us!  So sorry for the delayed review, but here is a look back on the NoMakeNoLife March Box Vol.2
Theme: Sakura
Choosy Gold Pearl Lip Pack & Choosy Peach Lip Pack
Pamper yourself with Choosy's scented lip packs.  This month, we included the fruity peach and the luxurious gold pearl varieties in your box.  The luscious packs contain vitamin E, collagen, hyaluronic acid and other nourishing ingredients to give you super soft kissable lips.
Wayumeguri Sakura Bath Salt
Because after a long week we all deserve a break with a hot soak in the bath using this pretty cherry blossom scented bath salt.  Experience the luxury of a Japanese turbid hot spring at home with this product.  The pretty bath salt contains mineral oils and mineral salts to help moisturize your skin.
Kose Softymo Mineral Wash with Scrub
Maintain fresh and smooth skin with this mineral face wash that can be used daily by kose's popular line softymo.  This oil-free face wash contains different types of algae and seaweed extracts, rich in minerals and scrubs for gentle yet deep cleansing effect.
Gensen Labo Hydrating Sea Kelp Toner
This hydrating toner by gensen labo uses gagome kelp from hokkaido, which has a thicker consistency and helps nourish the skin and restore its elasticity.  The alcohol-free toner is also scent-free and is gentle enough to use even on sensitive skin.  For best results, use both morning and night.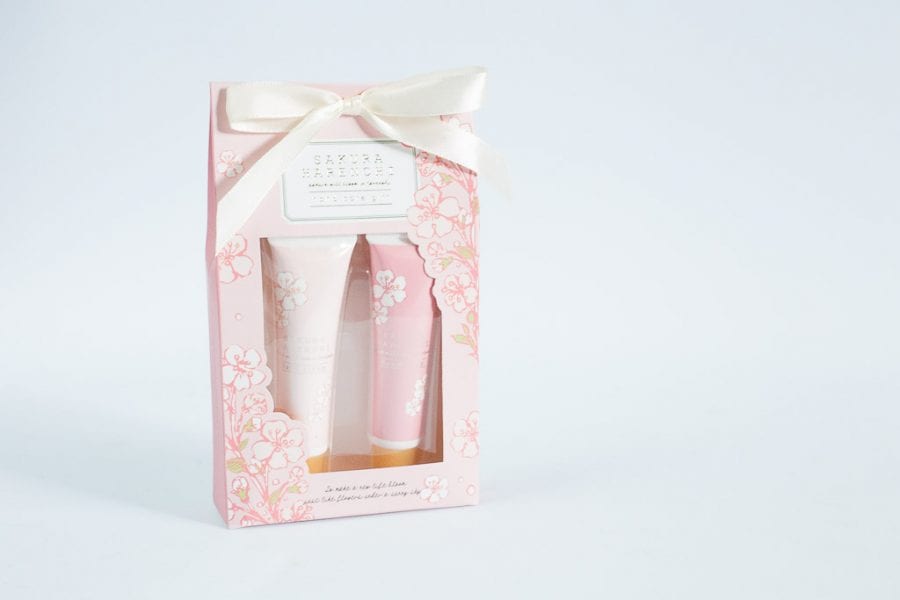 Sakura Harenohi Hand Care Gift Pack
Perfect as a gift for a special person or for yourself.  This pretty hand care gift pack comes with a hand cream and hand soap in sizes perfect to carry around. The cherry blossom scented hand cream and hand soap uses royal jelly and collagen to protect your digits from drying out.
Ichikami Moisturizing Shampoo & Conditioner
One of the best selling hair care lines in Japan.  Ichikami released a travel size set of their moisturizing shampoo and conditioner.  The silicone and sulfate free series promises to restore moisture to dry and damaged hair and scalp.  Helping to make your hair more manageable.  The sweet apricot and cherry blossom scents alone are worth giving this hair care line a try.
NoMakeNoLife March 2017 – Final Thoughts
This is the first time I have reviewed NoMakeNoLife and I feel pretty impressed by it!  There are a lot of Korean and Japanese beauty boxes on the market but this is the first time I have felt really compelled to try the products.  I can be pretty picky when I select my bath products, but all these items seem really well-selected.  I also liked the balance in the items provided.  Looking at what was provided in the February box and what was provided in the March box I would say I'm much happier with March!  Lots of everyday usable items here, keeping your bathroom stocked and your morning routine happy!
-Shonah