NoMakeNoLife Review March 2019
NoMakeNoLife, or 'nmnl' for short, is a monthly subscription box filled with Japanese and Korean beauty products! If you're not familiar with the popular Japanese phrase "nomakenolife," it translates into 'makeup is life'. Each month you'll receive 8-9 full-sized, trendy and high quality items including makeup, skincare, beauty tools, nails, body care and much more! They kindly sent me the March box to review.
Subscription Details
Box Details: NoMakeNoLife (nmnl) curates their monthly beauty boxes with a mix of popular products as well as unique and trendy items handpicked by their in-house licensed beauty consultants. Boxes will contain 8-9 full-sized beauty items including a mixture of makeup, skincare, bath, body, hair, nails, and beauty tools. All of the beauty products are sourced from Korea or Japan.
NoMakeNoLife Packages:
Monthly: $35/month
3 Months Prepaid Plan: $100.50 ($33.5/month)
6 Months Prepaid Plan: $192 ($32/month)
12 Months Prepaid Plan: $378 ($31.50/month)
Shipping: Free Worldwide Delivery
Here's a closer look at the items I received this month….
This month's box was curated around the theme, Vibrant Vibes! In this box, you'll find fun, colorful makeup and other items to spice up your look.
Included in every box is a mini pink booklet detailing all of the hand-picked products each month. You'll get in-depth descriptions, instructions (in English, of course) and upcoming news!
BK7 Cake Hand Cream – Banana, Strawberry, or Blueberry (Korea)
The Cake Hand Cream comes in an adorable triangular box that resembles a slice of cake (hence the name). I got the banana "flavor" which has a sweet banana scent. It actually reminds me a lot of banana Laffy Taffy! The cream texture is very lightweight and absorbs quickly into the skin leaving it hydrated without any stickiness.
Berrisom Animal Mask – Vitamin C + Arbutin, Collagen, Hyaluronic Acid, or Blackberry (Korea)
This month's sheet mask is a fun one and it comes in several possible varieties. I received the Hyaluronic Acid version that helps those with dry or dehydrated skin. Each mask features a different animal on the actual sheet mask, and mine has an adorable dog face printed on it! These were so fun to use and they made my skin feel great! The hyaluronic acid one was full of hydrating essence, which my skin easily soaked up. My face was smooth, hydrated, and very soft afterwards!
Etude House Look At My Eyes Eye Shadow Single (Korea)
If you're a fan of sheer, but buildable and easy-to-use eyeshadows, then you'll love the Look At My Eyes Eye Shadows from Etude House. I received a shimmery burgundy hue that contains tiny specks of microglitter. The texture was very smooth and easy to blend. It's very buildable in pigment and is great for both a sheer wash of color or a bold look. Plus, there's a cute heart pattern imprinted across the shadow!
BK7 Candy Lip Tint – Cherry Red, Red Orange, or Coral (Korea)
I'm usually a fan of lip tints, but this one was disappointing in all aspects. The packaging was weird and came with a paper handle attached to the doe-foot applicator. The tint was housed inside a plastic bag… It seemed more like a sample item rather than a "full-size" product. Besides that, the formula was very drying on my lips and left an awkward stain only on the inner rim of my mouth. The one thing I did like was the color, Red Orange, which was very vibrant and fitting for the theme.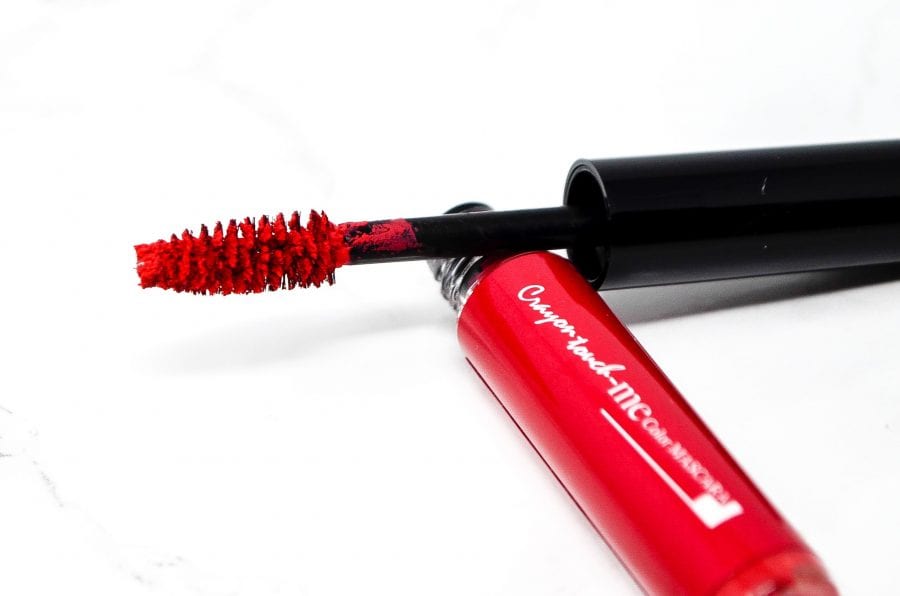 Color Mascara – Red or Blue (Japan)
The Color Mascara comes in two bold shades of either Red or Blue. I received the red, which is a very fiery, vibrant red. Personally, I'm not a fan of colored mascaras and tend to opt for the basic black. The formula of this was very dry, which made it hard to grab onto my lashes. Nonetheless, it was fun to try on, but I'm not sure when I could possibly wear this!
Swatches (L to R): Color Mascara in Red, BK7 Candy Lip Tint in Red Orange, Etude House Look At My Eyes Eye Shadow in RD307
Wavy Hair Curler Set (Japan)
The Wavy Hair Curler Set is unlike anything I've ever seen or used before. It comes with 4 zig-zag shaped foam rolls with 4 circular foam end pieces to accompany the rollers. These create S-shaped waves in your hair without using any heat! The rollers were fairly easy to use and I love the circular foam pieces that can curl the ends of your hair without any awkward bends or crimps. The only issue with this is that there's not enough surface area or enough curlers if you have long hair!
Mineral Ion Hairbrush – Pink or Blue (Japan)
The other hair tool included this month is the Mineral Ion Hairbrush. This hairbrush contains natural mineral ores that help nourish and repair your hair while you brush it. I don't really notice any significant changes in my hair, but it's the perfect size for traveling or keeping in my bag for touch-ups!
Facial Cleansing Brush (Japan)
The Facial Cleansing Brush is a handheld brush that contains super soft, finely tapered bristles. The brush head is very dense and feels so soft and gentle on the skin! It's great paired with a foam cleanser to achieve a deeper clean and smoother, flake-free skin.
NoMakeNoLife Review March 2019 – Final Thoughts
This month was truly filled with fun and unique items from NoMakeNoLife! The selection this month was nicely curated to fit the "vibrant" theme, which included colored mascara, eyeshadows, vivid lip tints, and other fun items. NoMakeNoLife is actively improving their curation to also include a greater variety of items between makeup, skincare, body care, hair care, and especially tools! It's always fun receiving new beauty tools and gadgets to incorporate into my routine and this month contained a handful of them.
My favorite items this month was the Etude House Look At My Eyes Eye Shadow and the Wavy Hair Curler Set. The Wavy Hair Curler Set was a brand new product to me that ended with beautiful S-waves and without the need for heat!
Mary Vu – http://thepointofvu.blogspot.com