NoMakeNoLife Review March 2020
NoMakeNoLife, or 'nmnl' for short, is a monthly subscription box filled with Japanese and Korean beauty products! If you're not familiar with the popular Japanese phrase "nomakenolife," it translates into 'makeup is life'. Each month you'll receive 8-9 trendy items including makeup, skincare, beauty tools, nails, body care and much more! They kindly sent me the March box to review.
Subscription Details
Box Details: NoMakeNoLife (nmnl) curates their monthly beauty boxes with a mix of popular products as well as unique and trendy items handpicked by their in-house licensed beauty consultants. Boxes will contain 8-9 total beauty items including a mixture of makeup, skincare, bath, body, hair, nails, and beauty tools. 1-2 products will be "Instagrammable" and there will be at least 1 beauty tool in every box. All of the beauty products are sourced from Korea or Japan.
NoMakeNoLife Packages:
Monthly: $35/month
3 Months Prepaid Plan: $100.50 ($33.5/month)
6 Months Prepaid Plan: $192 ($32/month)
12 Months Prepaid Plan: $378 ($31.50/month)
Shipping: Free Worldwide Delivery
Here's a closer look at the items I received this month….
March Theme – Beauty and the Beasts
Included in every NoMakeNoLife box is a mini pink booklet detailing all of the hand-picked products each month. You'll get in-depth descriptions, instructions (in English, of course) and upcoming news!
Holika Holika Pig Nose Clear Black Head 3-Step Kit (Korea)
"Controlling oily skin and large pores on our noses can be frustrating! The Holika Holika 3-Step Kit will help you to get rid of those stubborn black heads and minimize pores for clean and smooth skin."
This is a 3-step blackhead treatment that helps get rid of blackheads, sebaceous filaments, or clogged pores. Personally, I find all types of peel-off nose strips way too harsh on my skin, so I avoid them. This will be a pass for me, but I've heard of very good results from this popular Korean treatment!
Puorella Aqua Animal Sheet Mask (Korea)
"Bring out the animal in you with this fun Korean sheet mask! In your box comes a brightening & moisturizing panda mask, a nourishing & skin elasticity-improving cat mask or an anti-aging & moisturizing tiger mask!"
Subscribers will receive the Puorella Aqua Animal Sheet Mask in one of 3 animal varieties. I received an adorable panda mask that contains brightening and moisturizing benefits. Not only that, the mask also comes printed with the animal's face! How fun!
Animal Hot Eye Mask (Japan)
"Relax after a long day with this insta-worthy animal hot eye mask! It warms up your eyes at 40 ℃. Try wearing it while doing chores or before going to bed. In your box comes one black cat, shiba inu, polar bear or panda mask."
If you deal with migraines, you'll want to get this eye mask ASAP! The Animal Hot Eye Mask warms up to a comfortable and soothing temperature that helps you relax. I like to save these for when I have painful migraines. It's so soothing that I immediately get put to sleep in just a few minutes!
Country & Stream Oil Block Powder Gel (Japan)
"Fight oily skin with the Oil Block Gel from popular Japanese skincare brand Country & Stream. This gel effectively absorbs sebum making your T-zone look matte, smooth and flawless!"
I'm a big user of blotting papers and sebum powders, but I've never heard of a product like the Country & Stream Oil Block Powder Gel before! This oil fighting gel is supposed to help absorb excess sebum on your nose or T-zone leaving it looking matte and smooth. It comes with a thin brush applicator that you can use to apply onto your oily areas.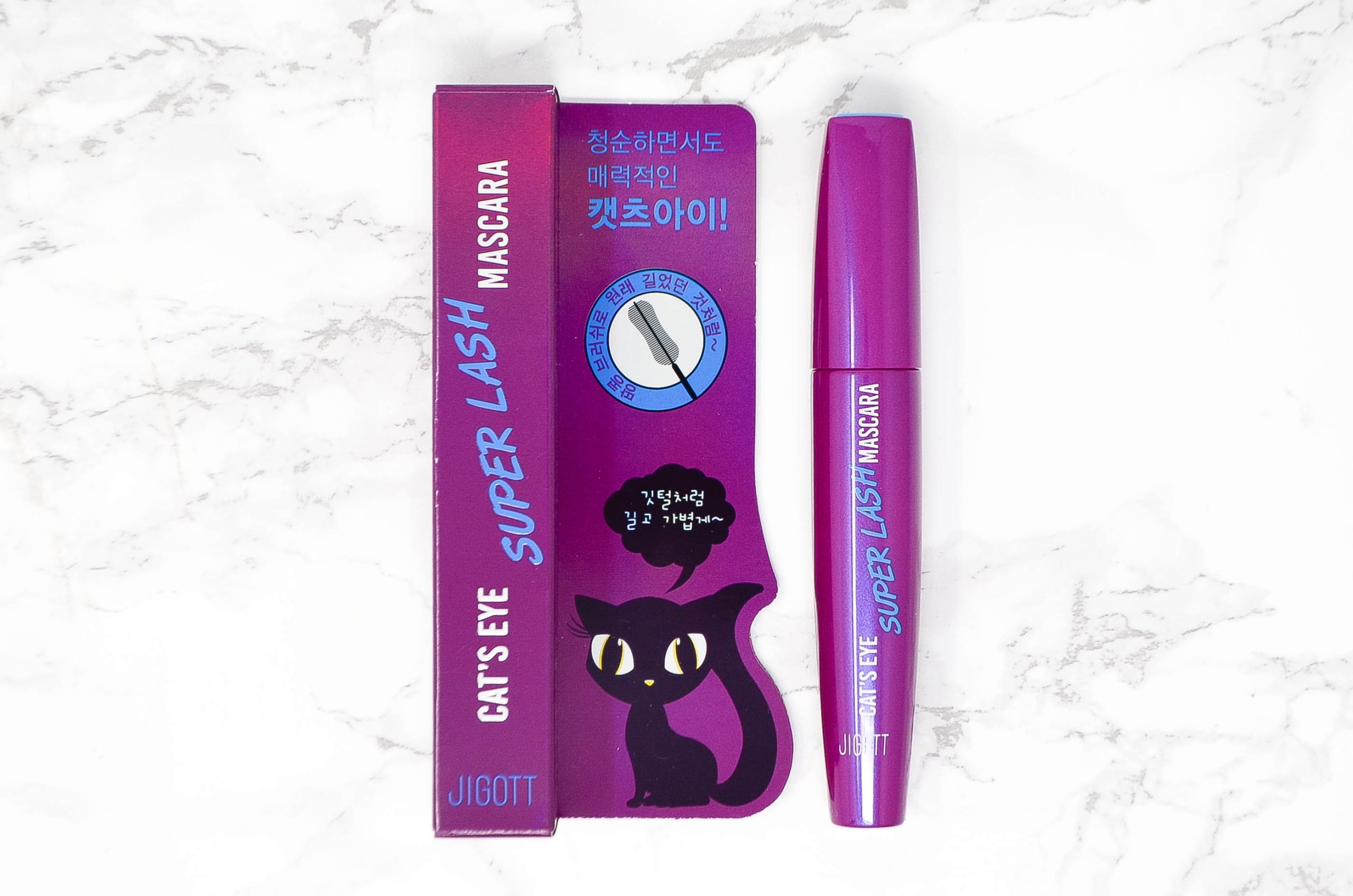 Jigott Cat's Eye Mascara (Korea)
"Bring your cat eye look to a new level with the Jigott Cat's Eye Mascara! In your box comes one of the three different versions: Perfect Volume, Power Curling or Super Lash."
Mascara is an everyday makeup essential for me, so I was super excited to try the Jigott Cat's Eye Mascara in this month's box. Subscribers will receive one of 3 versions: Perfect Volume, Power Curling, or Super Lash. I received the Super Lash variety which comes with a thick hourglass shaped brush. The bristles make it easy to coat every lash and I love the super dark and opaque black formula!
Dodo Cat Blush (Japan)
"Cute AND versatile: this Japanese cat blush includes three different shades each. In your box comes one of the four versions including pink and orange shades."
The Dodo Cat Blush contains 3 shades in one compact for you to mix together or use on their own. Plus, the blush comes in the shape of a cat! The blush has a shimmery finish that makes your cheeks look glowy and luminous. It's the perfect blush for spring!
Animal Headband (Japan)
"Transform into a cute animal with this soft animal headband! In your box comes a cat, rabbit or bear version. Use it every morning to keep your hair out of your face when washing your face, applying skincare or makeup."
Headbands are incredibly useful to keep your hair out of your face while you wash up, during your skincare or makeup routine, or simply wear it any time around the house! Subscribers will receive this cute headband in a cat, rabbit, or bear design. It's adjustable and can fit any head size!
Cute Cat Rose Bath Bomb (Korea)
"Meow! Try this cat bath bomb with a lovely rose scent! In your box comes a black, blue, yellow or special pink cat!"
The Cute Cat Rose Bath Bomb comes in a variety of colors, but they all feature the same lovely scent. It'll make you feel like you're in a rose garden!
NoMakeNoLife Review March 2020 – Final Thoughts
March's NoMakeNoLife box was full of hits and misses for me. I loved receiving the makeup items this month and I'm sure I'll get tons of use out of all of them. However, I'm a little disappointed in the number of single-use items included this month. We received 4 out of 8 products that are single use, which is half the box! I wouldn't mind so much if the quality/value of the single-use items was higher, but they're not so it really brings down the overall value of the box.
Nonetheless, I did enjoy many items this month like the Dodo Cat Blush, the Jigott Cat's Eye Mascara, and the Animal Headband! I'm curious to see what next month has in store!
Mary Vu – http://thepointofvu.blogspot.com