NoMakeNoLife Review May 2017
NoMakeNoLife is a subscription-based service that delivers you a box full of unique japanese beauty products from Tokyo straight to your doorstep. Their aim is to introduce Japanese culture via beauty products that not only look good but make you feel good. They kindly sent us this box for review.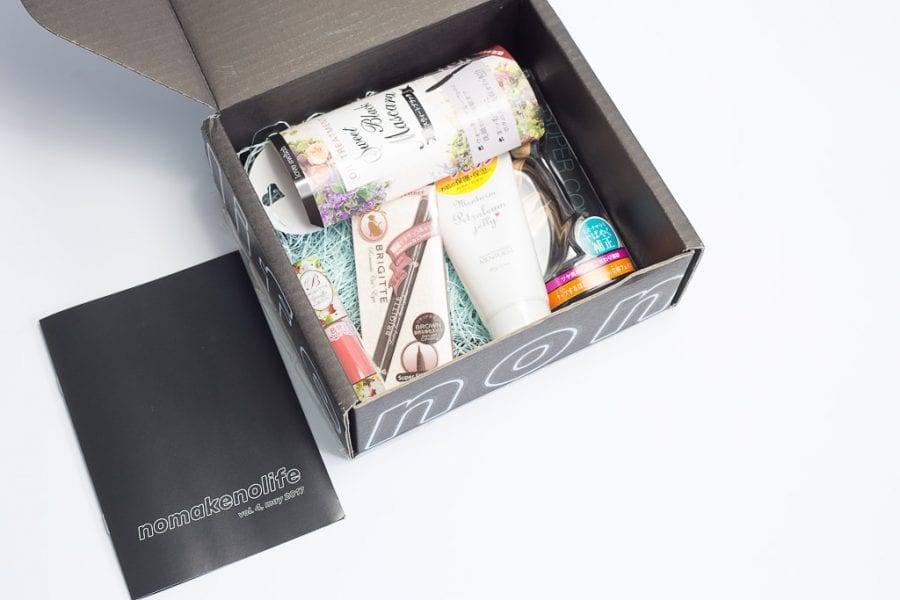 We are still catching up on the NoMakeNoLife reviews due to some shipping issues.  Here is a look at the May box…
Love Switch Oil Treatment Mascara
This lavender scented oil-based mascara promises lasting curl.  Although waterproof, removal is easy and gentle on the lashes.  This water-free, high-performing mascara comes in a versatile soft black colour and is enriched with beauty oils: avocado, hazelnut, camellia seed, olive fruit and meadow-foam seed.
Wow!  I'm actually just running short on mascara and it's often the only thing I wear in the summer.  This was perfect timing.  I can't get over the lavender-scented part.. Lemmie double-check…  Kind of crazy, it actually does smell like lavender!!  Too funny.  Can't wait to try this.
Mentrum Petroleum Jelly
A multi-purpose product, mentrum's rich and gentle petroleum jelly is easily spreadable and helps maintain your skin's natural moisture by creating a barrier.  The mild and hypoallergenic formula doesn't contain any fragrance, dye or parabens, so even babies and people with sensitive skin can comfortably use it on most of their body parts including the face and lips.
Lucky Wink Super Cover Foundation Brush
Currently Japan's #1 selling oval-type foundation brush this convenient tool will help you easily achieve a dewy look.  Perfect to use with liquid, cream or gel foundation.  The compact brush is designed to evenly cover hard-t0-reach areas.  This brush can be easily cleaned with mild soap because it is made with synthetic hair.
Ok, this item is seriously cool!  I am going to get so much use out of this.  The brush itself is also so darn soft.
Brigitte Lasting Liquid Liner
This fast drying, ultra-precise liquid eyeliner comes in a rich brown colour that'll accentuate your eyes while looking natural.  The long-lasting formula prevents smearing from sweat and tears and includes chamomile flower extract.
This is the box for me…. My two staples are mascara and eye liner… That's actually all I'm wearing right now.
Brigitte Smoothie Lip Tint
In an easy-to-wear natural "fig coral" colour, this cutely packaged lip tint will give your lips a healthy stain.  Be the first to try out the Japanese spring/summer pink trend of 2017 with this lip colour.  Enriched with fruit extracts including pomegranate, apple, peach, grapefruit and raspberry which have moisturizing properties.
NoMakeNoLife May 2017 – Final Thoughts
I feel really impressed with this box.  Often I can be pretty skeptical of Asian beauty products, as I can't read the ingredient list and am unfamiliar with the brands.  This box, however, has hit two of my essential make up items and provided a brush that I think just might change the way I apply make up!  Feelin' a little impressed by this and now think I just might be looking forward to catching up on the rest of those late boxes!
-Shonah