NoMakeNoLife Review November 2019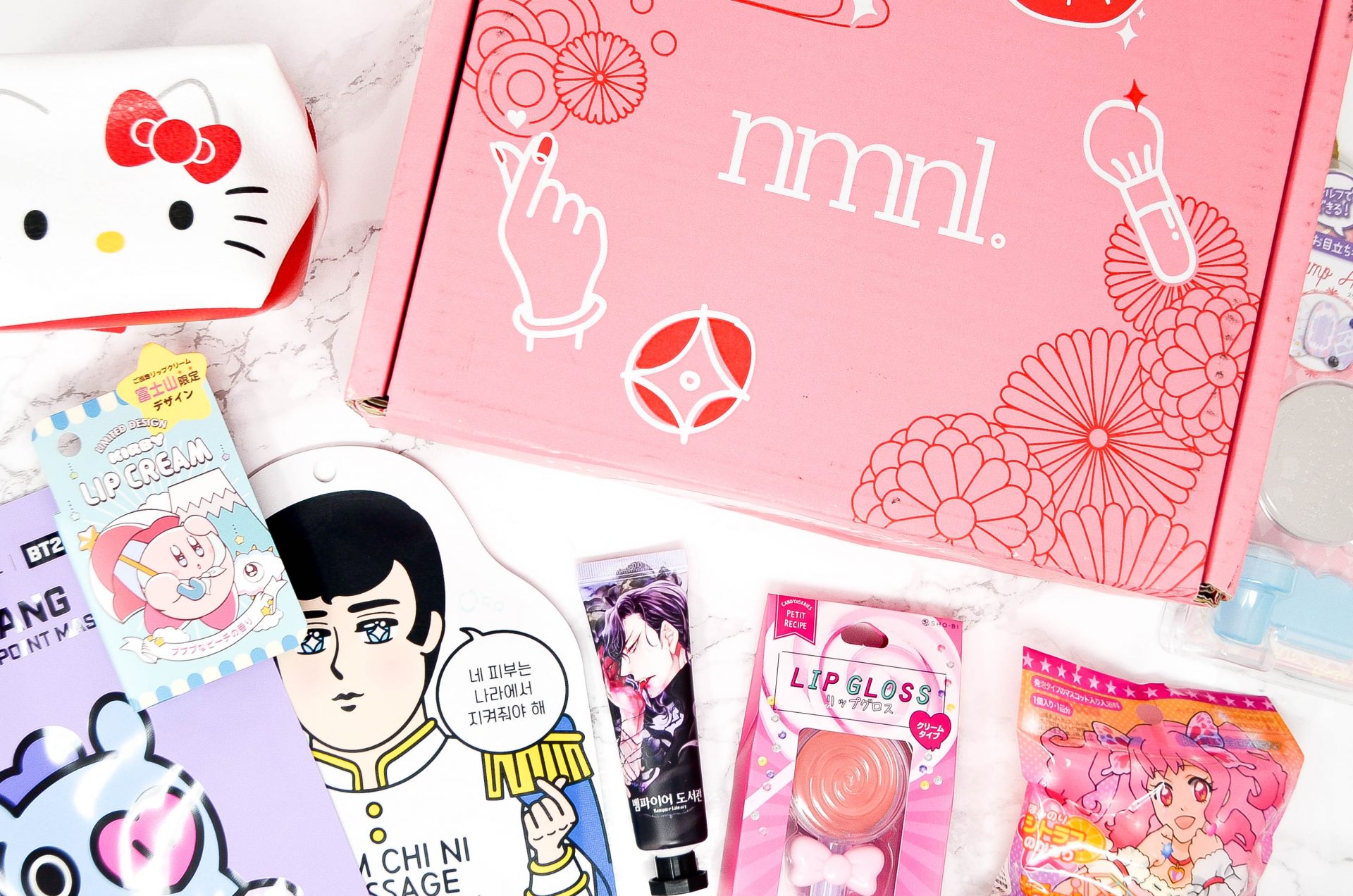 NoMakeNoLife, or 'nmnl' for short, is a monthly subscription box filled with Japanese and Korean beauty products! If you're not familiar with the popular Japanese phrase "nomakenolife," it translates into 'makeup is life'. Each month you'll receive 8-9 trendy items including makeup, skincare, beauty tools, nails, body care and much more! They kindly sent me the November box to review.
Subscription Details
Box Details: NoMakeNoLife (nmnl) curates their monthly beauty boxes with a mix of popular products as well as unique and trendy items handpicked by their in-house licensed beauty consultants. Boxes will contain 8-9 total beauty items including a mixture of makeup, skincare, bath, body, hair, nails, and beauty tools. 1-2 products will be "Instagrammable" and there will be at least 1 beauty tool in every box. All of the beauty products are sourced from Korea or Japan.
NoMakeNoLife Packages:
Monthly: $35/month
3 Months Prepaid Plan: $100.50 ($33.5/month)
6 Months Prepaid Plan: $192 ($32/month)
12 Months Prepaid Plan: $378 ($31.50/month)
Shipping: Free Worldwide Delivery
Here's a closer look at the items I received this month….
November Theme – Kawaii Makeover
Included in every NoMakeNoLife box is a mini pink booklet detailing all of the hand-picked products each month. You'll get in-depth descriptions, instructions (in English, of course) and upcoming news!
Kirby Lip Cream (Japan)
How cute is this lip balm! Subscribers will receive 1 of 10 designs featuring famous Japanese destinations. I got Mt. Fuji which has Kirby and his striped parasol. The lip balm has a yummy peach scent and a light pink tint that's perfect for daily wear.
Sho-Bi Lollipop Lip Gloss or Lip & Cheek Cream (Japan)
Subscribers will receive the Sho-Bi Lollipop Lip Gloss or Lip & Cheek Cream. Both items come in a cutesy lollipop packaging, but it's very inconvenient because the plastic bow has to be removed each time to open. That's the biggest drawback, but I do like the coral hue. Though I received the lip gloss version, I can see this working as a dewy and natural blush!
Anime Girl Bath Bomb (Japan)
The Anime Girl Bath Bomb is a citrus smelling bath bomb that turned my bath water a bright yellow! I love the citrus fragrance because it helps me relax and re-energize. Plus, there's a surprise ring hidden in the center of the bath bomb once it fully dissolves.
Korean Manga Hand Cream (Korea)
I'm not a fan of this vampire manga packaging… I actually think it's creepy and not cute! Despite the packaging though, the peach-scented hand cream inside is a delight. It's moisturizing without being heavy or sticky.
Fate Grand Order x Sanrio Nail Stamping Plate (Japan)
I have ALWAYS wanted one of these nail stamping plates, and I'm so happy to see this included! Nail art in general is very difficult for me to do, but this nail stamping kit makes it easier. Plus, there are cute floral designs and motifs, even if you're not into Fate Grand Order!
Kawaii Character Makeup Pouch (Japan)
Subscribers will receive the Kawaii Character Makeup Pouch in one of the many Sanrio or San-x characters, including Hello Kitty, My Melody, Rilakkuma, and more. I received the Hello Kitty version, which is super cute! This pouch is the perfect size to hold my on-the-go makeup essentials like lip balm, blotting paper and blotting powder, a mirror and q-tips.
Nam Chi Ni Message Sheet Mask (Korea)
Subscribers will receive the Nam Chi Ni Message Sheet Mask in one of 4 variations: moisturize, calm, whiten, or elasticity. These sheet masks are so much fun because they come with a printed 'prince' design on the mask itself. It's a great photo-op or to use to give your friends a big laugh. I also like how moisturized and plump this made my skin!
Mediheal BTS BT21 Face Point Mask Set (Korea)
Are there any BTS fans on here?! Subscribers will receive this mask set in one of 7 BT21 characters. The mask set comes with 6 smaller sheet mask patches that you can use to target specific spots. I received Mang (J-Hope's character) which helps soothe and revitalize the skin.
NoMakeNoLife Review November 2019 – Final Thoughts
The November NoMakeNoLife box was a mixture of hits and misses for me, but overall the selection fit the Kawaii theme perfectly! It felt a little lackluster because of the multiple one-use masks, and the creepy Vampire hand creams, but I loved the Sanrio Nail Stamping Plate and the Kawaii Character Makeup Pouch!
Mary Vu – http://thepointofvu.blogspot.com