NoMakeNoLife Review October 2017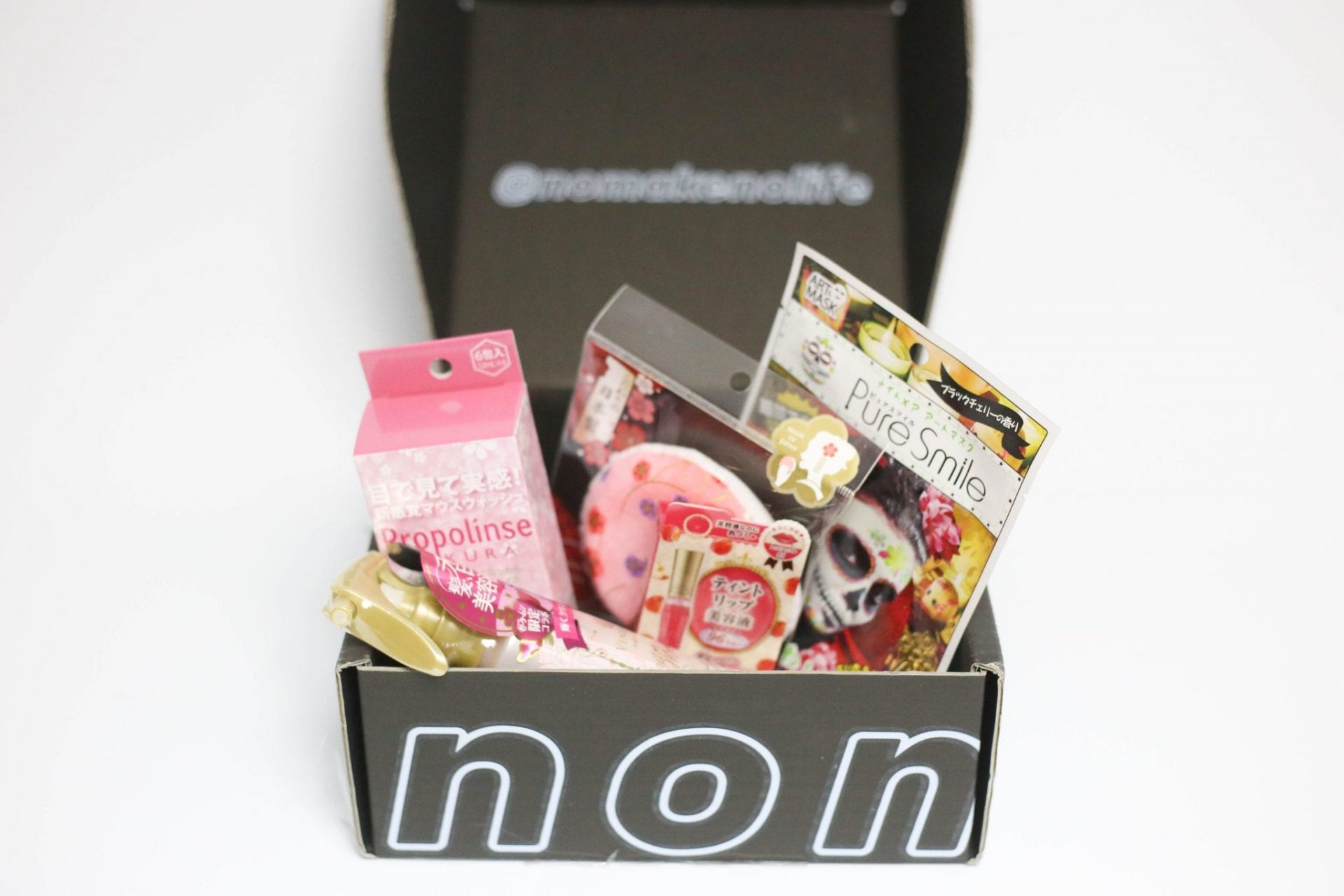 NoMakeNoLife is a subscription-based service that delivers you a box full of unique japanese beauty products from Tokyo straight to your doorstep. Their aim is to introduce Japanese culture via beauty products that not only look good but make you feel good. They kindly sent us this box for review.
NoMakeNoLife is a great way to stay on top of the latest Asian beauty trends!  Definitely expect a variety of items from month to month, always keeping your cosmetic and make up drawer topped up and beautified!
Let's take a look at the October NoMakeNoLife Box!
Sailor Moon Venus Spa Hair Fragrance
Channel your inner sailor senshi with these pretty hair fragrances inspired by the different Sailor Moon characters.  The fragrance comes in 5 different scents and designs.  This limited edition collaboration item releases fragrance capsules to make your hair smell great and prevent unwanted odors from clinging on to your hair.  The silicone, paraben and mineral oil free scents contain 21 moisturizing ingredients to give your hair a healthy shine!
Propolinse Sakura Mouthwash
Swish and see how much protein builds up in your mouth with propolinse mouthwash.  The alcohol-free mouthwash contains propolis extract and xylitol which are effective in rinsing away germs and keeping your mouth fresh.  Propolinse comes in a limited edition sakura flavour and in a convenient individual use packet so you can freshen up whereever you are.
Sweets-Sweets Fruits Tint Lip Serum
An all-in-one lip serum that you'll want to call your new holy grail of cosmetics.  This lip serum is produced by sweet-sweets.  The sister brand of Canmake.  The lightly tinted serum contains shea butter, honey, and raspberry essence to give you luscious lips.  This fantastic serum works as a lip essence, moisturizer, primer colour and gloss.  Lip serum comes in 1 of 2 cute and sweet tasty sounding colours!
Japanese Pattern Powder Puff
Accessorize your cosmetic bag with this stylish but useful cosmetic tool.  The "Made in Japan" powder puff is made with 100% cotton for a soft and gentle touch.  The large powder puff can be used with both loose and pressed powder on either face or body.  Give your cosmetic collection an extra Japanese flair with the beautiful design this puff boasts.
Glow in the Dark Sugar Skull Art Mask
Pamper your skin this Halloween with this fun sugar skull designed mask.  Once placed under the sun or fluorescent lighting for a few minutes.  The mask will glow in the dark!  That's not all, the mask contains ingredients your skin will love, soaking up the collagen, hyaluronic acid, vitamin-e, hamamelis water mixture and herbal extracts.  These ingredients ensure that even the driest skin will get the extra nourishment it needs to get idea skin conditions.  The face mask comes in a lovely black cherry scent that is sure to relax you after a long week.
NoMakeNoLife October 2017 – Final Thoughts
Another great box from NoMakeNoLife!  I feel like this box has some really unique items in it!  I've received boxes that have been all makeup and others that were bath and beauty products.  I like how this box has such a variety of items; mouth wash, a hair product, Halloween item (on point for October) and a touch of makeup with lip gloss and the powder puff beauty product!  This just goes to show that if you subscribe to NoMakeNoLife for months at a time you are sure to receive a variety of products!  I don't think I've received the same product twice, outside of maybe lipstick, over the months that I've reviewed NMNL.
-Shonah