NoMakeNoLife Review October 2019
NoMakeNoLife, or 'nmnl' for short, is a monthly subscription box filled with Japanese and Korean beauty products! If you're not familiar with the popular Japanese phrase "nomakenolife," it translates into 'makeup is life'. Each month you'll receive 8-9 trendy items including makeup, skincare, beauty tools, nails, body care and much more! They kindly sent me the October box to review.
Subscription Details
Box Details: NoMakeNoLife (nmnl) curates their monthly beauty boxes with a mix of popular products as well as unique and trendy items handpicked by their in-house licensed beauty consultants. Boxes will contain 8-9 total beauty items including a mixture of makeup, skincare, bath, body, hair, nails, and beauty tools. 1-2 products will be "Instagrammable" and there will be at least 1 beauty tool in every box. All of the beauty products are sourced from Korea or Japan.
NoMakeNoLife Packages:
Monthly: $35/month
3 Months Prepaid Plan: $100.50 ($33.5/month)
6 Months Prepaid Plan: $192 ($32/month)
12 Months Prepaid Plan: $378 ($31.50/month)
Shipping: Free Worldwide Delivery
Here's a closer look at the items I received this month….
October Theme – Harajuku Halloween
Included in every NoMakeNoLife box is a mini pink booklet detailing all of the hand-picked products each month. You'll get in-depth descriptions, instructions (in English, of course) and upcoming news!
Lucky Wink Acupressure Face Mask (Japan)
The Lucky Wink Acupressure Face Mask is a silicone eye mask that can be worn for at-home accupressure care! The mask is in the shape of a cat's face and features ear loops to keep it in place. This mask is adorable, but I think it's more of a gimmick. I haven't really noticed any major effects while wearing this yet.
Esfolio Pumpkin Rejuvenate Mask (Korea)
Not only are pumpkins great for carving jack-o-lanterns, they're also great for your skin! Pumpkin helps improve the skin's elasticity and aids in anti-aging.
Tony Moly Bling Cat Eye Patch (Korea)
This super cute cat eye mask helps soothe and moisturize the skin around the eyes. It's great for relaxing and my eye area appeared slightly brighter and more plump just after 20 minutes of wear.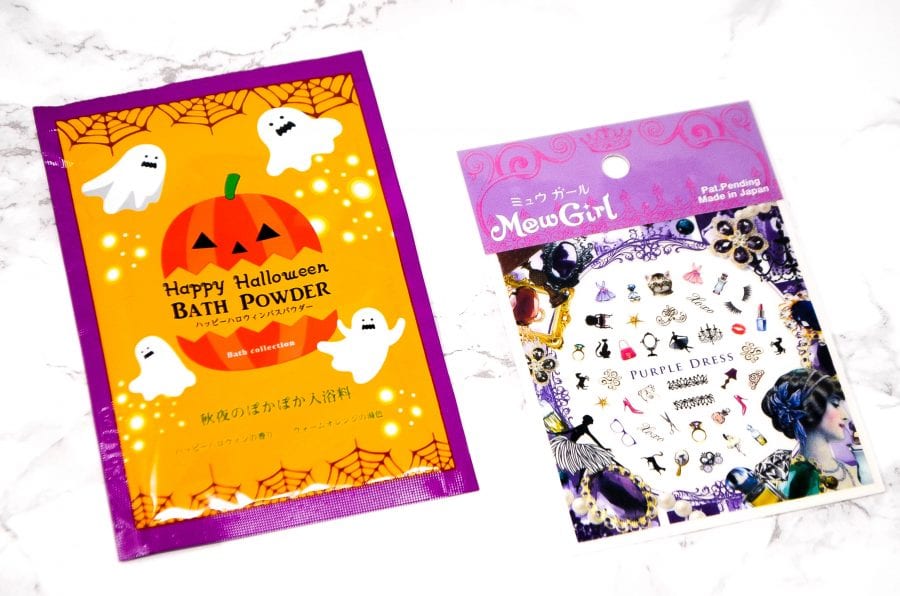 Happy Halloween Bath Powder (Japan)
The Happy Halloween Bath Powder turns the water a vibrant shade of orange and is great for unwinding after a long night. The powder contains peach extract and vitamin E to help moisturize the skin. Plus, it also contains sweet milk and Japanese tea fragrance to help create a relaxing and therapeutic aroma.
MewGirl Nail Stickers (Japan)
Subscribers will receive 1 of 7 sticker sheets featuring cute or creepy designs that's perfect for Halloween nail art. My sticker sheet contains old-school Victorian-esque designs that actually look classy and cute!
Fate Grand Order x Sanrio (Japan)
Sanrio collaborated with the popular Japanese game, Fate Grand Order, to create these makeup palettes inspired by the game characters. I've never heard of or played the game myself, but these limited edition eyeshadow palettes are adorable! Each palette contains 4 eyeshadows and a lip & cheek cream. The quality of the shadows are very sheer and the pigmentation is disappointing, but the blush is creamy and smooth!
Momocos Fruits Gloss (Japan)
The Momocos Fruits Gloss comes in a beautiful swirl of sheer color and glitter. This fruity gloss is great for wearing alone or as a lipstick topper. Subscribers will receive 1 of 4 flavors, including Mango, Cherry, Peach, or Grapefruit. I received Grapefruit which smells like sweet grapefruit candy!
Pop Devil Color Treatment (Korea)
If you're looking to try a temporary hair color for fun, The Pop Devil Color Treatment is for you! I've actually never dyed my hair before, so this would be so fun to try. I'm a little worried if it would be visible at all since I have dark brown-black hair, but I have high hopes! Subscribers will receive the Pop Devil Color Treatment in 1 of 3 trendy shades: Ash Pink, Ash Lilac, or Ash Violet.
NoMakeNoLife Review October 2019 – Final Thoughts
The October NoMakeNoLife box contained such a unique and fun selection of items this month and I loved it! Of course, some picks were hits and misses for me, but overall, I think this month's curation was more adventurous (in a good way). It fit perfectly into the Halloween theme, since Halloween is the perfect time to dress up and have fun!
Mary Vu – http://thepointofvu.blogspot.com