NoMakeNoLife Review September 2017
NoMakeNoLife is a subscription-based service that delivers you a box full of unique japanese beauty products from Tokyo straight to your doorstep. Their aim is to introduce Japanese culture via beauty products that not only look good but make you feel good. They kindly sent us this box for review.
Subscription Details
When you sign up for a NoMakeNoLife subscription you can choose from the following options:
Monthly recurring subscription
3-month subscription
6-month subscription
12-month subscription
Box Details: NMNL comes in one size. Each monthly box contains a mix of 5 – 7 full-sized beauty items of the highest quality from 6 different categories (skin, body, make, hair, bath and tools) chosen for you by our in-house beauty consultant.
Delivery Details: NMNL delivers free worldwide shipping to over 120+ countries. Once your order has been placed, your box will ship immediately and will arrive between the 20th and 28th of the following month.
Here's a closer look at the items we received in the September box…..
Jelly Belly Eyeshadows
Look and smell as sweet as your favourite Jelly Belly Beans! Each cute jelly bean shaped case holds 2 easy-to-use eyeshadows that have a pretty shimmer to them. The highly pigmented eyeshadows come with a convenient mirror attached to the lid. The blue shadows smell like berry blue jelly beans while the green ones smell like kiwi jelly beans. Which trendy color did you get?
Delicious Lip Cream
An item of high interest with our subscribers, this lip cream not only smells good but feels good on your lips and comes in a cute stylish design. Delicious lip creams contain ingredients such as olive oil, beeswax, shea butter, jojoba seed and macadamia nut oils to keep your puckers smooth and hydrated. Lip creams come in two scrumptious sounding scents – chocolate mint and raumune soda.
Ayurbio Damaged Hair Mask
A perfect post-summer hair mask for dry and brittle sun-damaged hair, this product promises to deeply penetrate your hair to restore hair's health and give your hair a lingering sweet apple scent. Ayurbio's sulphate-free hair mask blends 38 different botanical extracts including apple stem cells taken from uttwiler spatlauber apples which are said to have longevity properties. It also contains raw keratin, 16 different types of amino acids, collagen, ceramide and honey to give your hair a beautiful gloss.
S-Labo Face & Neck Care Mask
Notice sagging face and neck lines from too much time spent on smartphones? Reverse those effects and care for your face and neck line with this lifting mask while nourishing your skin. The floral scented mask contains moisturizing ingredients your skin will thank you for, such as – hyaluronic acid, ceramide and different Japanese plant extracts.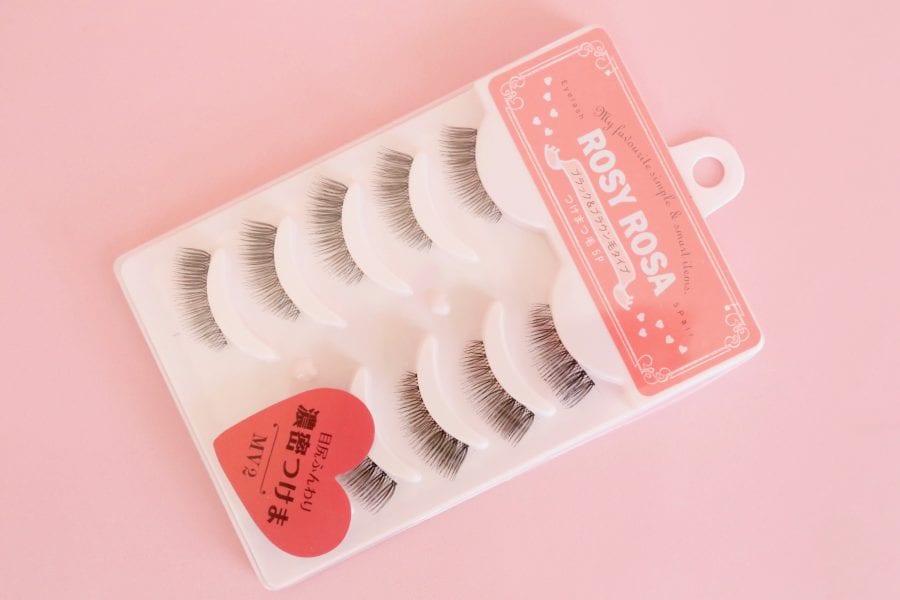 Rosy Rosa False Lashes
Enjoy full and lush eyelashes with these falsies from popular makeup accessory brand, rosy rosa, this time we bring you the natural looking variety made with a mix of black and brown nylon hair so they can be worn daily. Use them as is to give your lashes an extra oomph or trim them to accent your eyes.
Cezanne Easy Eyeliner
Complete your daily eye look with Cezanne's easy eyeliner. The waterproof eyeliner comes in a natural deep shade of brown and in an elliptical shape to give you maximum control over the width of your lines. Whether you're going for the soft natural look or for a more dramatic look this soft liner makes the process super easy and smooth.
NoMakeNoLife Review September 2017 – Final Thoughts
NoMakeNoLife always provides a fun look into the world of Japanese beauty trends. I love the variety of products they include each month and I love that the products are fun and unique. I had no clue there was such thing as Jelly Belly Eyeshadow!! How fun is that! But I also love that they provided some essentials such as a face mask and a hair mask. It's the perfect time of year to have those two beauty products on hand at all time. The September box has a really great mixture of "fun to have" and "essential" beauty products. NoMakeNoLife continues to impress me.
XOXO