Norlii Box Review June 2022: Swedish Midsummer
The latest edition of Scandinavian home and lifestyle box Norlii Box honours one of the most celebrated holidays in Sweden — Swedish Midsummer, held this year on June 25. It's the longest day of the year and famously marked by singing and dancing around the maypole, making flower wreaths and enjoying a traditional lunch outdoors. June's Norlii Box features a lovely assortment of items for a Midsummer lunch, 'tho I already know I'll be using them year-round.*
*Norlii kindly sent us this box for review.
Norlii Box is a bi-monthly box. It ships every other month (June, August, October, December, February and April) from Copenhagen, Denmark and features items from renown nordic brands curated around a theme.
Each box includes 4 to 5 hand-picked items
Annual subscriptions are $69.83/box + shipping ($419/year paid upfront; all prices in USD)
Bi-monthly subscriptions are $74.90/box + shipping (paid per box)
Single boxes are $89
Free shipping on your first box when you sign up for Norlii's newsletter
Additional items including a selection of products from past boxes are available for purchase through Norlii's online shop
Ships to Canada, the US, Australia, Europe + several other countries. Shipping across Canada and the US is $12.95/box; shipping for the UK and the EU is free; and shipping to Asia-Pacific is $19.95/box.
June's Norlii Box included this beautiful product guide, complete with two recipes for your Midsummer celebrations, Beetroot and Apple Salad and Homemade Herb Salt. Subscribers and one-time buyers also receive a 20% discount on June extras available in Norlii's shop. I've used the discount in the past to round out my collection of some favourite pieces like mugs, plates, egg cups and cushion covers. They're carefully packed away for now but I can't wait to use them when we're in our new home in just a couple of weeks. 😁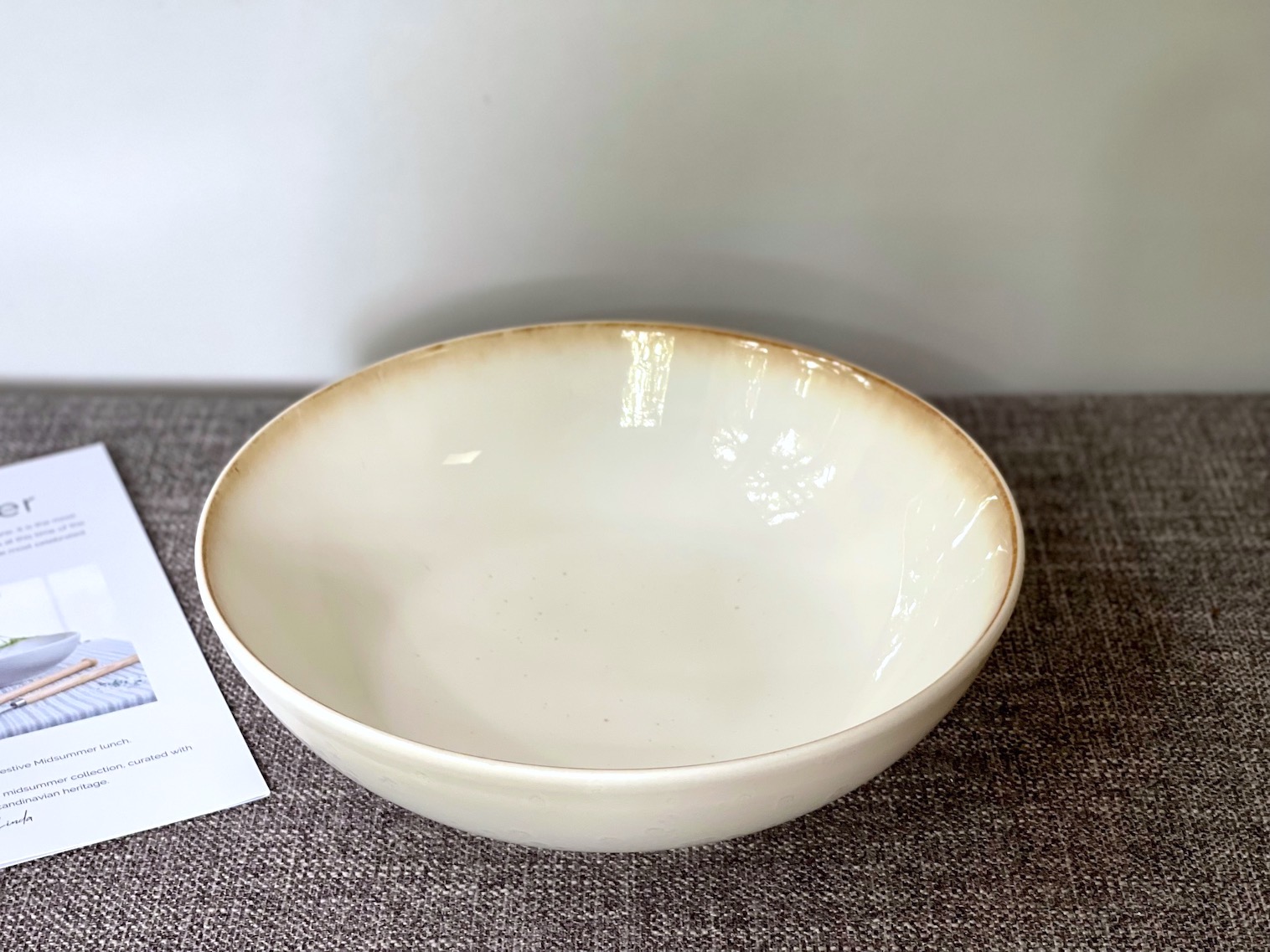 The Salad Bowl · Bitz · "You know Bitz from your October's box egg cups. This stoneware salad bowl has the same glazed finish: a matte reactive glaze on the outside. The light color and the shiny finish will enhance the rich colors of a freshly made salad. $45"
A beautiful piece for servings salads, pasta, soups and muesli or just enjoying on your counter as a piece of decor. Scandinavian design is as simple and beautiful as it is functional, one of the reasons it's my favourite aesthetic.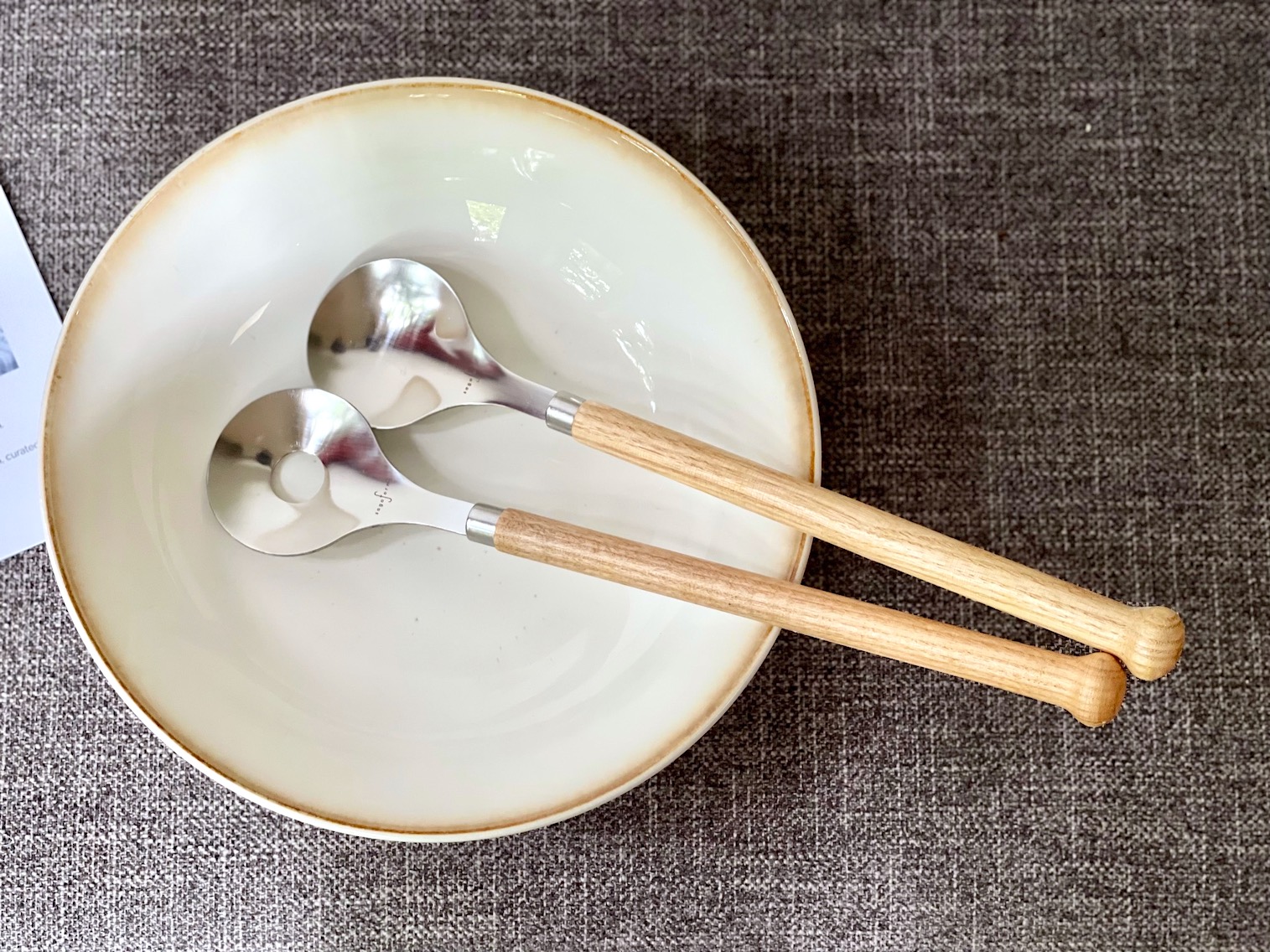 The Salad Set · Sagaform · "You have received a salad set by Sagaform. These beautifully crafted stainless steel salad utensils have long, solid oak handles — a timeless, high-quality design. Swedish Sagaform was founded more than 25 years ago, and its mission has always been to create well-designed products that are just as wonderful to give as they are to receive. $45"
I saw these in a June box sneak peek and did a little dance in my chair. I love the mixed materials and the drumstick-like handles. They'll get a tonne of use this summer with all kinds of greens. And hopefully our own tomatoes, which we're going to try to grow in our sunny backyard.
The Trivet · Zone Denmark · "Shell is designed by the Danish company VE2 — inspired by a seashell. The trivet is a hexagonal shape. You can combine several Shells to create a practical and decorative centrepiece on the table and protect the surface from hot saucepans and dishes. Shell will be available in our store. Quite a simple way to add a little sea to your table setting. $10"
I didn't notice this was a shell shape til I read the description. (In my defence, it's been exceptionally hot here, LOL. 🥵) I would happily tuck one or two of these in a housewarming basket or tie to the wrapping of a kitchen-themed gift. But not this one. I'm using it myself. 😉
The Flower · lb Laursen · "The midsummer is characterized by the flower crown worn by most Swedes on this day — men and women alike, regardless of age. We have added a little wildflower to bring you a feeling of Scandinavian summer. You can use it for decorating the table. $10"
I'm not a fan of faux flowers and plants or "fauxtanicals" as I've seen them called, but I love the muted pop of colour this one adds to the scene. It's not something I would buy but now that I have it I'll use it (if only as a prop.)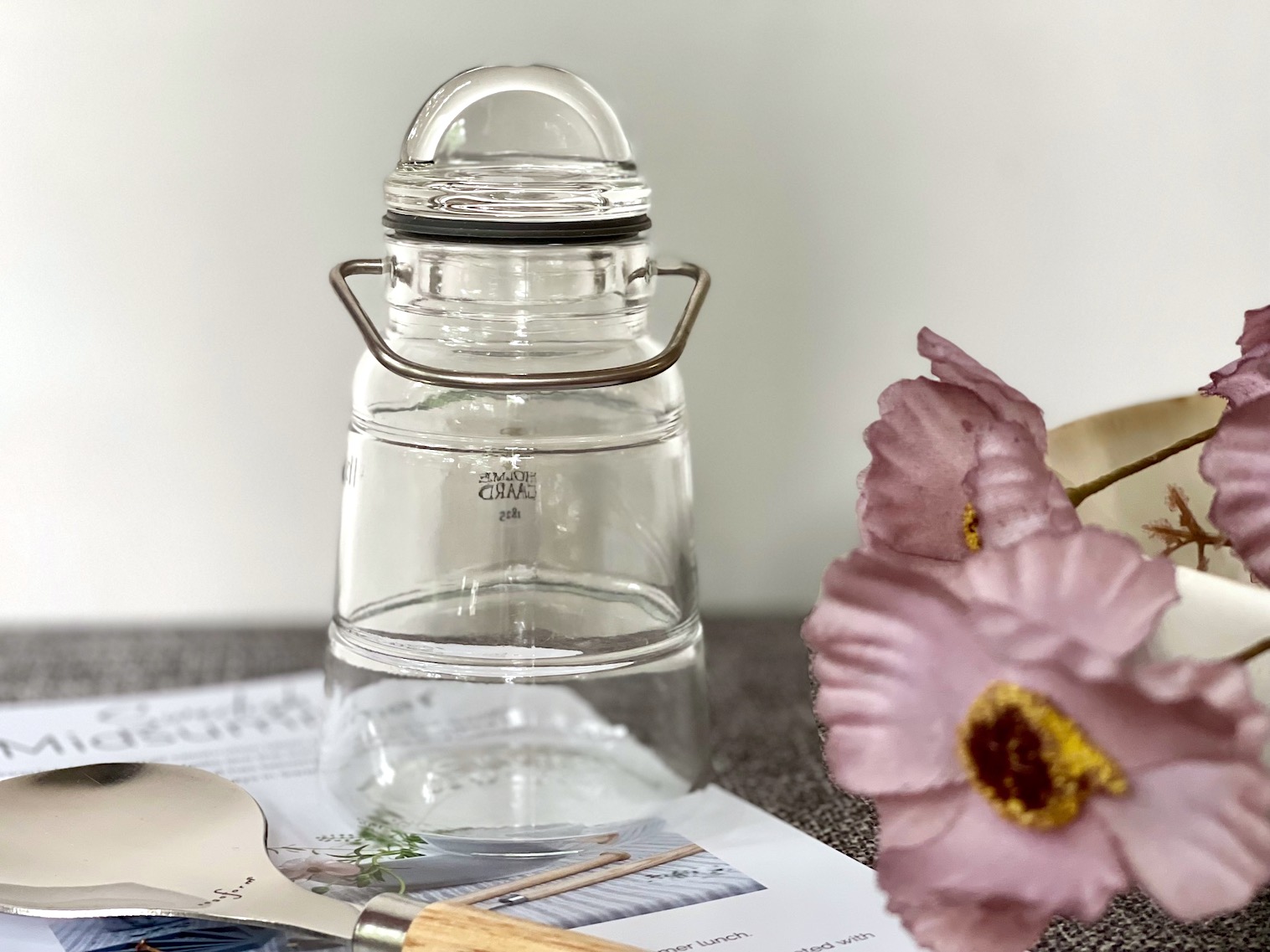 The Scala Jar · Holmegaard · "Yet another new and cherished Scandinavian design brand is in your new Norlii box. I am really excited to finally include Holmegaard in a Norlii box. Holmegaard has a long history dating back an impressive 200 years of skillfully making glassware for Scandinavians and people worldwide.
Your Scala jar fits perfectly for everything from spices to nuts and homemade oil and vinegar dressings. The storage jars are also available in a larger size as a June box extra.
The jar has a patented closure design and is highly practical while also serving as a decorative storage for homemade herb salt. $17″
Another beautiful vessel, and such a unique shape! I've never seen anything like it. I'm going to try making Norlii's herb salt and keep it in here.
If you like the simple clean lines, soft muted colours and incredible versatility of Nordic design, try Norlii Box and celebrate Swedish Midsummer with me.
June's Norlii Box is currently shipping.
Try Small Things – https://trysmallthings.com