Norlii Box Review October 2021
Happy Saturday, everybody! I hope you'll get the chance to enjoy at least one slow morning this weekend lingering over breakfast and coffee. Tomorrow we'll be getting up early to put the turkey in the oven and start on the vegetables so that's out but Monday I'm going to relax, Scandi style. "Nordic Bed & Breakfast" is the theme of October's Scandinavian home and lifestyle box, Norlii Box, and it's a reminder that simple rituals like taking the time to enjoy a soft-boiled egg and a delectable jam can enrich your life by multitudes and turn even the greyest days bright. *
* They kindly sent us this box for review.
Norlii Box ships every other month from Copenhagen, Denmark and features a collection of items from renown nordic brands curated around a theme.
Subscription Details
Each Norlii Box includes 4 to 5 hand-picked items valued at $120 USD or more. Subscriptions are $69.95/box + $9.95 shipping (all prices in USD) and single boxes are $79.95/box + $9.95 shipping. (Get free shipping on your first box when you sign up for Norlii's newsletter.) Additional items including a selection of products from past boxes are available for purchase through Norlii's online shop. Norlii ships to Canada, the US, the UK and the EU.
Each Norlii Box includes a lovely product card a little bit about the theme on one side and a description of the contents on the other. I've included the product descriptions below in italics.
Linen Pillowcase
"100% soft linen pillow from lb Laursen. The soft linen adds a luxurious and relaxed look to your home, and the rectangular form makes it perfect for a chair or in your bed. some of you received an anthracite square pillow in December. Collect the two pillows, and look what happens! ($55 including natural filler.)"
Pillow Filler
"Again, I have added a filler made of natural duck feathers in a thick cotton sleeve, just because they look and feel better than synthetic filling. The fillers are made in Denmark according to high Scandinavian regulations."
Fresh, crisp linen is so inviting, isn't it? This pillow is beckoning you to stay a while longer. I love how Norlli Box includes both the pillow and the filler, these just as cozy and versatile as the one from December's box.
Seagrass Basket Set
"The Nordic style favors earthy accents, and these two baskets from House Doctor add just that. They are made of seagrass and jute with a nice dark border at the top. Perfect on your breakfast table — for the eggs and some bagels, or maybe you prefer to use them as storage in the bathroom, in the bedroom, in the children's room, or as gift baskets. ($15 for the set)"
Feel free to put all your eggs in one basket, and half a dozen bagels in the other. So convenient to have a couple great looking stacking baskets. They're the type of things you only truly appreciate once they've been incorporated into your daily life, and you ask yourself "how did we get on before we had these?"
Swedish Cloudberry Jam
"Cloudberries are a delicacy from Nordic countries. The berries only grow in the wild and only in northern climates making them rare and costly. But the delicate taste ranging between sweet and somewhat acidy have made the cloudberries popular in the Scandi kitchen. I have included the Swedish Cloudberry jam in your October box — use it wisely. I will have more jam available on the Norlii web store should you fall entirely in love with this Scandinavian favorite. ($15)"
Cloudberry makes me think of a lovely summery afternoon lying on a picnic blanket watching the clouds drift by — a little slice of heaven, as is the perfect balance of sweet and sour of a spoonful of cloudberry jam on a fresh bagel or scone. Who says both can't be enjoyed at the same time? And it just feels so decadent savouring this delicacy on a slow morning.
(PS: I get so much use out of the wee plate. It's from April's Norlii box.)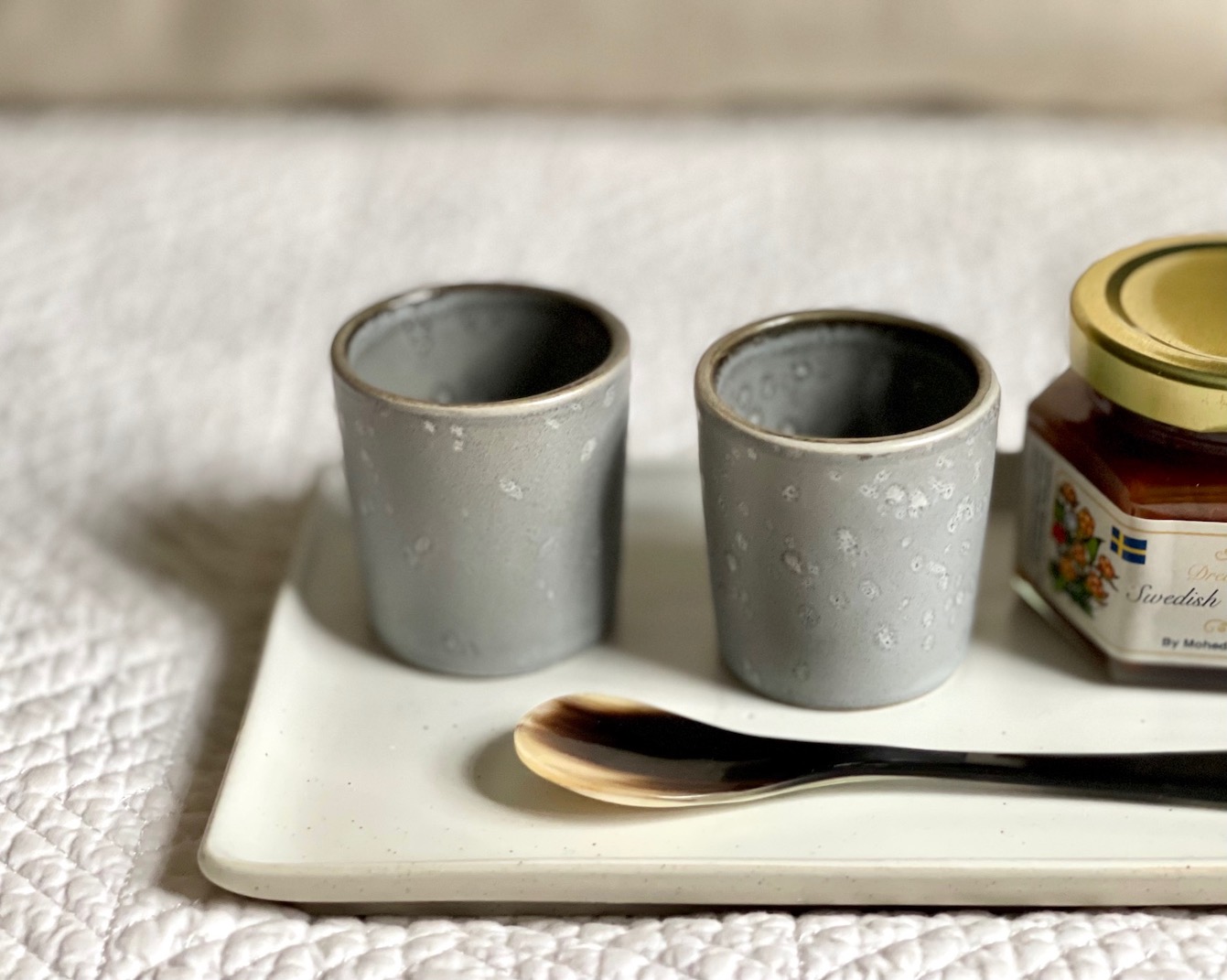 Two Egg Cups
"Eating soft-boiled eggs is part of many Scandinavians' morning routine, especially on weekends. It is almost an art form, getting the egg boiled just right, peeling the top of the egg gently, adding a touch of salt, and then… taking your sweet time enjoying it. Eggs are a healthy and enjoyable part of breakfast, and I hope you will go for the delicious soft-boiled version. These two egg cups are very modern in the style and the reactive glaze gives the egg cups an extra glow. ($15)"
Natural Horn Spoon
"On a trip around Denmark, I found an old and beautiful workshop where they skillfully produced various items in horn. I was so amazed about the uniqueness and the slow process in a small-scale artisanship. And I am very proud that it became possible to include such an item in the Norlii Box. There are approximately eighteen work processes involved in manufacturing a horn spoon where the raw horn is selected, sawed, rubbed, shaped, cut, sanded, polished, and checked. A horn spoon is ideal for your jars. The light weight of the spoon makes sure that it doesn't sink to the bottom of the jar. ($17)"
Soft or medium? Runny or walk-y? Whatever your egg pace and taste they will taste better in beautiful handcrafted egg cups. And of course we don't want egg on our face or hands! This beautifully crafted horn spoon will help you avoid that and look fabulous while you do.
Picture it: Your house, October 2021: You wake up in the morning feeling rested and make the bed, fluffing up your linen-covered pillow so it's just as inviting in the evening. (Always feels nice to climb into a well-made bed.) Next, you move on to breakfast: a simple but elegant tablescape of bagels or bread (served in your favourite baskets) and use the most beautiful handcrafted horn spoon to spread some of your cloudberry jam. Finally, you linger over soft-boiled eggs in the gorgeous cups. If you weren't having a great morning this collection from Norlii Box would certainly put it right.
Are you in need of a little Nordic Living in your life? October's Norlii Box is available while supplies last and ships immediately. They've also just launched two Christmas gift boxes so you can get a head start on your holiday shopping.
Try Small Things – https://trysmallthings.com